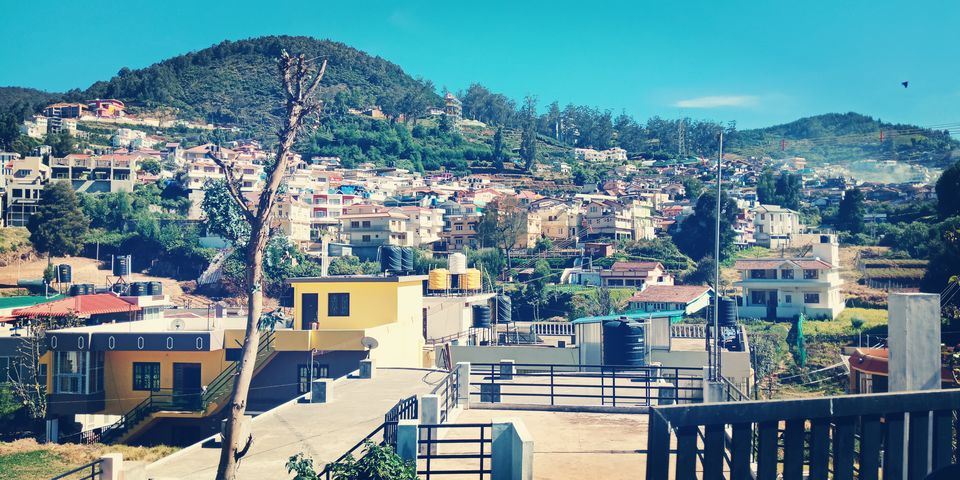 Clear sky, beautiful mountains, picture perfect green scenery are the words that perfectly summed up the beauty of this beautiful hill station. Ooty which is also known as the queen of the hills justifies its name pretty well. The beauty of this place can be swear by any of us, be its mountain, people, lakes, chocolates or tea everything has the essence of its nature. Being from the mountains, I am quite partial for such hill stations however I never knew Ooty is going to be such a great place to explore. So if you are planning to plan your next vacation anytime in Ooty then let me be your guide to assist you to make your travel more fun and adventurous.
Also, if you are that typical girl who falls in love with every romantic Bollywood movie just by its beautiful shots then it is also possible, the director shot that scene in Ooty only. Just to enlighten you more 'Malaika Arora Chayya Chayya' track from movie Dil se, Barfi, Golmaal Again are some bountiful movies which help you to visualise this place even better as the director of these movies has done full justice to this place by showcasing its beauty. So, hop onto my travel journey to Ooty and believe me this will definitely force you to go there.
The best way to come here is by Car. If you are anywhere near Bangalore then I suggests you to come Ooty by road, it will approximately take 6 or 6.5 hours (we started our journey from 11:30am and reached at 7.00pm). The best thing about this Bangalore-Ooty road trip is the view, the breathtaking view of surroundings and of course you will cross many jungles while coming here. I personally found this was the best route one can drive on. Mudumalai, amongst that attraction of Ooty road trip is Mudumalai wildlife sanctuary, where you can see many animals crossing your way. Doesn't it sound exciting?
If you have arrived in the evening like us, then I suggest you start your trip from next morning. You might be thinking, what you will do the day you have arrived then do go to Ooty famous marketplace, where you can find many winter clothes at not so expensive price and and and... if you are a chocolate lover then don't forget to grab some specialised handmade Ooty chocolate.
Next morning, buckle up yourself because you are going to experience true heavenly beauty. Botanical Garden, it was actually pleasure walking around the green garden. Localities came here for a picnic with their families. Surrounded by lush greenery, this spot is a good place to start your trip and rejuvenate you.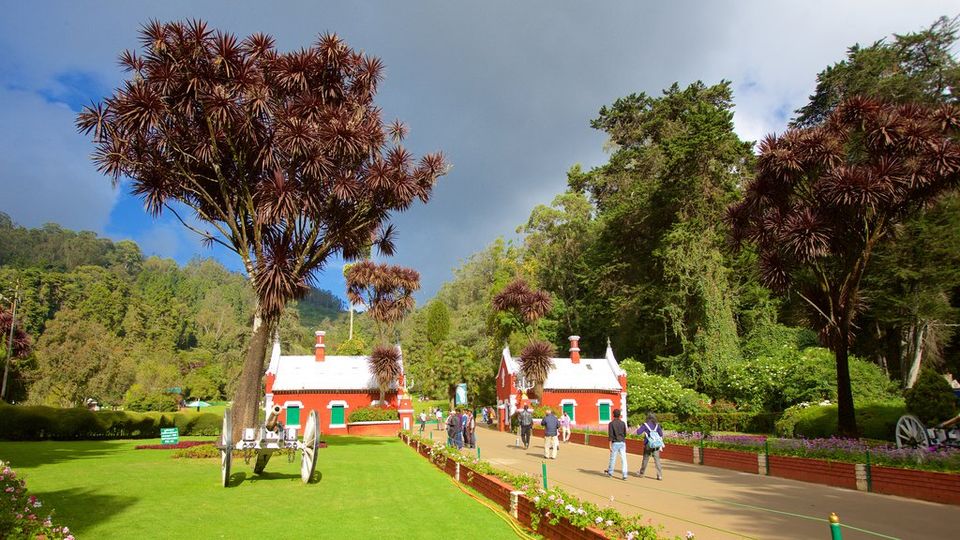 Doddabetta Peak is something that will catch your attention, as it will show you a telescopic view of whole Ooty, plus one can click as many pictures as they want because the view from here is mesmerizing. So, don your photographer's hat and click your best pictures.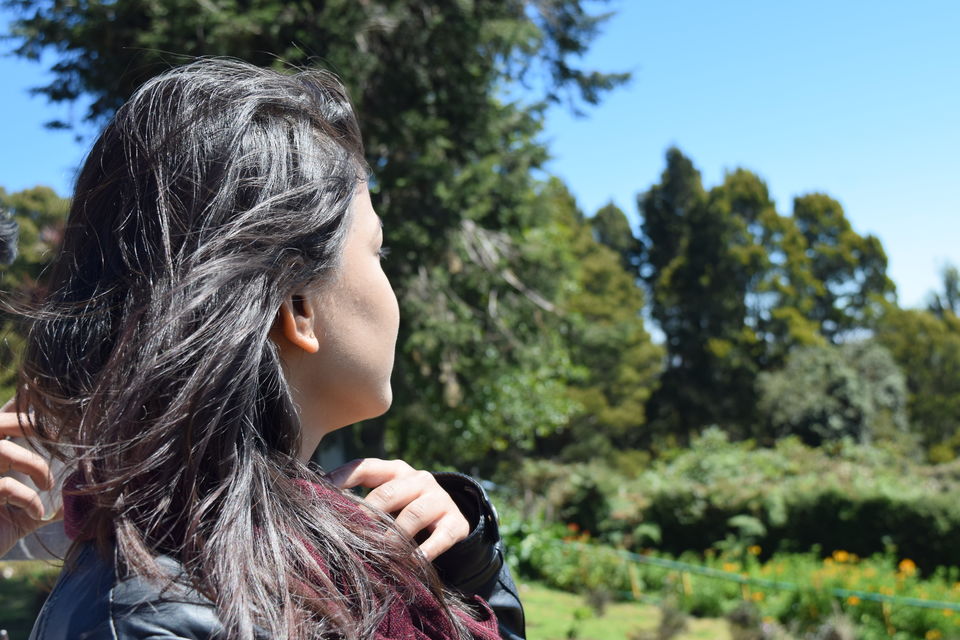 Moreover, if you are someone who has a hidden deep love for roses then you must visit Rose Garden, although I was little disappointed that I can't see blossom roses. However, on the other side the architecture of the whole garden is captivating and the perfect Ooty weather is like a cherry on the cake as it is adding its own charm to this place.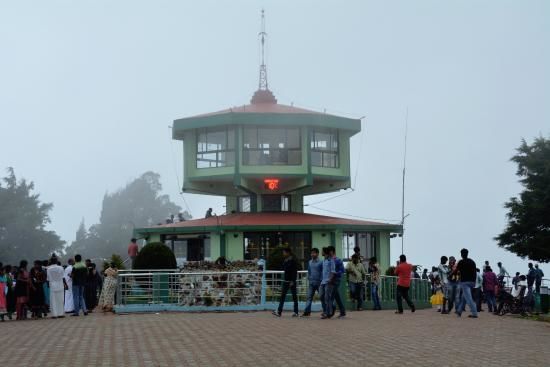 Ooty aaye aur chai bagaan naa gaye, aesa kese? Each one of us has thought this while travelling to Ooty and trust me guys, you will not going to regret coming at Tea Garden although while entering to Tea garden you have to pay an entry ticket of 10rs whereas if you wish to see the whole procedure and making of different kind of Teas, then you should go to Tea factory whose entry is free as they just tie a band on your wrist. The time you enter tea factory, your nose is flooded with different aromas. There you will see every flavour of tea be it cardamom, Masala, ginger and guess what? To your utter surprise, they have kept Chocolate flavour also. If you are confused about any flavour then the best part is, they will give you a free trial as well. While exploring this place, you definitely get Ooty feel in you.
Next place on our list was Sim's park, well there are many parks in Ooty and this is also true that we can't resist ourselves to explore each one of them. So, this one is a huge park, like a really very huge park. One can see a different type of trees here like elephant tree, Rudraksh tree and many more(I don't remember the name though :D). This park has everything from Children Park to pedal boating although the time we reached here, boating had already closed we still enjoyed there.
We have covered all these places in just one day, as next morning we are planning to continue our trip to Mysore. But the amount of time I have spent here, I cherish each and every moment. Due to the shortage of time, I cannot explore more but I am happy that I have at least covered this much. Well, you might be thinking that I have only told you about the good points; after all not every place comes with all good points and is perfect, isn't it? So, let me share some survival tips with you all, hope it helps you.
- Get ready to burn a hole in your pocket, as wherever you go you have to pay the entry fees, parking fees and if you own a camera then Camera fees as well. Entry fees of all these places are between Rs 30-70 exclusive camera fees. Better to keep Rs. 1000-2000 aside for all these.
- Next problem which we faced a lot there is of food if you wish to eat North Indian or Chinese other than South Indian dishes then friend you have to do a lot of hard work for your hunger. Even though if you found one, the quality and taste will disappoint you.*sigh*
- A day is hot and night is chilly cold there. I advise you to put a heck out of sunscreen on yourself if you don't want to burn your face at daytime. Do carry a good SPF Sunscreen.
- I have heard from many people who have gone to Ooty by themselves, that GPS doesn't pretty work well here as they end up in horrible places. This is not the case with us as we have taken a driver from Bangalore with us and he was well aware of the route. So, if you are planning to go by yourself than it is better to ask the route by locals as they can tell you easy shortcuts. Don't rely completely on GPS.
Ooty is a perfect retreat for those looking to seek shelter from their everyday monotonous life. This I can guarantee you, the moment you step into this town, you will be captivated by its beauty and of course, you will make memories that will last a lifetime with you.
Frequent Searches Leading To This Page:-
ooty tour packages chennai, ooty tour packages 2 days, ooty tour package from ernakulam, ooty tour package from goa, ooty tour package itinerary, tour package in bangalore ooty mysore, places to visit in ooty, Tourist Places in ooty