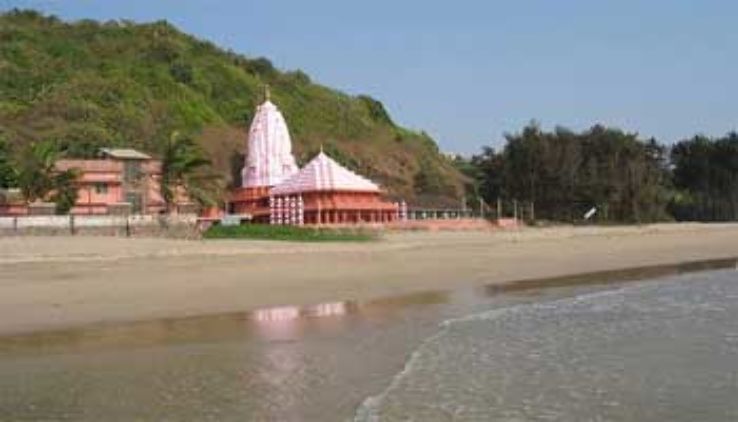 Ganapatipule is a town on the Konkan Coast of western India. It's known for its beaches, such as Ganapatipule Beach and nearby Aare Ware Beach. On Ganapatipule Beach, the centuries-old Swayambhu Ganpati Temple is a pilgrimage site and houses a large statue of Lord Ganesh.
According to local folklore, the Hindu god Ganapati, taking outrage at a remark made by a native lady, moved to Pulé पुळे (a few km before the town) from his original abode of Gulé. Thus the region was named Ganpati-pulé.
The 400-year-old Ganpati idol at Ganapatipule is said to have sprung up from the soil. This deity faces the west, so as to guard the western gates, unlike deities in other Indian temples who face the east. The temple is at the base of a hill, and pilgrims walk around (pradakshina) the hill as a mark of respect
Ganapatipule is approximately 375 km. south of Mumbai, along the Konkan Coast. It is a very small town with about 100 houses, and has one of the most spectacular beaches along the Konkan Coast – an idyllic getaway that attracts peace-seekers, beach lovers, and pilgrims alike. The temple of Swayambhu (self-originated) Ganesh is much frequented by thousands every year. In addition to its clean beach and clear waters, Ganapatipule is rich in flora, including mangroves and coconut palms.
When to visit
Winter (late October to mid-February) is the most pleasant season, with temperatures dropping at night. From March, the temperature starts rising but rarely crosses 30 °C. May is the hottest month, with temperatures reaching 40 °C. The monsoon lasts from June to October, when rains are usually plentiful.
Demography
Marathi is the most widely spoken language. Hindi and English are understood and spoken by many. There are many villages in Ganapatipule which are full of greenery. The main occupation of the villagers is agriculture. Rice and coconut are the most common crops in this area. Many festivals are celebrated along the Konkan Coast. Among the most significant are Gauri Ganpati and Magh Chaturthi
Where to stay
With the development of tourism, a number of resorts and hotels have opened in this small town, the most significant and the probably the oldest of which is the Maharashtra Tourism Development Corporation resort near the beach. The property is right on this pristine beach and all rooms irrespective of the categories opted for (bunglows, huts, hotel rooms, cottages) are beach facing. The booking for which can only be done online through MTDC website.
Where to eat
Konkan undoubtedly is seafood lover's paraside. MTDC has an in-house restaurant that will cater to your taste-buds. There is a famous hotel – 'Sameer' which every sea-food lover should visit for one meal if you are in this town. For pure Vegetarians, 'Bhau Joshi Bhojnalay' is an apt small hotel which serves authentic pure veg Maharashtrian Brahim food. Not to forget to have is coconut water being served by local vendors on the beach.
Places to visit nearby
Prachin Konkan is an open-air museum with models depicting traditional Konkan life.
The village of Velneshwar, situated north of the Shastri River, has its own peaceful, coconut-fringed beach, where one can relax in tranquillity. The village comes alive each year during the Maha Shivaratri fair, when pilgrims in large numbers visit the Old Shiva Temple. According to folklore, a fisherman had found a statue in his net which he had promptly thrown back into the sea. He again found the statue back in his net. Angered by this he banged the statue on a stone, but the statue started bleeding. The fisherman picked up the statue and place it in a small temple which then grew into the Velneshwar Shiva Temple.
About 26 km from Ganapatipule lies the district headquarters town of Ratnagiri. This region is world famous for its Alphonso mangoes.
Resting on a cliff, at the entrance of the Sangameshwar river, just 20 km from Ganapatipule, is Jaigad Fort. This 17th-century fort offers a commanding view of the sea and an almost unique view of Konkan village life
Besides its natural environment, Pawas is well known for the Ashram of Swami Swaroopanand, a spiritual leader who influenced an entire generation of Maharashtrians. A visit to this place is truly a journey through time. The distance from Ratnagiri to Pawas is approximately 20 km.
There are extensive views from the lighthouse, around 6–7 km from Jaigad Fort. It was completed in 1932 and is still completely operational and serving on the coast.
How to get there
The town is easily accessible from the port city of Ratnagiri, which has a railway station. Local taxis outside the station can be hired to go to Ganapatipule which is at a distance of approx. 1 hr covering a scenic drive.