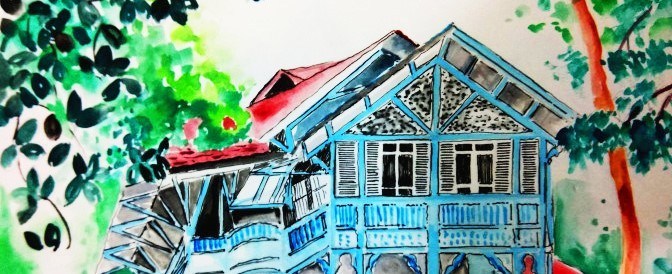 Nariman point, Elephanta caves, Victorian-built Gateway to India, Taj Mahal Palace Hotel, Hanging Gardens, homes of bollywood stars - these are the well known places every Bombay darshan tour stops by.
There's a whole layer to the city, corners that still remain unexplored in popular tours or in the many movies set here. Once such place is a beautiful heritage bungalow.
Inside the JJ School of Art, this bungalow belonged to the famous author and Nobel laureate Rudyard Kipling. In 1866, JJ School of Art was taken over by the Indian government. Kipling's father was appointed as the dean of the institute and lived in this bungalow on the campus.
Till 2002, the heads of JJ School of Art lived in this Bungalow. Since then, it's been empty and now is almost in ruins. Its white and blue face is slowly fading out to a muddy brown, there are empty alcohol and plastic bottles strewn around, and no one ever goes into this house.
How to Visit Kipling Bungalow
Since Kipling Bungalow is not a ASI or Government recognized heritage tourism spot, accessing the house is not easy. Here's some tips on how to do it.
Tip:
It is good to a friend in J.J. School of Arts, so that you can access the campus and see the heritage building.
Often the campus is open to visitors for exhibitions and events - so you can club that with a stop at Kipling House.
Call 022 2262 0231 for any queries before visiting.
If you can keep your wits about you while all others are losing theirs, and blaming you. The world will be yours and everything in it, what's more, you'll be a man, my son. By Rudyard Kipling