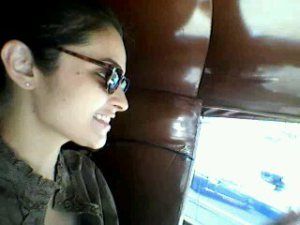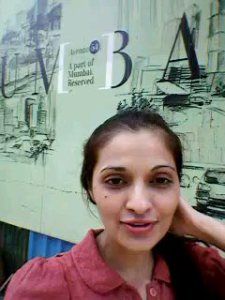 When the fragrance of wet earth saturates the coastal air…
When the ocean breezes rush through the city ferns and foliage…
When parrots sing in the evening breezes, adorn treetops and windowsills, fluttering about like gracious peridot jewels…
When sparrows bathe and frolic in puddles of water left behind by the recently fallen rain…
When the air permeates with a nostalgic melancholia and gray clouds blanket the sky above…
The scene is set for the most romantic season in India and it is, after all, what makes one fall in love, over and over again, June to September, year after year with the city that never sleeps.
My love story and infinite affair with Mumbai has been splashed with wistfulness of the present, peppered with childhood montages and set with the backdrop of the five years I lived here as a young adult.
No matter how much time elapses, what decades may pass, I long for the rain and delight in its sheer bliss every time I am fortunate enough to be in my city during the rainy season.
It is early June and tonight, I am prepared for what would be considered as a late dinner elsewhere, but here, 10:00 p.m. is the perfect time for supper.  Just as I ponder what I shall eat tonight, the 'Bhelwala', a monsoon institution, calls out three stories below in my building courtyard,standing in his all white cotton clothing, enticing residents to PURCHASE
 his divine delights.
I heard his call this evening after months of silence and I knew, that this was a certain sign, a precursor, if you will, of the rains that were soon to come.
Bhel is a delicious Indian street snack made of puffed rice, fried vermicelli, diced onions and tomatoes, green chilies, spicy and sweet chutneys and 'Puri'.  It is my favourite thing to eat, especially during the monsoon and it is brought about to residential buildings by vendors called 'Bhelwalas'.
In our building, it was the same dear old man for many years, who prepared this delicious concoction and has now passed on the art to his son, who has nearly mastered his father's recipe.
They are not just bringers of cherished rainy day snacks, but also warm familiar faces that bring about that twist in my heart and a sort of bittersweet joy that I often feel whenever I am in my city, 'Bombay'.
And nothing quite matches the feeling of comfort that engulfs my soul as that of the rains.
Rain, to me, is about so much more than just the weather.
And while it is true that I am most definitely affected by climate, for me, the rain resembles renewal, refreshment, reinvention and rebirth.
These past nine months for me have very much been about re-inventing myself by living and traveling alone, re-discovering literature, writing, re-igniting my creative passions, connecting with my true self, finding out who I really am and embracing each joyful experience and hardship.
I am no longer the person that I was but all I know is that right now, it is time to rejoice like the child I was never able to be and hug the coziness of this season, hold in my arms all the creature comforts that come along with the monsoon; every heavenly moment that the clouds pour down upon me in the form of drizzling rain, that musty earthy heady scent of damp soil, the rush of currents that hastily blow through the tree leaves sounding like pouring rain itself, little squirrels playing in the garden below my window, kittens taking shelter in the wings of covered patios, the sprinkle of raindrops falling on my windowsill, rainy weather snacks and long evening walks through the marketplace SHOPPING
 for goodies like rain sandals, rain coats and colourful umbrellas.
I have already had an opportune encounter, an unforgettable experience of the sub tropical monsoon during my journey to the Maldives just last month, where it poured rain every night of my five day stay, where the thunder clapped loudly and deeply, and the tropical thunderstorm, complete with lightning bolts, lit up the dark midnight skies in flashes of indigo and violet.
The past two nights, I have been indulging guiltlessly in some of my much loved monsoon dinners with delicious dishes like Cheese Pakoda, Paneer Tikka and an endless variety of fried snacks which are perfectly paired with Ginger Chai and this quixotic season.
I have also continued my exhilarating travels within the city in auto rickshaws and taxis, going on my own adventures delighting my whims and fancies whenever I may choose.
But here, it is only me, and I have all of this all for myself, in a city made for me, in a season divined for me, in a time GIFTED
 to me by celestial beings who have blessed me with these abundant offerings and made me realize that only the most gifted are deemed altruistic enough to take pleasure in a life alone, laced with travel, full of eccentricity, that which ultimately defines true freedom, that which most will never have the privilege to live.
"I walk alone, like the wild elephant in the jungle which is my world, surrounded by beauty, undisturbed, unhindered by the weight of others: free and peaceful."-Kanksha