Meesapulimala. The second highest mountain of South India, standing tall at 2640 meters. Yes, the second highest outside Himalayas. We could have opted for the highest one if we could, but the highest one, Anamudi (2695 meters), is a protected area and people are not allowed to climb that.
I read about this mountain around 3 years ago when I was starting to explore the hills in and around Kerala, but somehow the plans kept getting canceled or postponed. During this 3 years period, I took many hiking trails in Kerala and Karnataka, but this one remained an un-executed plan.
Well, one fine day, I decided to do this and made a plan with my friends Aashif, Samit and Rohit who are relatively new to the hiking world but pretty excited about it. This trek comes as a part of an eco-tourism package offered by Kerala tourism department which contains an overnight stay in either tents or roofed accommodation depending on the kind of package taken.
We took the package with the night stay in tents. (http://munnar.kfdcecotourism.com/BaseCamp.aspx) . We were supposed to reach the base camp on 4th Jun afternoon, stay there in night and do the trek in morning.
We left from Kochi on 4th Jun morning and reached Munnar in a state transport bus which took more time than expected, mainly due to dense fog covering the roads. After our lunch, we reported at the Tourist facilitation center which is around 4 kms away from Munnar town. The officer provided the permission letter and we left for Silent Valley (the trek starting area) in a jeep. It's a well maintained single lane road from Munnar to Silent Valley and we enjoyed the surroundings to the fullest.
The Silent Valley lived up to its name and was really calm and serene. A few houses could be seen and what a calm life those people must be living! We, the creatures of concrete jungles, can only dream to live that life!
At Silent Valley- The starting point of the trek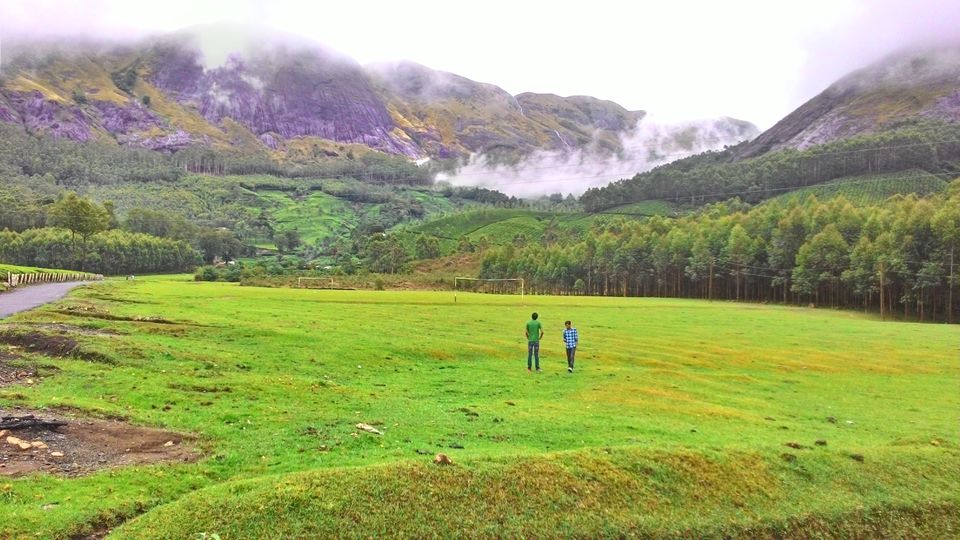 The jeep driver told us that he cannot take his vehicle further as the road further is a tough one and we will have to take a stronger jeep to proceed to the base camp which was a good 5-6 kilometers away. We did that and proceeded further. It was a bone-breaking journey on that rocky and turny road. But, that did not reduce the feeling of seeing the amazing hills, vegetations and mist all over.

We reached the base camp where a few more groups had already reached. It was getting dark and the base camp was a small building with a few caretakers and many tents near it, ready to accommodate visitors.

We showed the permission letter to the caretakers and they showed our tents to us. With barely one hour remaining in the day, we strolled around, sipped tea offered by them and talked about random topics for some time.

In a few hours, the much needed campfire was on and we got some relief from the chillness. Next, obviously the dinner, chit-chats with other groups and sound sleep inside tents in the sleeping bags provided. We were told that the breakfast will be provided at 7:30 am morning and the trek will start at 8 am.
Tents at the Base Camp for Night Stay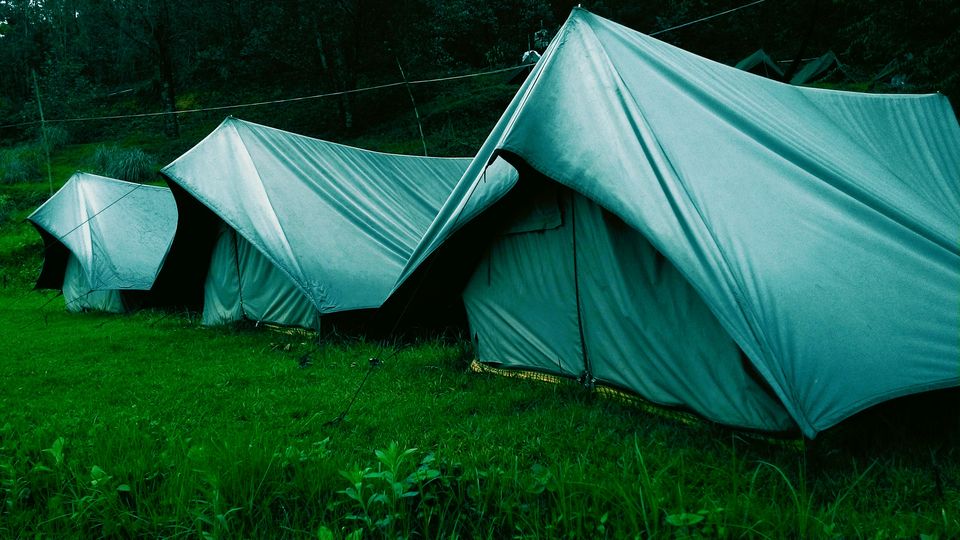 Testing our Photography Skills with the Flowers at Base Camp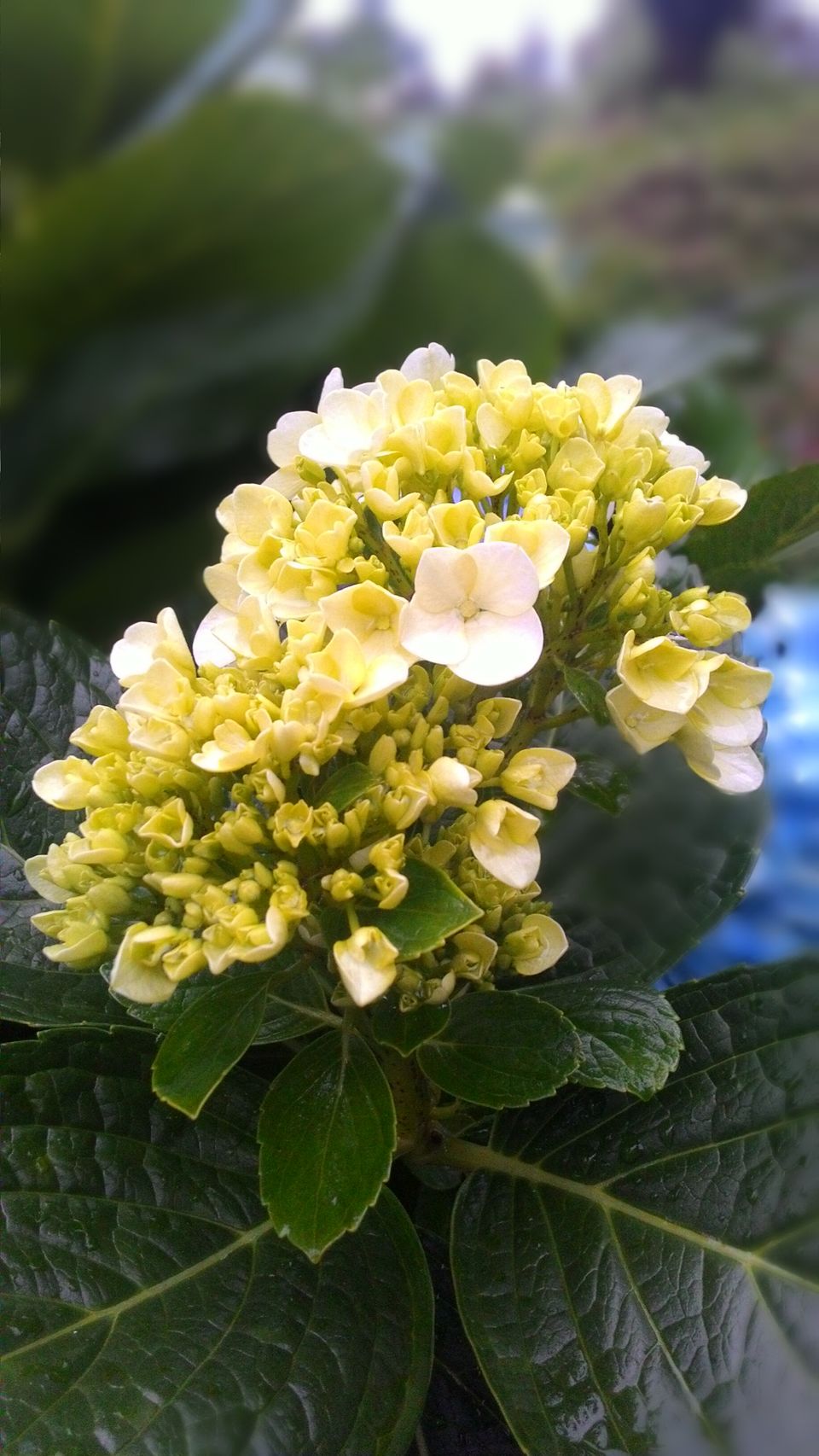 And the Sun Sets, Leaving only Darkness Behind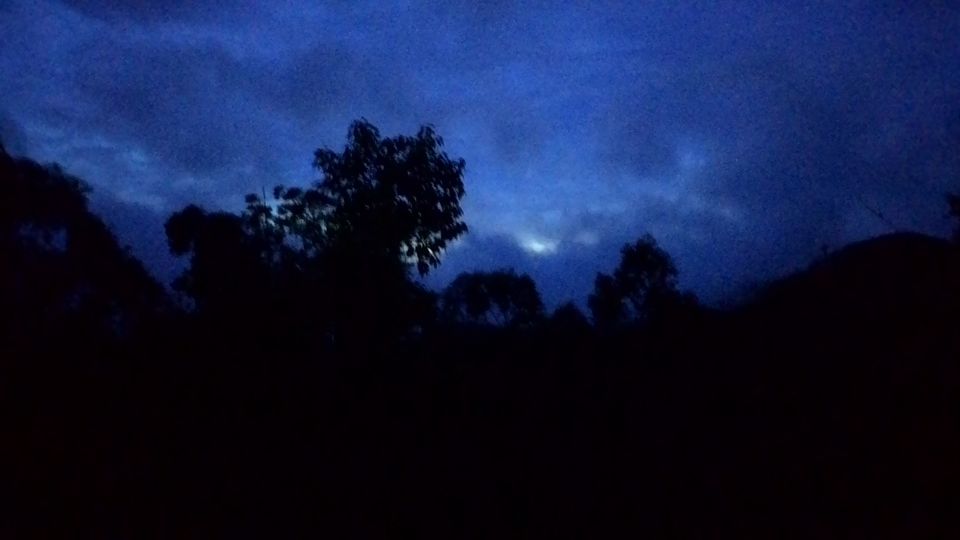 Beating the Chillness with the Campfire at the Base Camp
We were up in the morning at the said time. There was a little delay in the breakfast and the starting of the trek, but that was quite okay. It was extremely cold and I was literally shivering. The sun showed a few short glimpses but did not provide any prolonged relief.

Finally, the trek started. A lot of people of the other groups had chosen the easier way- covering half the distance in jeep. There is a jeep trail up to Rhodo Valley which is halfway on the route to the mountain. We opted to cover the whole 11 kms distance on foot.

It was very foggy all over and we could barely see any views around. We kept moving forward under the guidance of a guide provided. In a few hours, we were at Rhodo Valley where the tourism department has constructed a small resort name Rhodo Mansion, which can be booked by visitors for stay. The place is surrounded by miles of vegetation and off course covered with mist all the time. I added a one-week stay at this resort to my bucket-list.

We took some water, which was ice cold, and kept moving upwards with the guide. Steep ascends and descends, foggy valleys, grasslands resembling green carpets, fast-changing views with the sun and fog playing hide and seek, cold streams, small pond like structures in the valley, wide varieties of flora and fauna, water droplets from the fog on our faces and many more things that cannot be explained in words. You have to see and feel it to know it.

At every point we stopped and looked back, we couldn't believe that we have covered that much of distance. The whole area was like a painting, the sound of the surroundings was a music, all this art by mother nature who is the biggest expert of all kinds of arts.

After a few hours, we were on top of the Meesapulimala peak. Imagine the feeling of being on top of everything that you can see around. Except one mountain which is a few meters higher, there was no other structure higher than our heads, in whatever area our eyes could measure.

Spent around an hour on the top and started descending. The rain-gods showed no mercy and poured some ice cold water on us, which thrilled us to the core.

The guides took a shorter route while descending back and soon we were at the Rhodo Mansion. We managed to hop into the rear area of a jeep that had come there to drop a few people who had come to stay in the resort overnight. Reached back to Munnar by evening and headed home to get lost into the sleep-lands.
Enjoy the remaining pics below. I will be back with more such stories in the coming months. And yes, a short and crisp video of the trip is going to be added soon :)
Something we called "Wild Mushrooms"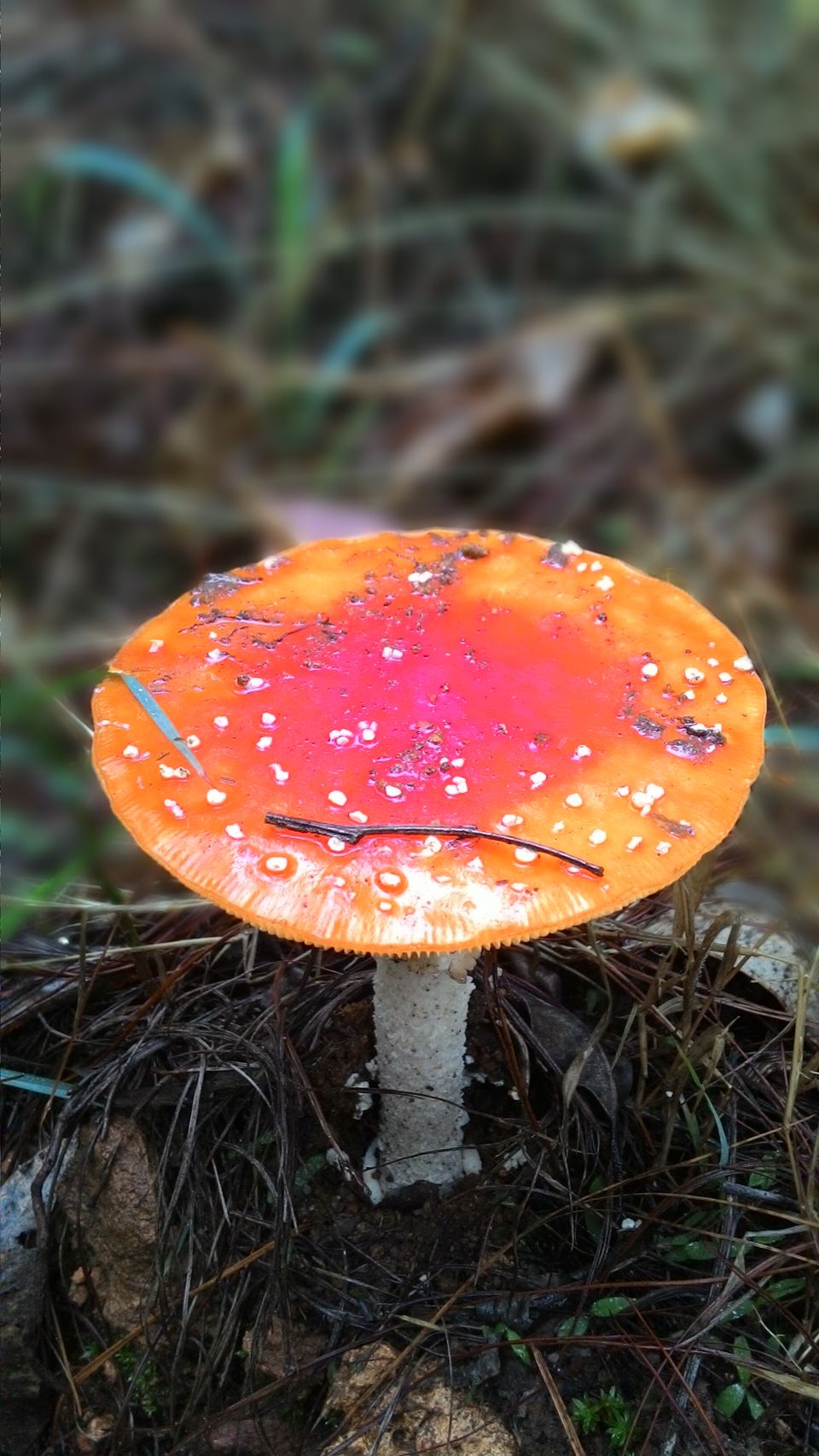 The Grasslands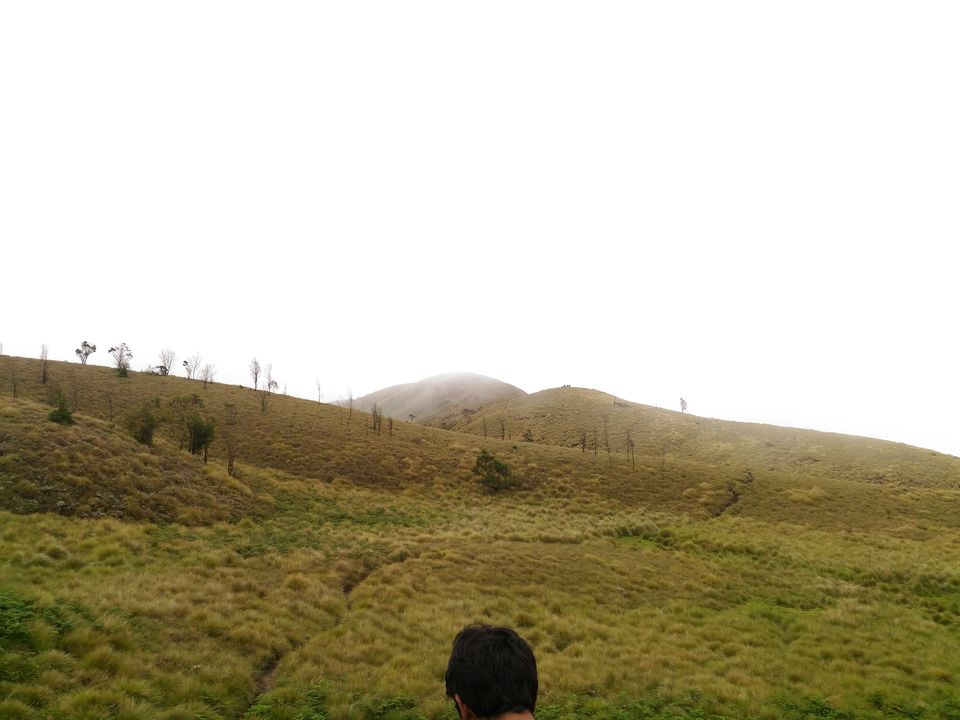 Ah, An Extremely Cold Stream out of Nowhere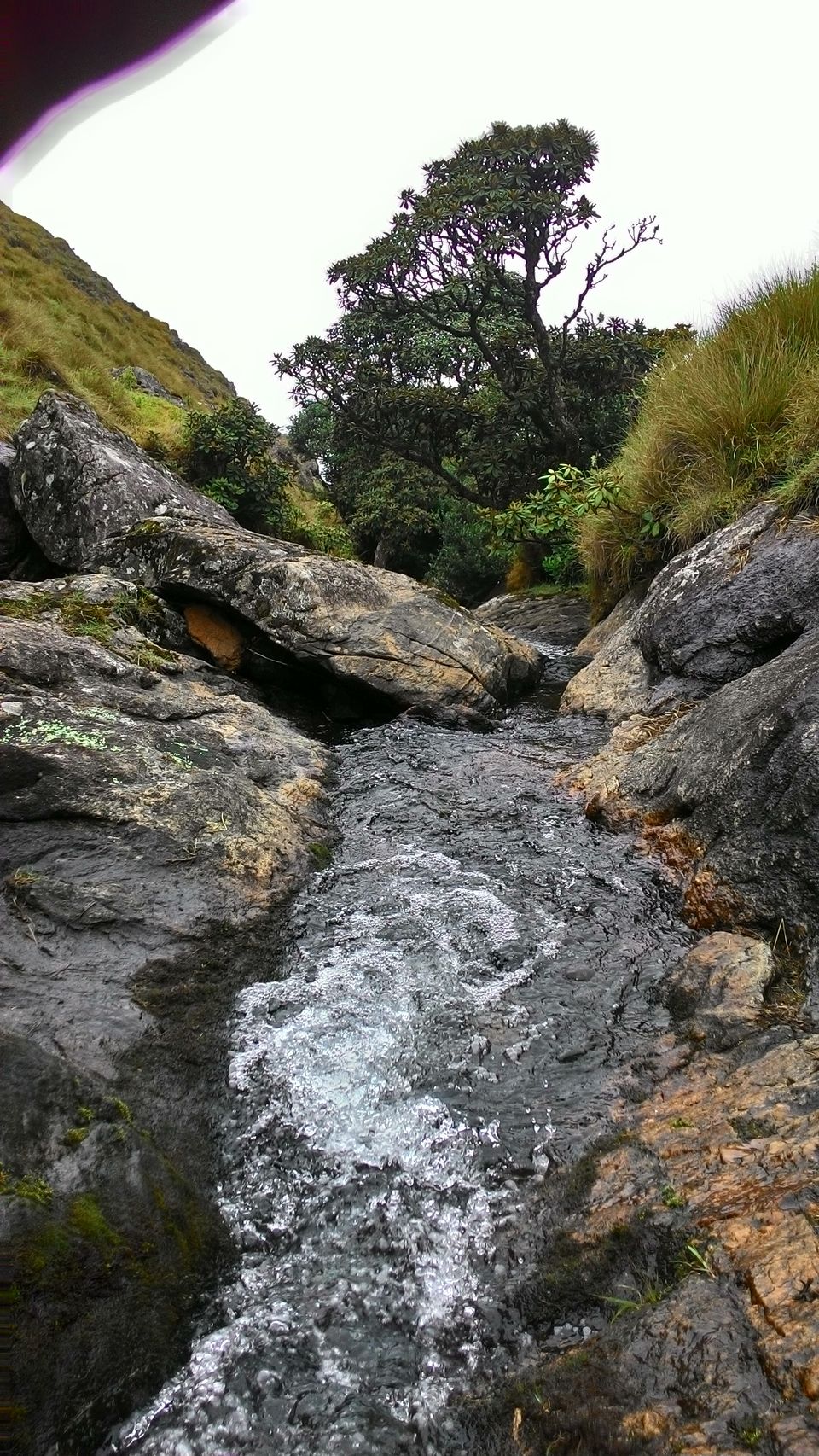 Samit giving a cool pose with a lone tree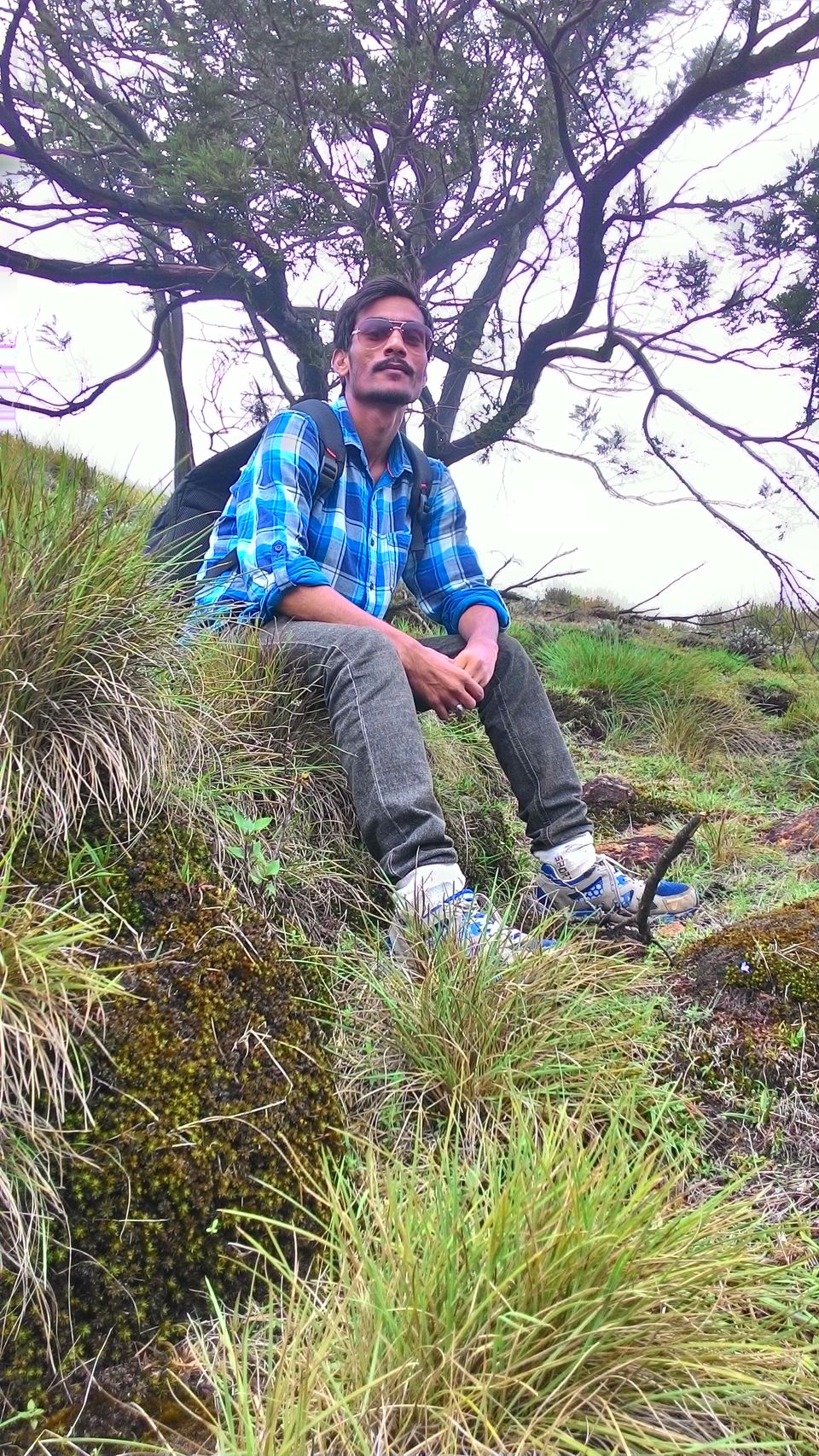 Another lone tree feeling good in our company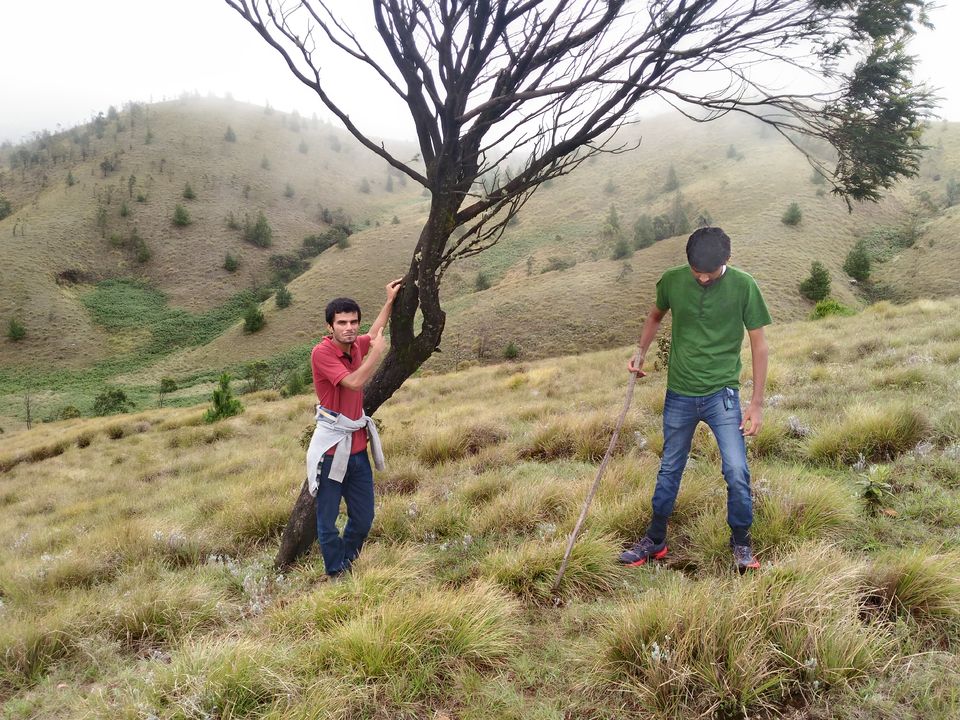 Scenes that do not need explanations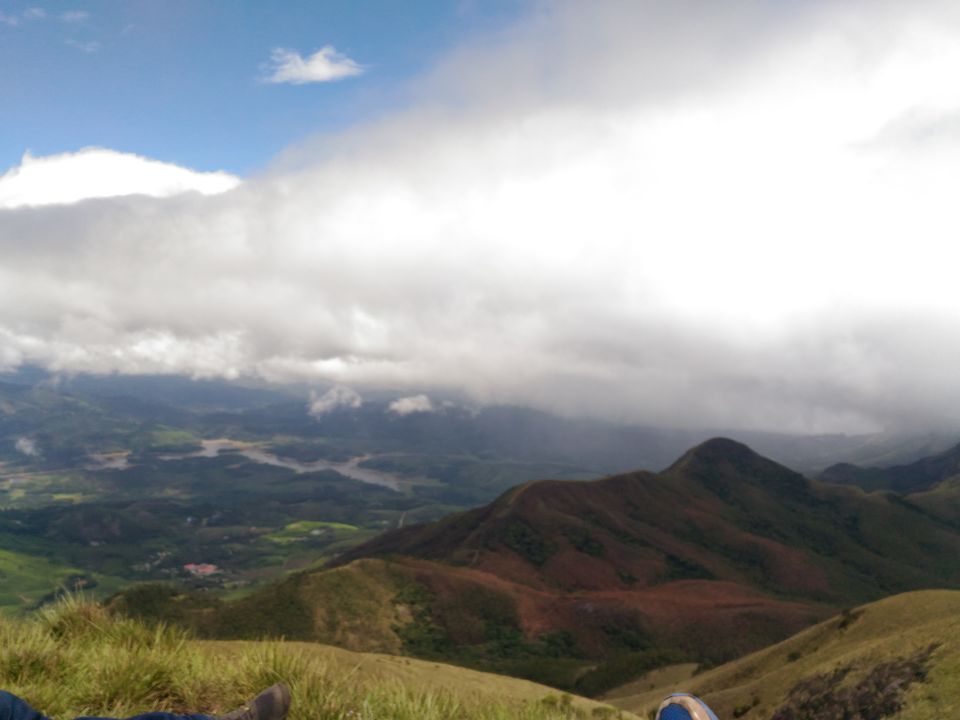 Are these paintings?