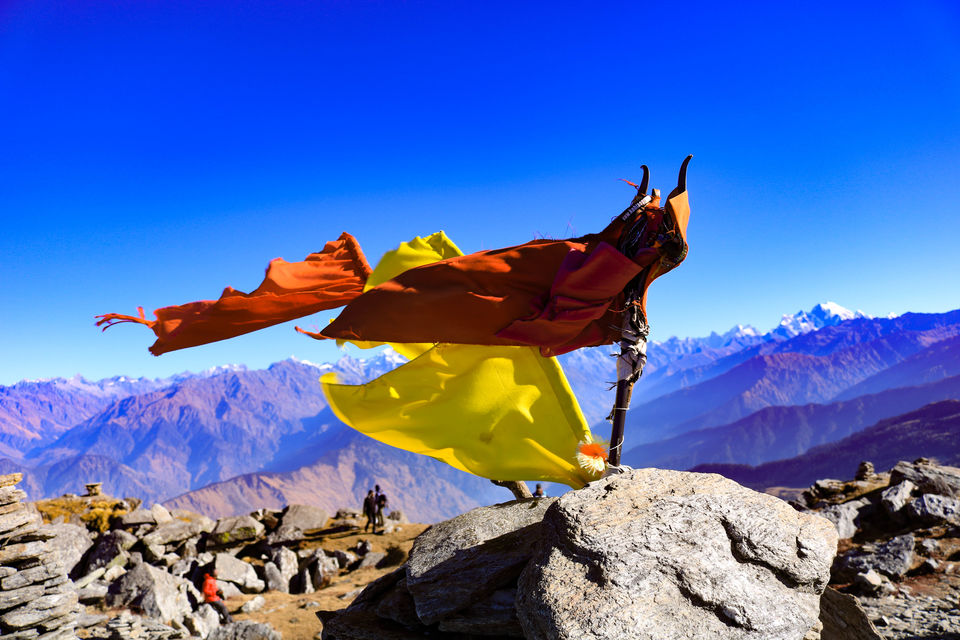 A long drive from Dehradun to Sankri.. via pretty villages and parallel revealing of beauty by nature… Fantastico...
Sankri to Kedarkantha Summit is at best encountered experience.. Nature, at her best enigmatic panoramas. Snow carved paths, Alpine trees,
The rivers or beautiful lakes with unsurpassed visibility, The small villages, and the rising Himalayas at peaks with best views of ever seen,
A grand invite from Nature…!!! … GRANDE, MOLTO GRANDE… BELLISSIMA..
It wasn't easy but, that's the best part in that…Anxiety turns into an ultimate excitement.
End of the year, journey started to gain best memories and carrying them with me into a new year to explore many more adventures...
Kedarkantha referred to be a snow trek, cause of global warming snow arrived late this year, even though, it was dam cold went (-ve) in temperatures. It's a small trek but, having this kind of unusual trekking (snow and cold) experience once in a life time would be fantastic. my team was active and friendly, love this team. Anyway we all had an excellent trip to Kedarkantha summit.
trek lead and Prasanth is missing.. my group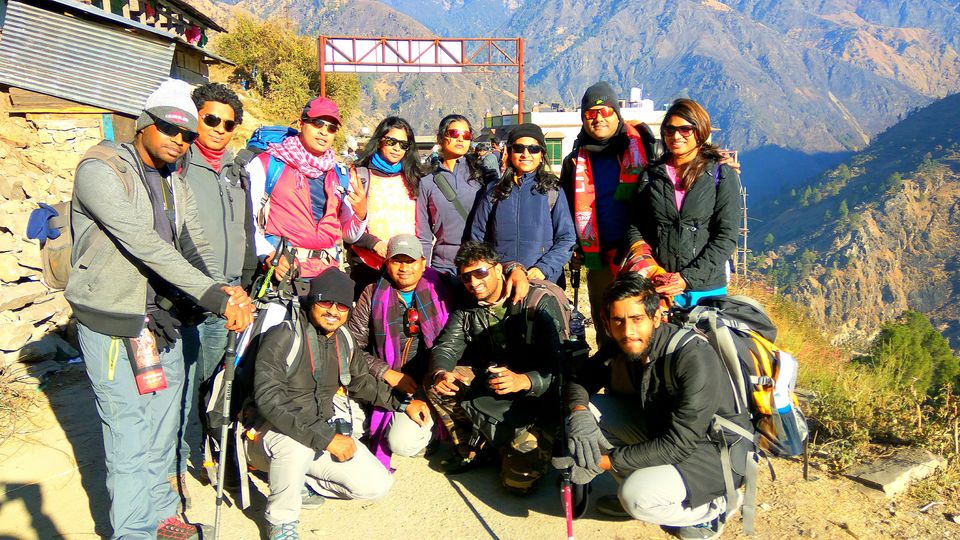 1st day - 9th of Dec. 2016:
Our Journey starts from Hyderabad to Delhi, from Delhi to Dehradun and then finally to our prearranged base camp at Sanki. We did booking different flights to Delhi at different timings. Though, we all gathered at New Delhi railway station early so that we could catch train to Dehradun. We had our train at 9.30 PM to reach Dehradun from delhi, meanwhile we had a little roaming in the streets of Delhi, had food and got into the train.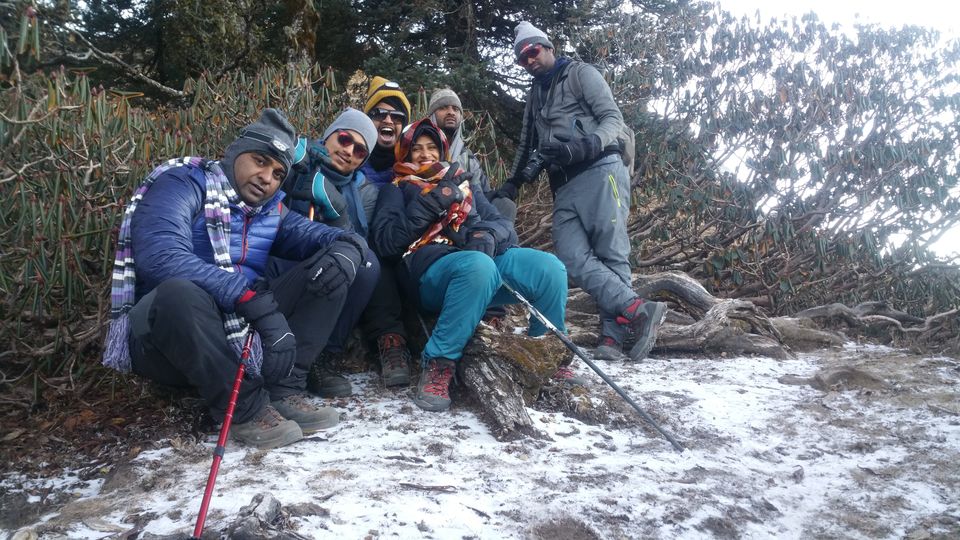 2nd day - 10th of Dec. 2016:
We reached Dehradun on 10th, Dehradun lies at an altitude of 435m from sea level, is a valley between Himalayas and Shivalik hills, makes it a very pleasant place. The hired vehicles were waiting for us to take to base camp (Sankri). We got into the vehicles, it was a long journey about 8 hrs, with ghat road. when we reach Kempty falls it was around 2 PM. We had lunch there, it was yummy, we thought of buying some local winter stuff, I brought a shawl, it saved me from that extreme cold, it was light weight and comfortable to carry, stylish and as well. Then I realized local made are always really worth than branded ones.
Because of the ghat road my team people had nausea, you could get that how we traveled through, I am bouncing on my seat, So, you could imagine that roads are not that great but, we have to appreciate the driver for their driving. We were stopping whenever someone wanna puke, we reached toll around 7 may be, and It was freezing, 10 degrees may be the temperature, everyone had their bonfire. I was there till they entered our names, it was around 8.30 pm, finally we reached base camp village called Sankri.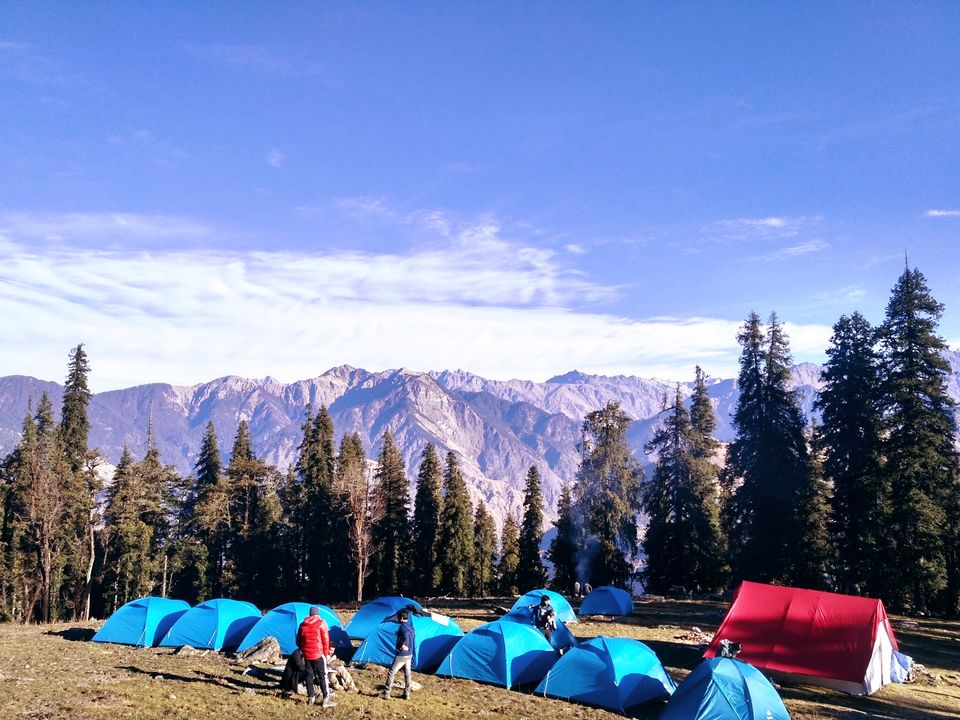 We had dinner,they served with tasty roti, dal, mixed veg curry and rice. It's time for bed, have big day 2morrrow .
Finally, the journey from Dehradun to Sankri was really beautiful and in other way it was little hard. But the drive through the lands of Mussorie, Kempty Falls, Nainbag and Mori- was really nice. The nature, the rivers Yumuna, Tons and suphir flowing, long forests and sights of the Himalayan peaks (slightly visible and encouraging well) kept us busy all the way somehow.
3rd day - 11th of Dec. 2016:
The night it was damn cold, didn't slept well, got up around 8 AM, had nice breakfast and tea. We packed things layered up with dresses for the trek and started our 1st step to Kedarkantha, (Bole nath ki jai)..
Just 9 KM trek but, it was an awesome trek, that experience was for life time. whenever I travel, it will be with a new group and new mind set with different attitudes. But it makes me crazy. Don't know why I love to be with crazy people may be am crazy travel freak as you guys say ha ha ha ha....
Travelling in groups will make you perfect in many ways, like teach you how to behave with others, limits, friendship, helpfulness, caring, and relationship. Most of the people think that girl and boy means only a physical relationship, no there is something beyond that, that is called friendship. Travelling teach you all these differences and makes your life perfect, in my opinion. if am wrong you can give your suggestions in comment section bellow.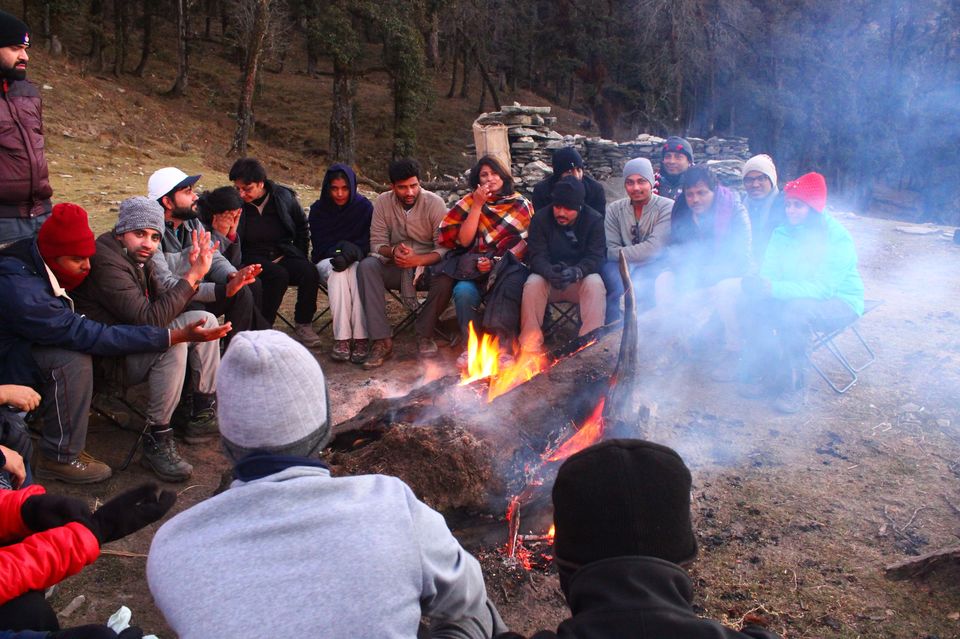 It was little steep, while trekking I met one of my old friend Venkat, he was with his batch, was surprised, was met him after 8 months we had small talk, cause he had to lead his group. Any way we were gonna camp at same places we have 3 days of stay.
Reached camping site, had lunch and gathered wood for bonfire, we played lot of games, dance, it was fun and enjoyed at core. A small frozen lake nearby, been there to see that lake, was beautiful, played there and came back and got warm at camp fire, and all people started playing games so the time went on.
Around 8 they served dinner, it was hot and delicious too. The night we were at 9000 ft from sea level, blue sky scattered with stars, and you were sitting at a bonfire with -ve temperatures. When cold breezes singing a song on your ears, wohhhh, what you need more than this in your life.
Camp fire was going on, most of the people fallen sleep, I didn't get sleep, I was at camp fire, one guy came and sat next to me, he was from Hyderabad, while we were talking I got to know that he is one of my friends friend and we lost in talks, around 12 I had fallen into sleep.
4th Day - 12th dec 2016:
Morning got up, camp fire was going on and some of my team people gathered, wanted to fresh up, they didn't want to spoil the nature for our nature calls. So they arrange of wash rooms over there. and it was convenient for us as well as for the next timers. when I had been to washroom the water in barrel has frozen water became complete ice layer. I took a mug, broke that ice and found water under that ice, So, morning started with a little adventure ;)
Around 8 AM they served breakfast with aloo poori, sweet made with oats, and a coffee sponsored by my team mate Vishal, it was tasty. I was doing yoga with my yoga master Ravie, and photographers were taking photos everyone was busy in their work.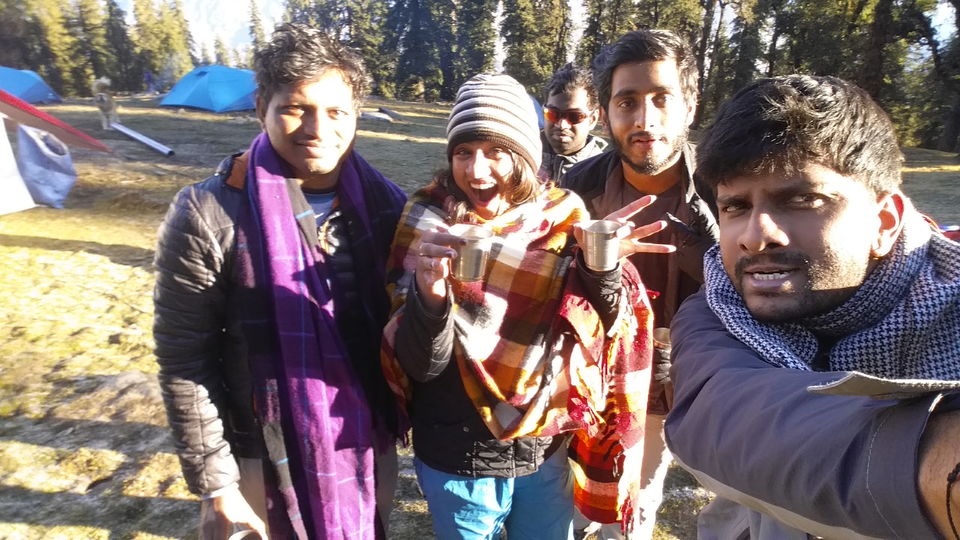 For today trek was just only about 3 km, we were having all the fun we can, around 9 AM we started, and reached by 12 PM. It's time for lunch, so, had lunch prepared by them, gathered wood, did some drama skits, it was funny and had some photo shoot. It was the best team and loads of memories I had, and enjoyed a lot, I didn't have words to say or share the experience, loved this team a lot, around 5 PM we were feeling cold, without HIMA, there was no bonfire, he is best in bonfire, and he saved us all.
Hima ( the fire Man) tittle given by Trek lead
We had dinner and slept around 9 PM, have to get up early in the morning around 3.30 to get ready for the summit, sleep to early so, to rise to early.
5th Day - 13th Dec. 2016:
Reaching summit (12500 ft) to the peak of mountain rage in a trip is thrilling always, reaching there and looking at other peak ranges on your eye side is filled with fantastic feeling. All the covered snow, cold winds and surrounds, and if the sun is present with shattering sun rays makes you flawless imagination of another world experience. Seeing the Trishul and shrine of rocks in a glace my heart became overwhelmed with happiness even though I was exhausted. The view and environs gave me a new excitement and energy.
Got up around 3.30 AM, again same adventure broke the ice take water, my team mates were gathered at bonfire, they served breakfast around 4 AM, we packed water, dry fruits and started around 4.30 AM. It was too cold, my nose was running, I couldn't remove my glove to clean my nose, if i do my hands would go freeze. I took my tissue pack out and kept it in my jacket, organizer said cover your nose else it would become dark, and yes true but, when I had running nose how can I close it, i can't right, ha ha ha ha ha ha, ya difficult question right?. i just applied Vaseline and left it like that it was cold what else to do. Interestingly it was full moon, so the shattered moon on the snow was guiding me, I didn't used my torch until I step into woods.
The path was steep, presence of snow in between. the snow could become hard for many footsteps, so you have to careful when landing on snow/ice. when we reached that top of mountain, was very steep and it was full windy, I couldn't even stand for some times. Here, one thing very interesting, Weather at these altitudes is never predictable just changes from windy to shady clouds in no time. We reached the top view point finally, that mountains-capes, panoramic view, chilled breezes, your best team next with you is doing some crazy stuff, I lost myself for some time, noting in my mind it was blank, was just enjoying the pleasant view. Clicked pictures in all possible angles and the perceived beauty of nature capturing in pictures is impossible. it was most beautiful experience I ever had.
Once you reach the summit point, at that instant small silence whispers come from heart and soul with great relax, a kind of cerebral celebration as a gigantic fabulous experience of ever felt and seen. The feeling arise from you are enormous, at one instance, I got a feel that I should bow to the mountain for such a wonderful beauty that introduced to us.
I mentioned earlier, it self my team was crazy, damn energetic, in that crazy windy chilled temperature, these guys gone mad and planned to do mane-quine challenge, ha ha ha... ya everyone had to freeze in that weather.. OMG. my role is a model to start first, as usual, don't u think so., may not be am kidding guys, we did finally it was awesome experience.
It's time to come down, as my organizer said (super-fast Sindhu) tittle given by my trek lead, tittles will be published in the end of post for others. Waiting for everyone to reach the rest point and our guide waiting for us with snacks, boiled egg and aloo paratha, we had and I was waiting there until my late comers to reach there.
Reached Kedarkantha base camp around 12.30 PM. I got freshen up and waiting for rest of my team. Our kitchen kings are preparing lunch for us, around 1.30 PM everyone reached and settled, around 2 PM lunch was served and done with lunch and started doing skits some dramas, and sharing all experiences. It was awesome spending a long time with group like this. till 5'o clock, playing games and photo shoot, shooting, videos, drama, all these things were going on around 5 PM they served soup. we were feeling cold, and we had been to collect wood for bonfire, our HIMA (The BonFire Man) brought much wood. It's time for bonfire, songs, team games, today it's not karaoke game it's like we have to take a hero name or a heroine name or a dialogue, then they have to sing a song or name or something related to that hero like that is the game. it was fun too.
Dinner was served and our guides were at the camp fire to spend some time with us, cause it was last night of trek, we had a lot of chit chat, and discussed about tomorrow plan as well. An after a long night of fun went to bed finally.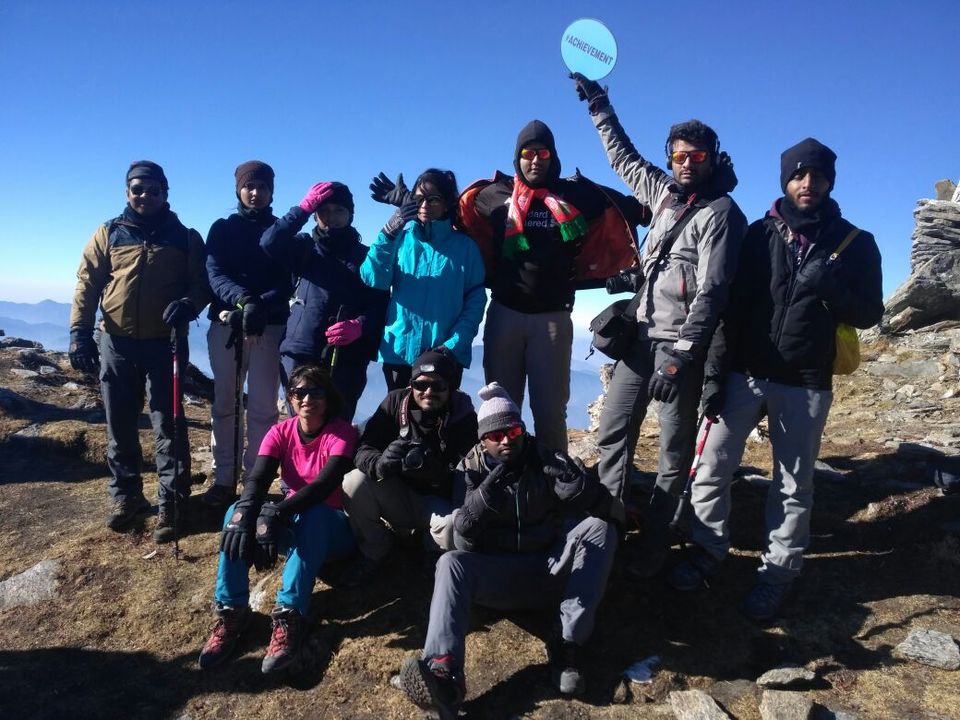 6th Day - 14th of Dec. 2016:
Regular stuff, got freshen up, and they made lovely breakfast for us. we had and packed our things and it's time to back, but didn't know this time feeling like I didn't wanna come back, felt like to stay there. It was an awesome team, the fun I had, The nature I am in love with, the breezes murmuring lovely songs in my ears thru me and made me that to lost myself in that place, the shooting stars that was playing hide and seek with me in the nights. The mother earth with magical forests and many other wonders of nature had me into that place leaving my soul behind (at one of the best places).
But, suddenly something reminded of our daily life; what we had done to daily lives where we are now. We cut the trees, built many things and polluted like worst of ever been in life and suffering with what we accomplished. So, it's better that we should pay only a visit to these beautiful places occasionally. I feel that's the best for nature perseverance.
But what to do, we have to go where we belong one day, no one is permanent in this world. But i lived and breathed fresh air of never been in such a most beautiful place that enough for me and to carry along with a mindful of memories. We started around 9 AM. It was different route to come down, there is one place where every one used to rub their bum, ha ha ha ha true, dont know what's wrong with that place every one used to slip at that point whoever come to that path and around 12.30 PM we reached Sankri (the base village). Everyone was waiting for lunch, and they served nice lunch for us; rice, roti, dal, mixed veg, mushroom, and chicken, everyone was dying for chicken, except veggies, that too it's a country chicken. everyone had delicious lunch that we can't get here.
Our vehicles were waiting for us, to drop us at Dehradun, and we had train at 9.30 PM to catch around, so, at 1.30 got into vehicles, said bye bye to all our guides, and carried loads of memories with us. We had given grand farewell to the place of magical mountains and the places were seen. The people, their innocence and culture was really fantastic.
It's almost 7 hours of journey, we reached Dehradun by 8 PM, had dinner, and got into train to Hyderabad.Finally, special Thanks to my lovely team, who were very supportive and funny throughout entire trip.
Awards given by my organizer: ;)
Mr. Hima Chandra (camp fire specialist)
Mr.Vishal (support) (entertainer of the group)
Mr. Kishore Raju (young Tharang)
Mr&mrs nishit & sneha (responsible)
Ms. Sindhu Chandra (super-fast)
Mrs. Divya (selfie queen)
Mr. Gowtham (cool guy)
Mr. Sujith (most oldest in the group)
Mr. Ravie (kandavala veerudu)
Mrs. Saritha (slow & steady)
Mr. Prasanth (out of coverage area)
Mr Abhijiet mathew ( the story teller)
Mr rahul & shash ( my little brothers)
Finally, time for team lead to attain tittle, team has decided wayfarer, i will say, the director and photographer.
Trek to Kedarkantha is one of my best travel dairies to cherish and remember in my life time. Ending of the year with a lot of beautiful adventures, true treasure of nature, and all these are a excellent motivation for next coming ones. Will be here with next adventure… Until then have a nice time folks…
Feel the magic, Fill your heart and life with memories & moments...!!! F O R E V E R…
Protect nature, it will protect you…
Nature is Mother of earth – work hard for Peace and Green not for war in the future.