My travel cravings come as often as my food cravings. This time it was a specific craving- a strong yearning to go to Nainital - one of mother nature's humble creations, to reclaim some of our lost serenity. So, we planned a 3-day escapade from the maddening heat and humidity of Delhi.
The trip to Nainital is special to me in many ways. It was the first trip with our 10-month-old son.
We have been planning for this trip for long and something or the other always came in the way. (Waiting for the perfect season, baby's health, train tickets availability etc). Then came the traffic crisis in Nainital and we almost gave up on the trip. However, news reports said that the traffic situation improved and finally, we planned a lazy 3-day escapade to this amazingly beautiful little place.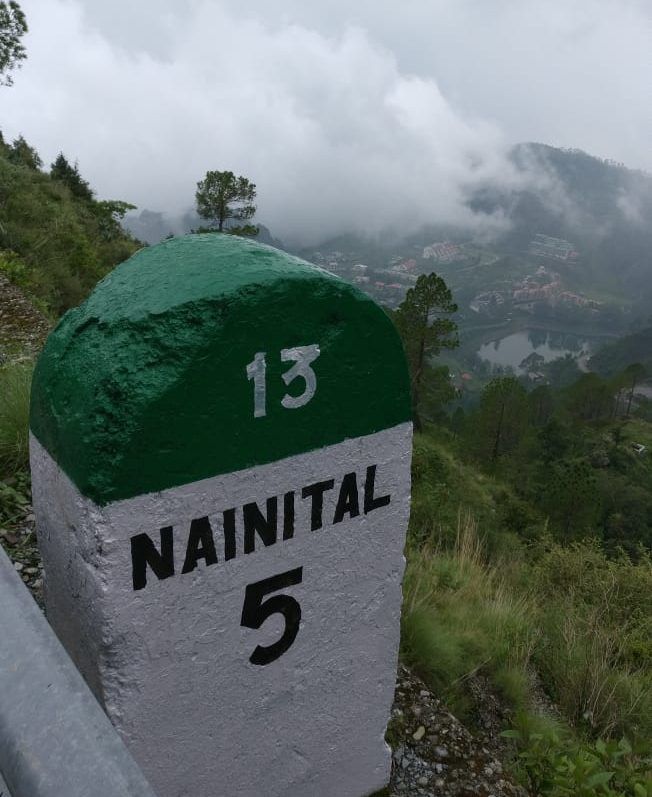 We hired a cab from MakeMyTrip and started from Delhi on a Friday morning at 7 AM. We took the Moradabad-Bazpur route and once we crossed the forever-under-construction traffic of NCR, the ride was smooth and uneventful. There are many dhabas, both small and big, and also food joints like Mcdonalds in this route if one wants to stop for a quick breakfast. After crossing Bazpur, there was a sudden change in our surroundings, the view changed from the rustic and dry roads to the wild forest on both sides of the road. The route is pleasant from here and the pleasantness factor only increased as we got closer to Nainital.
There were boards cautioning about wild animals crossing the road but fortunately or unfortunately we didn't come across any. Once you enter the ghat road leading to Nainital, you will spot small food stalls selling Maggi and people with their vehicles parked to a side enjoying the view of this breathtakingly beautiful valley every few meters.
11 km before Nainital is this humble beauty, called Khurpatal. Don't forget to stop here and soak in the alluring beauty of this lake. It is a small and peaceful emerald lake encircled with pine and cedar trees. There are some accommodations near the lake and those who prefer a calm vacation can consider staying here. Though I read in some websites that one can go for boating in Khurpatal, I did not find any boats or boating in the lake.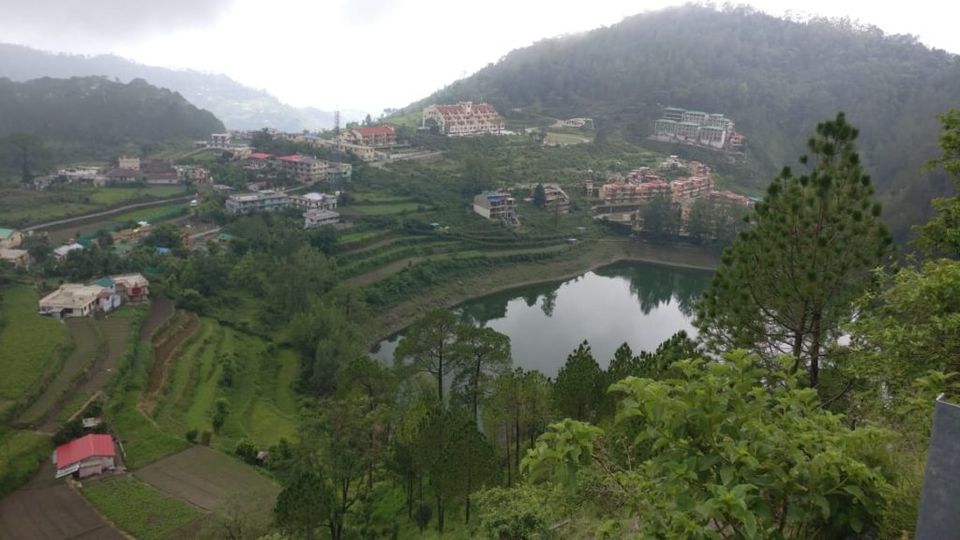 After crossing Khurpatal, we witnessed the legendary traffic crisis of Nainital. We were told that the traffic condition improved, but it still took around 1.5 hours to reach Mall road from there. (Takes 30 minutes in normal times). Now, if this happened in Delhi I would have got frustrated, irritated and whatnot sitting in the car waiting for the traffic to move. But, call it the magic of Nainital, everybody on the road was calm even though the traffic moved at snail's pace.
We finally reached our Airbnb home around 3:30 PM and it was a pleasant surprise. The vintage furniture, wooden ceilings, its secluded location was just refreshing. We had a simple lunch, rested for a while and headed to mall road in the evening.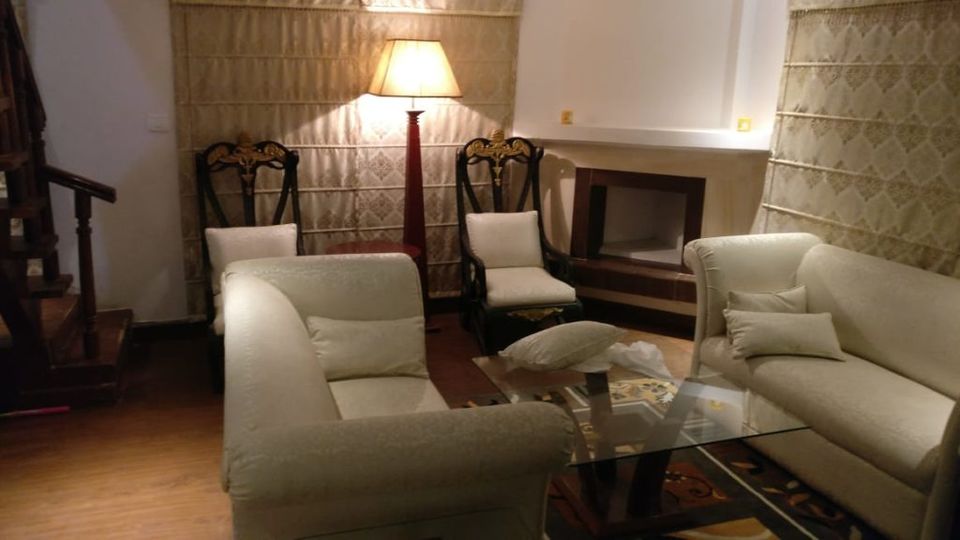 Want to try Airbnb? Sign up here and get Rs.2,200 off on your first trip!
Now, I imagined mall road to be a place where one can enjoy the cool breeze and calmness, that the Nainital lake has to offer, but who am I kidding, it is the peak tourist season and like any other hill station in India, it was full of people. No exaggeration if I say, it was as crowded as Rajiv Chowk of Delhi.
Mall road has everything. From roadside shops selling trinkets and souvenirs to branded showrooms. There are many local shops selling candles and candle holders in different shapes and colours. There are candles in every shape and variety one can imagine. Gods, Cars, flowers, animals, ice cream cup, beer mug and what not. They will be the best souvenirs to take back with you from Nainital. (I am sorry I did not take any photos of these beautiful candles)
There are also supermarkets selling daily essentials in case you are planning on staying in an Airbnb home and want to cook your meals.
We welcomed another lazy day and left our home at 11 AM for mall road.
There was traffic here again and after strolling in mall road for a while, we bought tickets for ropeway. Please note you will have to get your tickets well in advance if you have other activities planned for the day. We bought our tickets at 11:30 AM (Rs. 230 per adult) and our cable car ride was scheduled for 3:30 PM. And all ropeway tickets were sold out for the day by around 2:30 PM. I understand this changes according to the tourist footfall, so be prepared, especially if you are visiting during the tourist season.
No one would come to Nainital and go back without having the experience of boating in the amazing Naini lake. The calm emerald lake will humble you with its pristine beauty with the mighty mountains in the backdrop. You can hire a boat with a boatman for boating till half way or till almost the other end of the lake (Around Rs. 200 per boat). There are also mechanical self-paddle boats which you can hire for one hour. We hired a boat with boatman for the full-length ride.
And the experience was soothing and pleasant. The cool breeze, the emerald green water, and thanks to the amazing weather, the clouds descending to kiss the lake just added to the beauty of the place. The image of boats coming out of clouds is an amazing view which I would hold on for long. Spend as much time as you can in the lake. You will cherish these moments. Let your eyes devour the beauty and soul release its tightly held worries.
Once you are done with boating and come out of the trance, you will realize that you are amidst the impossible crowd. But let me tell you once again, Nainital works its magic on you and the crowd doesn't affect you as much as you think it would.
You also find the mandatory hill station activities like a picture with the rabbit and picture in traditional costumes. We gave them a miss though. We had a simple yet tasty lunch and shopped for candles and dry fruits. Sat in the mall road munching on the tasty salted pistachios and played some silly shooting games near the cable ride entrance as we waited for our turn.
Our turn came 10 minutes past our scheduled ride time. There are two cable cars ferrying people, around 10 in each. You get a good view of the entire Nainital lake and the hills surrounding the lake.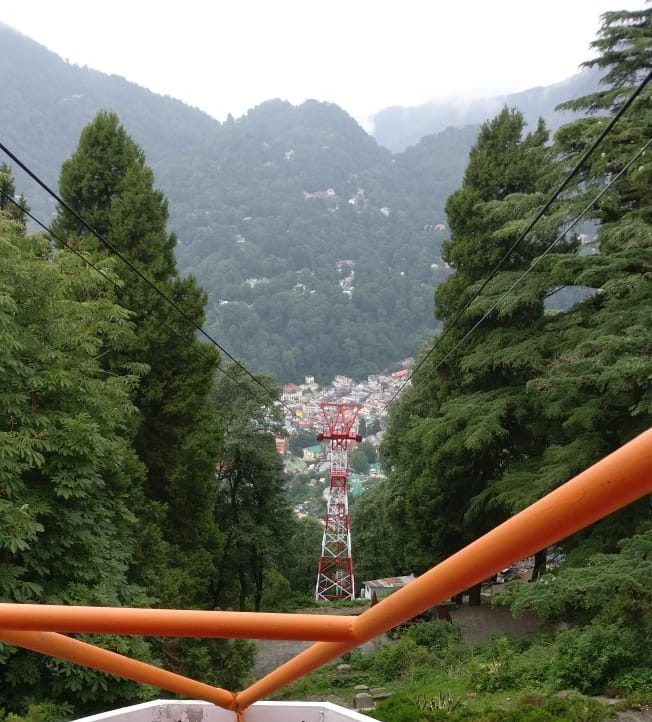 Another side of the ride is called snow viewpoint, I guess because one can spot snow-capped Himalayan peaks (if weather permits) from here. There is a designated viewpoint with a powerful telescope to enjoy the amazing view (Rs. 10 per person), but much depends on the weather. It was cloudy at the time we went so we could not spot any peaks. I could spot some village homes and a temple on the hill. It was fun to watch through the telescope though.
Rest of the place has nothing much to write about. Usual things like eateries, shops, kids play activities occupy much of the place, there are some interesting trails to explore though.
One gets to spend around one hour here and then ferried back by the cable car to the side of mall road.
So, after reaching the other side, we sat on the lakeside for a while and visited Naina Devi temple. The temple is dedicated to Maa Naina Devi and considered one of the Shakti Peethas of Hindu Mythology. According to the local legends and history, the temple was originally built in the 15th century and later reconstructed in 1883 after it was affected by a landslide that occurred in 1880.
The temple complex also houses a big Hanuman statue, a Shiv Lingam and a mandir dedicated to the Dashavatarams of Hindu Mythology. The temple with its lake background has a divine aura all over.
We strolled along the lakeside for a while and got a chance to watch a mini-musical performance by local police to which the tourists danced. It was fun to watch the police and tourists enjoying themselves. It seemed like a regular affair, but I am not sure.
We had plans to go to Bhimtal en route to Delhi, but we dropped the plans seeing the traffic on mall road as we did not want to have any last minute rush. We halted at Himalayan Botanical Garden not expecting much, but it turned out to be a stunning place. Actually, every view in Nainital is stunning.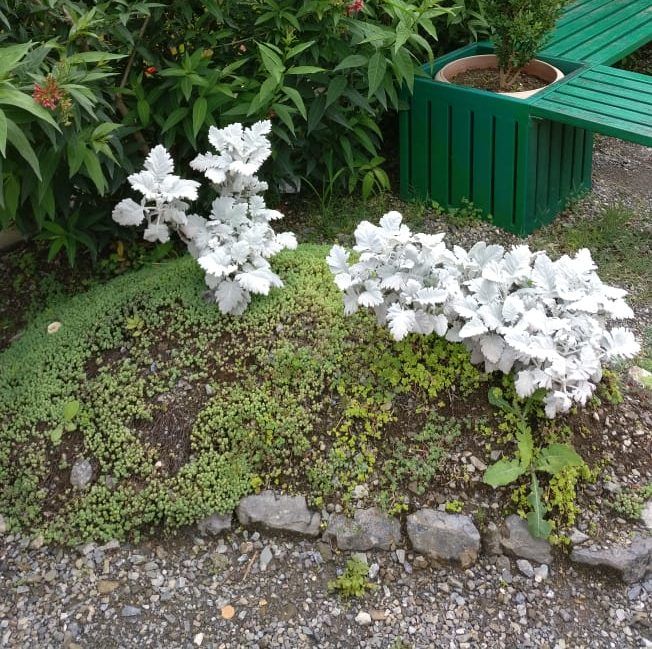 There were some interesting plants and rocky trails to explore. We choose one trail and reached the top and enjoyed the view from there. The view of clouds playing hide and seek with mountains. The feel of the cool breeze on your face. Ah, such a blissful moment. This is a must visit.
There were desert plants on the top of the Garden kept in domes. However, I felt it would have been a better experience if there was more information regarding the various species present here. They just have a boring nameplate displayed. However, as if compensating for the miss, the Garden has an interesting display on insects and worms and they have an entire section dedicated to butterflies. Here I learned that some species of these innocently beautiful creatures also carry poison and can even kill a human with their bite. Scarily beautiful, I must say.
The garden also has a small canteen that serves simple food at affordable rates.
We then proceeded towards Delhi with happy eyes and heavy hearts. But voila, the best is yet to come. It started pouring as we started our descent and it was all clouds around us. The valley, the clouds, the rain and the chill.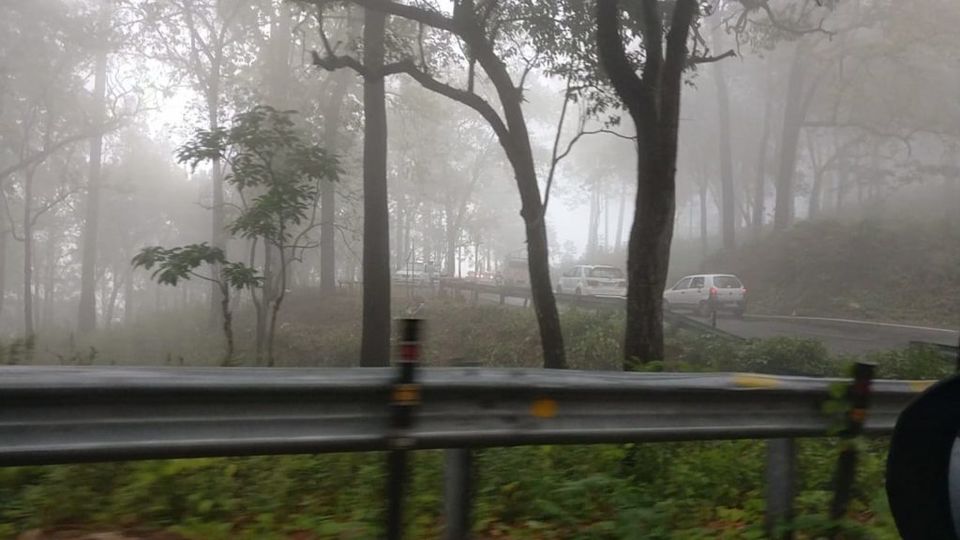 Nainital is awesomely beautiful, but this bit of journey is my favourite part of the entire trip and one I would keep playing in loop in my brain.
And finally, we reached home at 10 PM after battling the traffic of NCR and got ready for the life.
Disclaimer: Spending a weekend in such amazingly beautiful places can make your normal life seem pretty unexciting. So visit at your own risk. 
Thank you for reading.
Come over to our blog Tales and Miles, to share a chat and some travel love.
Frequent Searches Leading To This Page:-
Nainital Tour Package From Delhi, Nainital Tour Packages With Prices, Nainital Package From Kanpur, Nainital Honeymoon Package, Nainital Package 4N/5D, Nainital Tour Package For Couple, Nainital Tour Package From Delhi By Car, Nainital Family Package, Group Tour Packages To Nainital, Nainital Tour Plan 7 Days