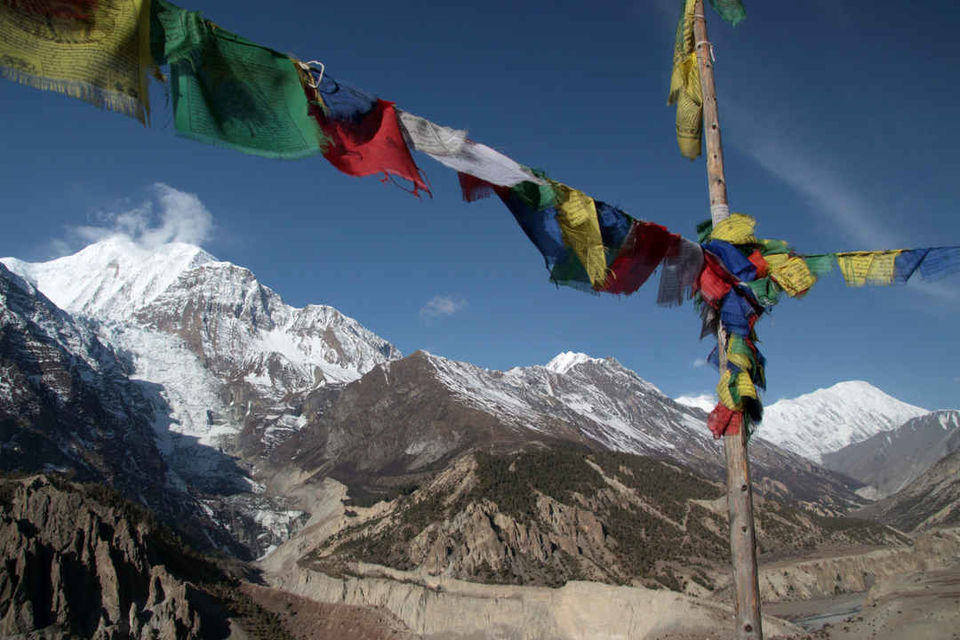 "It is always the same with the mountains, once you lived with them for any length of time, you belong to them. There is no escape."
Someone said it right, I felt these lines with the core of my heart. That day i got to know that I've been and will always belong to the mountains only. On my birthday, sitting in the waiting area of IGI airport, I could feel that I am going back home to the mountains of Nepal. Like Everest base camp trek, this too was a solo trek. I did it in a very limited budget and here is how you can do it too.
This is a well marked trail and is very doable alone. Since its a very popular trek among hikers so i did it in monsoons to avoid the rush. However, its a bit dangerous in monsoons due to landslide but you can avoid danger by being alert and observant.
Before starting day to day itinerary, here are some things you need to know about ACT:
1) Carry cash as there are no ATM's after Besisahar. I tried using my card in Manang but there was connection error so the transaction couldn't be completed.
2) TIMS card and ACAP is necessary to enter in the Annapurna conservation area so make sure to reach 'Nepal tourism board' in Pokhara before 4 pm. TIMS Card costed me 600 NPR and Annapurna conservation area permit(ACAP) costed 1000 NPR. This price is for SAARC countries and the ticket price is different for Eu and other nationals.
3) You need travel and health insurance to get TIMS card. If you don't have an insurance then they wouldn't issue the permits.
4) Its a well marked trail and there are signposts on the trail so you can do it solo. However, still carry a map, you don't need to buy it as you will get the map for free with TIMS card and ACAP at the office of Nepal tourism board.
5) Acclimatization is necessary so better to take rest days after every 3000 feet. A lot of people feel altitude sickness after Manang so better carry headache tablets and diamox in case you feel minor or major headaches. To avoid AMS, please drink at least 5 litre of water everyday because proper hydration is needed if you want to complete the trek without difficulties.

6) Carry raincoat and waterproof hiking shoes as the weather is unpredictable in the mountains.
7) Never miss a meal while you are on the trail, even if you don't feel like eating. On this trek, you'll burn around 2500 cal per day so its very necessary to eat well throughout the trek. On higher altitude, increase the amount of garlic in your meals as garlic is good for Altitude sickness.
Day 1 - Delhi to Kathmandu:
I reached Kathmandu around 2:25 PM and took and taxi to Thamel for 550 NPR. You can also find a local bus just outside the airport, the bus will leave you 15 mins before Thamel market and it costs just 10 NPR to go there by bus. For bus number, You may ask other people at the bus stop. Nepali people are really kind and keen to help.
I was travelling on low budget so I stayed in a hostel in Thamel market. 327 Thamel is a very nice place to stay if you want a nice and not so expensive place. It costed me NPR 550 for a night.
There are many options to have delicious food but I had best momos of Nepal in a local shop at Sorhakhutte chowk. Its on walking distance from Thamel.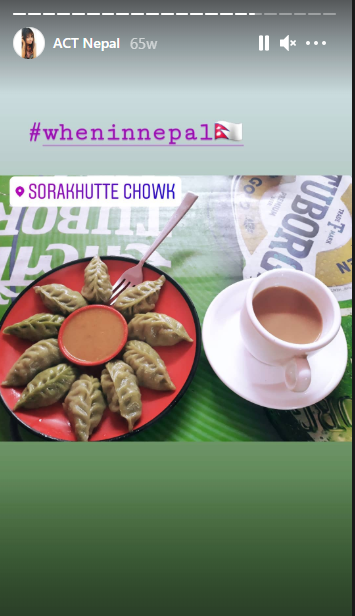 Day 2 - Kathmandu to Pokhara:
I took an early morning bus at 7:20 AM from Sorhakhutte tourist bus park. You can book a bus online or you can also book it from Sorhakhutte tourist bus park 1 day prior. I booked it online for INR 700, I booked my ticket 1 month month prior at the time of planning my itinerary. Buses are not so comfortable but still better than local buses. It took around 8 hours to reach Pokhara.
Reached Pokhara around 3 PM and straightaway went to Nepal tourism board to get the permit to enter Annapurna conservation area. It took me more than an hour to get the permits as i didn't have an insurance at the time and they asked me to give insurance details to get the permit. I had to take an immediate 14 days medical insurance from my ICICI bank mobile app which costed me 500 rs.
After getting my permits, I headed to zostel to stay for the night,. It is in the outskirts of Pokhara so I had to book a taxi to get there, taxi costed me 400 NPR.
Zostel Pokhara is an amazing place to stay, it costed 450 NPR for a night. They serve the best momos :p
Since I had to reach Besisahar before 12 PM so i asked the guys on zostel reception to help me book a bus ticket and find a taxi to reach the bus stand. They made a few calls and 5 minutes later they booked my ticket to Besisahar along with a taxi to the bus stand. My bus was at 6:30 AM so i thanked the guys for helping me and went to sleep.
Day 3- Pokhara to Besisahar to Tal
I reached bus stand at 5:45 in the morning. The sky was clear so the views of snow capped mountains were mesmerizing. I met 2 other travelers at the bus stand and turned out the 3 of us were heading to the same place.
Bus was on time so we started our journey at 6:30 AM. Bus took us through a broad road surrounded by lush green forests, the journey was very refreshing. We reached Besisahar around 11-11:15 AM . Most trekkers start from Besi Sahar (1,000m) and work their way around the Annapurna circuit anticlockwise to Pokhara over a 2-4 weeks period. This allows for a break mid way at the village town of Manang (3,550 metres) to acclimatize before heading higher but I decided to skip the initial part of the trek because most of it passes through the roads where vehicles appear time to time.
I had Aalu paratha at the hotel near the place where bus left me. Roberto and Guilio joined the table and we discussed about where we were headed next. They were also going towards Chamje so we decided to book a jeep and divide the total cost. half an hour later, we booked a jeep and the driver agreed to take us to Chamje, he charged us 1200 NPR each.
The jeep crossed many beautiful waterfalls, narrow roads through clouds. By the time we started our ride, it started raining and the views got more beautiful. At some points the road was so narrow that we felt like falling down in the valley but it didn't happen as Our driver was very skilled. 3-4 hours later, we reached Chamje and started our trek to Tal. since all 3 of us were tired after those bumpy rides so we started our uphill trek and reached tal 2-3 hours later.
You can start the trek from Jagat but i skipped Jagat and Nagdi and started the trek from Chamje. We were done for the day and stayed in a very beautiful wooden cottage for FREE. Yes you can stay anywhere along the trail for free only if you have meals at the tea house.
Day 4: Tal(1700 met) to Dhukur Pokhari(3240met,11.5 hours)
We woke up early morning, had breakfast and left for Chame at 6:45 AM. It was a beautiful day, we crossed many suspension bridges, jungles, waterfalls, apple orchards and reached Chame around 3 PM. It was mostly uphil climb but the views were amazing so it was not tiring. There, we had Dal bhaat for 350 NPR and Chai for 60 NPR. We were supposed to stay in Chame but we didn't feel tired so we carried on walking till we found another beautiful place. Around 7 pm, we reached a beautiful place called Dhukur Pokhari which is situated at the elevation of 3240 met above sea level.
We searched for a tea house, had chai and momos and called it a day. It was a long day but it was beautiful. Again, we only paid for the meals not for accommodation.
Day 5: Dhukur Pokhari(3240 met) to Manang(3540 met, 6 hours)
Today I started at 8 AM. This is the most beautiful day of this trek as I passed through Pisang and Humde. Pisang looks like a place from fairytales and Humde is more like a desserted valley. This picture is from Pisang.
Day 6: Acclimatization day
At 3,500 metres, symptoms of altitude sickness may appear, so acclimatization at this point is crucial! Since I have done a few 5000 met treks so I was ok at this altitude, but many people may face breathing problems at this point and headaches.
I strongly recommend spending at least 2 nights in Manang and doing small hikes to allow your body to acclimatize to altitude. Also, if you feel constant headaches then I recommend you to have painkillers whenever you feel headache and nausea.
Today was acclimatization day so I woke up, had breakfast and just looked at the beautiful place it was. I decided to take a walk back to the village called Bhraga which i passed through the day before. You can go up and down in Manang for proper acclimatization. Roam all day around the town and enjoy good coffee, good food and bakery.
You can have a look of Annapurna and Gangapurna glacier from Manang. Also, this town is connected to the roads so you can directly reach there via jeep.
Day 7: Manang(3540 met) to Letdar(4200 met, 4 hours)
On day 7 of my trek, I woke up to cloudy weather. I had pancake with honey in breakfast and started walking towards High camp. Half an hour later, the clouds disappeared and the weather became extremely hot. On the way I had a clear view of Annapurna and Gangapurna glacier. This day is another scenic day of trek as the vegetation started to change from there. The trek ascends slowly so it was not at all tiring. I saw a few yaks on the way.
Day 8: Letdar(4200 met) to High Camp(4850 met, 3.5 hours)
Short and scenic trail and you'll enjoy walking on this day. This was also one of the hardest parts of the Annapurna trek (even harder than crossing the pass) as I started to feel the altitude symptoms. I needed to stop every few minutes to rest before continuing further, at this point i had to take a painkiller. After 15-20 minutes of having painkiller, my headaches stopped and I started to feel energized again.
The trail becomes steeper and thinner just before reaching high camp so don't rush and walk in your own speed. Take as many breaks as you want because at this point the air is very thin and you'll feel breathlessness. At this altitude, there is only half of the oxygen available than the sea level so you will feel tired after every 10-15 minutes of walking.
The amenities are very basic at high camp and there is no electricity there. The temperature drops in negative at night and it becomes really cold so make sure to wear enough layering at night ton keep yourself warm. You may feel loss of appetite but i suggest to eat even if you don't feel like eating. Its better to have garlic soup as garlic works the best at high altitudes. Also, coca cola also helps if you are feeling altitude.
Finally after a breathless climb, I reached high camp where I met a few other travelers who crossed my path in Manang. In a few hours we became good friends and spent the rest of the day talking, playing and discussing other things that we came across during the trail. On this day, I met Samantha and cam from British Columbia. They were the kindest people I ever met in my life.
As I said, the nights are really cold at high camp and I was starting to feel cold as the sun went down. Samantha noticed that my hands are cold even after wearing gloves so she offered me her heat patches which she brought for herself but she gave those to me without a second thought. She told me I am like a little sister to her and even made a herbal tea for me in the evening. I will forever be indebted to her.
Day 9: High camp(4850 met)- Thorong la pass(5416 met)- Muktinath(3800 met, 8 hours)
The most difficult part of hiking Thorong La pass is that you have to wake up very early to leave at 5 am. I had a good night sleep and woke up past 5 AM, had breakfast left around 6 AM with the people I met yesterday. You need to start early to avoid the heavy winds that occur at high altitudes in the late morning before midday. Thel;ast part of ACT is steep and really scenic so you will enjoy walking on this day.
It will be cold so make sure you wear thick woolen caps, gloves and down jacket you have been carrying all the way! After reaching midway to Thorong la pass, I suddenly started to feel altitude so decided to take a break. After 10-15 minutes other people became out of my sight so I started walking again, lost in the trance of the views I was witnessing with each step.
A few moments later, I saw Cam coming back to see if I was alright. As its difficult to take even a single step on this altitude so when i saw him coming back all the way to me, I asked why he came back and he said the kindest words someone ever told me in my life, he said and i quote "I would never leave you here alone because I know how it feels to walk alone when you are feeling all sorts of mixed emotions." I could never forget these words because that time i was really feeling nausea and headache and his words comforted me.
We trekked the last 600 m up to the 5,416 m Thorong La Pass climax point, then down 1,800 metres to Muktinath village.
I went at a slow pace and reached Thorong La pass at around 8:30 am. I was overjoyed! The adrenaline at this point kicked in, which helped with all the altitude symptoms.
We spent a few hours at Thorong la pass and started the descend to Muktinath around 11 AM. The views are amazing on this trail. We reached Muktinath around 4 PM and stayed at Bob Marley hotel, again for free. Here we got hot shower, cozy room and a very nice and affordable restaurant.
Day 10: Muktinath to Jomsom(2770 met) via Lubra valley- 8 hours
Its an easy and scenic day of the trail. You'll pass through a deserted village Lubra which has many apple orchards. After crossing Lubra, You'll walk on a motor able road for the last 4 kms of the trek on the sides of Kaligandaki river. After trekking for 8 hours and covering around 20 kms of distance, I reached this beautiful hamlet in Nepal Himalayas called Jomsom- the windy valley. I instantly liked this place and decided to stay here for 2 days.
I stayed in a homestay for NPR 200 a night. It was a very beautiful homestay with a clear view of mount Nilgiri and Dhaulagiri.
Day 11 & 12: Jomsom (2770 met)
Nepalis relate Mustang as a kingdom of delicious, fresh, and juicy organic apples. Villages in and around Jomsom have plenty of apple orchards with juicy apples ready to be eaten straight out of the tree.
For the next 2 days, stayed in Jomsom and explored the town. On day 1 of my stay here, I visited Dhumba lake.
Dhumba Lake is a sacred hidden lake among the rocky terrains and scattered pine trees. At a distance of approximately 5.5 kilometers from Jomsom, this crystal clear and serene lake is a perfect place to spend a day, while you are in Jomsom. You can reach this lake at approximately two hours from Jomsom. To hit on the trailhead, turn right from the bus park, cross the wooden bridge over Kaligandaki and follow the pointer marking Thini/Dhumba Lake.
At around five kilometers, you will reach Thini village. In about half a kilometers walk, you arrive at the beautiful turquoise lake. Regarded as a sacred place by Buddhists, prayer flags surround the lake. Located at the base of Nilgiri Mountain, crystal clear water reflects a mirror image of surroundings on calm, windless weather. I spent the day at the lake and came back by the evening. I took a walk to Jomsom airport and had apple pies in nearby bakery.
On Day 2 of my stay, I visited Marpha village which is an old town at the distance of around 30-40 minutes from Jomsom. Its famous for apple orchards, died apples, apple pie and Marpha apple cider. I spent the rest of the day in Jomsom and booked a ticket to Tatopani in the evening.
You can book a ticket to Tatopani from the bus stand. The ticket costed me 400 NPR and the bus timing was 7:30 AM.
Day 13: Jomsom(2770 met) to Tatopani(1200 met):
I reached local bus stand at 7 Am since it was just 5 mins away from where I was staying. I bought a 2 packets of lays from the bus stand. The bus started on time and passed through the most beautiful old villages of this deserted windy valley. We stopped in Marpha, at an apple orchard and i picked a few red apples from there. The bus started again after 10 minutes. Around 12 PM, we reached at a place where landfall happened the previous night so the road was blocked.
We were told to wait, the conductor told us about the landfall and suggested to wait in the bus as there was a huge landfall on the way and nobody knew how much time it will take for the road to be cleared.
We waited and waited for 7-8 hours but there was no news from the other side. Though the army was clearing the was but we were not told about the time it might take. As the sun started to go down, almost half of the bus was empty because the locals returned back to Jomsom or nearby villages. Around 9 PM we crossed the landfall and had dinner at a dhaba. I reached Tatopani around 11 PM and rented a room for NPR 1000 as it was late at night and everything was closed. There was no lights nothing as i entered in Tatopani and stayed at the first hotel I found. I stayed at Kamla hotel and slept as soon as i got the bed.
Day 14: Tatopani(1200 met) to Ghorepani(2870 met, 7-8 hours)
I woke up to a very beautiful sunrise in the lush green Jungle of Tatopani. Had breakfast at 8:30 and inquire about the route to Ghorepani. Started the trek at 8:30 AM. Trek from Tatopani to Ghorepani is difficult as its very steep because you'll gain 1670 met of altitude in a short distance. I really enjoyed this day of my hiking as I crossed many beautiful waterfalls in the dense forests and rhododendron trees along the way. It was tiring but very beautiful trail. For the 7-8 hours of the trek, You'll only ascend since the trail is very steep and most of the points.
I reached Ghorepani around 3 PM and rented a room in a tea house for free. The sky was clear so I enjoyed rest of the evening looking at Tukuche(6,920 m), Dhaulagiri(8,167 m), Gangapurna(7,455 m), Annapurna I(8,091 m), Annapurna II(7,937 m) Annapurna South(7,219 m) and Annapurna III(7,555 m).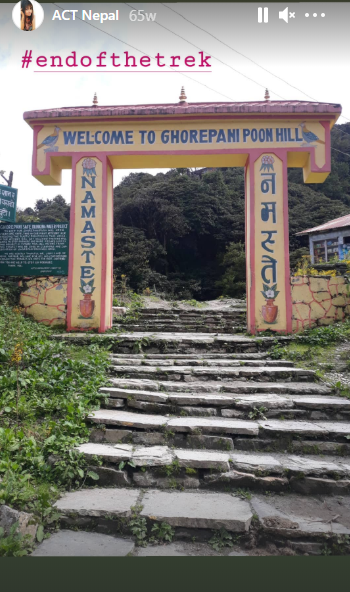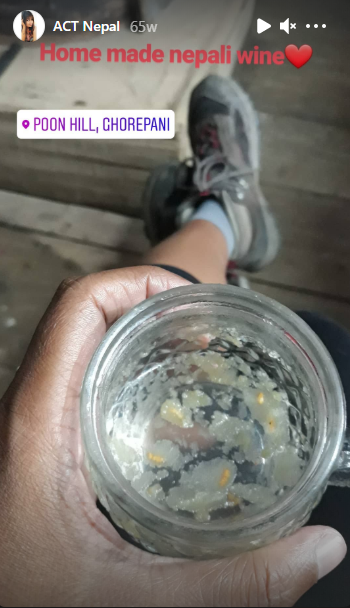 I talked to my hosts for the rest of the evening and went to bed early in the hope of waking up at 5 AM to trek to Poon hill the next morning.
Day 15: Ghorepani(2870 met) to Nayapul(1070 met):
I woke up at 4:45 AM to go to the poon hill but as I opened my window, I saw that it was raining heavily. I waited for an hour for the rain to stop but it didn't. The weather was getting worse so I went back to sleep and woke up at 8 AM. It was still raining, I had my breakfast and left for Nayapul at 8:30 AM.
On a clear day, these peaks which are visible from the top of Poon Hill.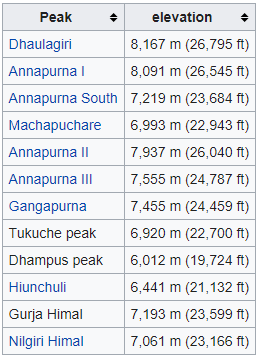 I crossed the rainforest and Kaski region and after walking for like 6 hours I finally reached Nayapul. The trek from Ghorepani to Nayapul is very easy as its a sharp descend all the way down to Nayapul. It rained the whole day so the jungle looked more beautiful as it was in its best colors on a rainy day. I took a few breaks here and there when i found a beautiful waterfall.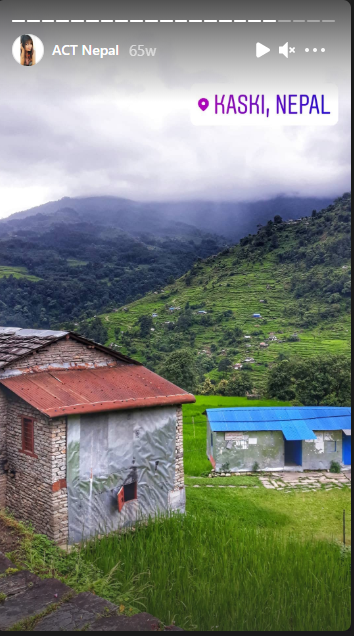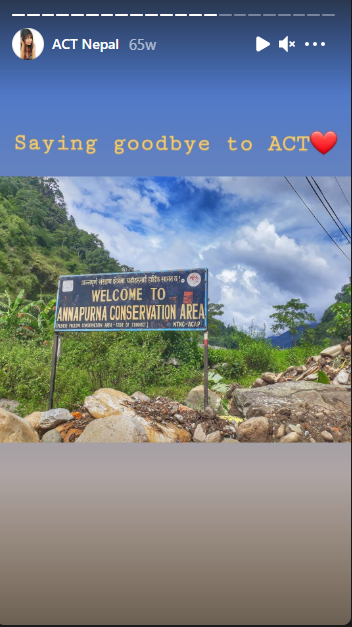 I reached Nayapul and found a guy who was going towards Pokhara. I offered him 200 NPR and returned back to Pokhara with sadly. Reached Pokhara in 1 hour, spent the evening at Fewa lake, had momos, chai and beer by the lakeside and boarded a late night bus to Kathmandu from Prithvi chowk for 500 NPR.
Day 16: Pokhara to Kathmandu
Day 17: Stayed in Kathmandu
Day 18: Kathmandu to Delhi
I felt sad as I left Nepal. I made it to Annapurna circuit trek, completely on my own. I had my adventures and misadventures but I did it with no guide and porter.
Always remember, don't ever wait for someone else to go with you because there is so much more to life than waiting for someone to go on adventures with you. Your adventures are yours and yours alone. Maybe someday someone will accompany you but I believe that someday is a synonym of never.
I returned back with the idea of being there yet again, somewhere higher than this time.
NOTE: KINDLY CONTACT ME IF YOU HAVE ANY OTHER QUERY REGARDING ACT.