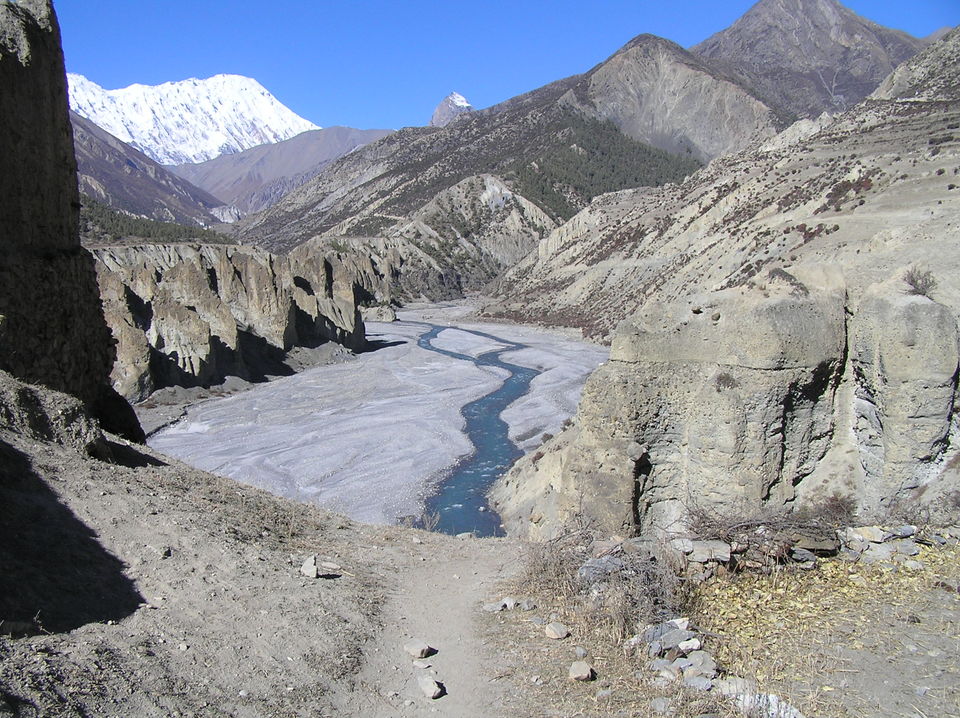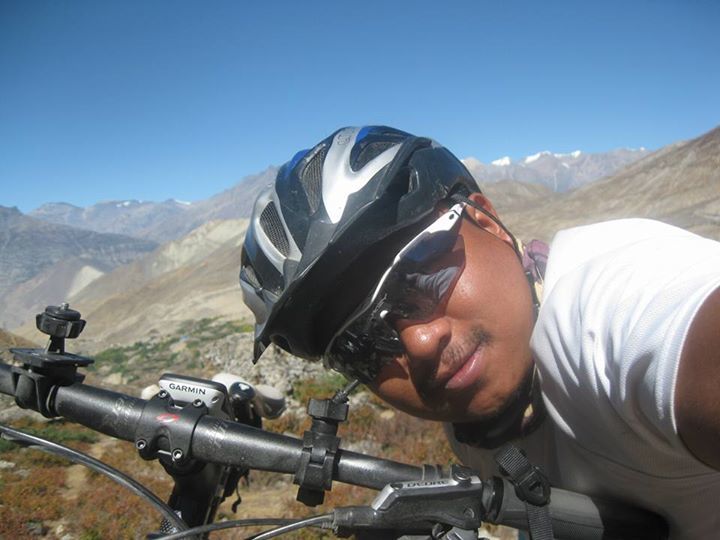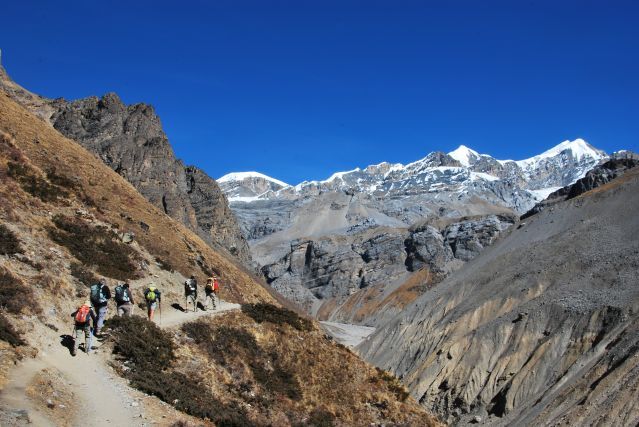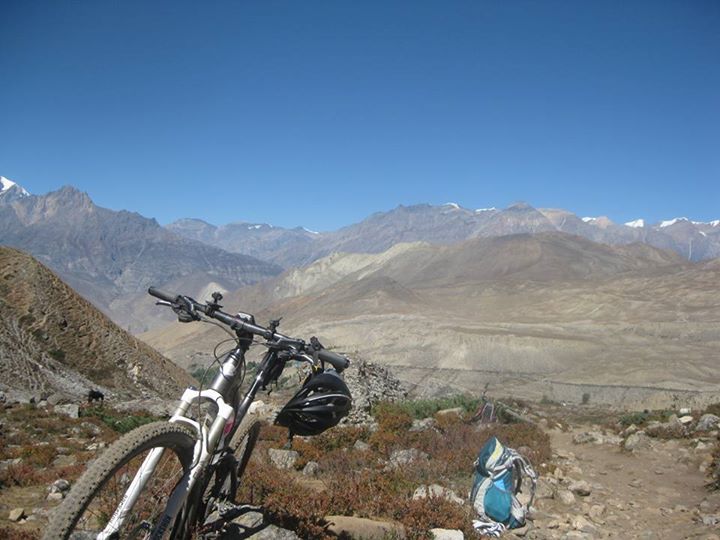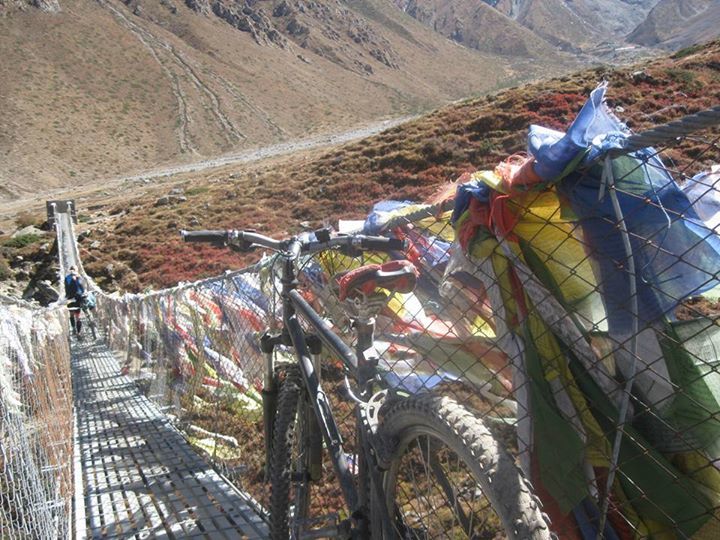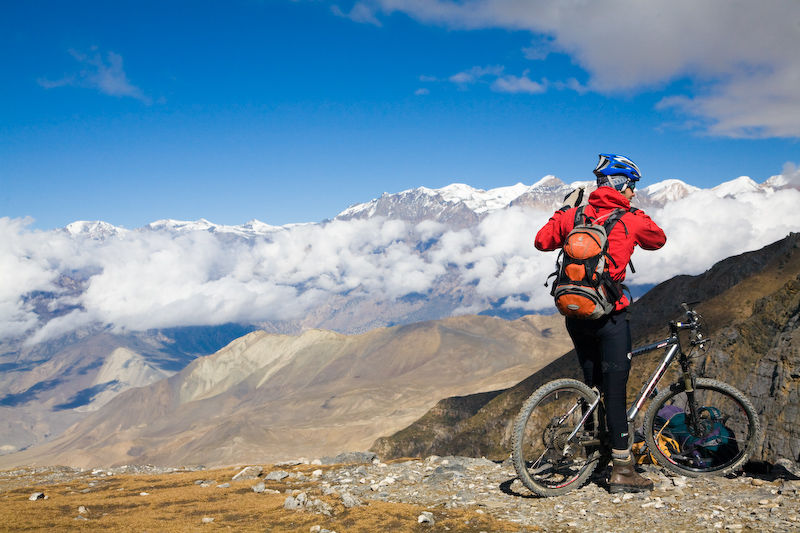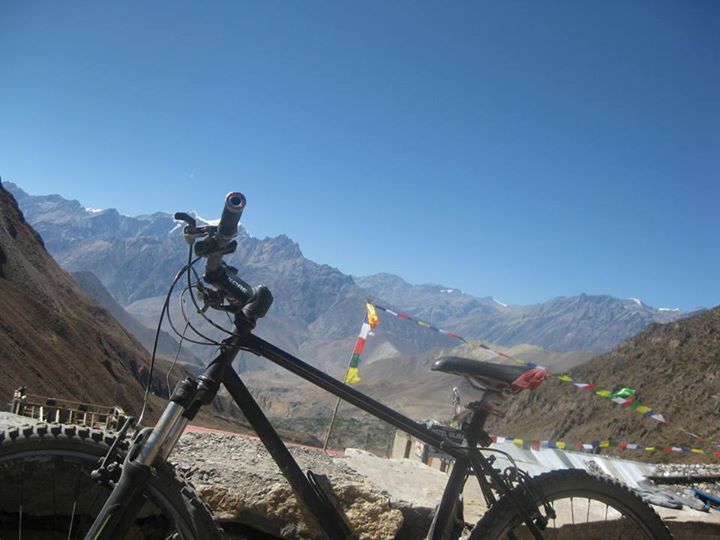 Rush ride to Annapurna circuit Biking
Rush ride to Annapurna circuit mountain biking trip is one of the best designed holiday for mountain biking lovers those who have a dream to do the Annapurna circuit mountain biking but have limited time to spend in Nepal. In this trip we are doing the same Annapurna circuit biking but we are skipping some of the lower parts in the normal trip. During this trip we start from Chame on this trial we pass through different several waterfalls, villages and different beautiful terrains. Passing through the one of the world's highest passes "Thorong la" is absolutely amazing. As Nepal is one the diverse culture and nature purpose you will see the beautiful trails of mountain biking as well as both natural and cultural beauties. The other side of the trip includes lower Mustang which is really outstanding. Riding through the Kali Gandaki river and world's deepest gorges truly astonishing.
Day to day itinerary:
Day 01: Arrival in Kathmandu
You will be received at the international airport in Kathmandu and transfer to hotel. Discuss about the trip to the Annapurna circuit.
Day 02: Drive from Kathmandu to Besishahar .
Early morning after breakfast we will drive to Besishahar about 5 hours. Once we reach there we check in out TIMS and conservation permits and have a walk in the small town which is a good walk.
Day 03: Drive from Besishahar to Chame (2800m)
We drive to chame crossing off roads to beautiful villages, waterfalls and dusty part of the trip. It will take approximately 4 hours of off road drive to beautiful village Chame. This day after we reach Chame we assemble our bikes and prepare ourselves to ride from tomorrow. Overnight at Chame.
Day 04 - Ride from Chame to Pisang (17km, 3,230m)
Ascend through pine forests as the trail open into a fertile agricultural valley. Rice fields and cow pastures mark a rather more hospitable stretch of terrain. The dirt trail leads you through villages and settlements, and you get the opportunity to meet with friendly locals and snotty children. Overnight at a guesthouse.
Rideable: 50%
Distance: 8.79 mi
Time: 3:09:19
Avg Speed: 2.8 mph
Elevation Gain: 2,425 ft
Calories: 796 C
Avg Temperature: 71.4 °F
(No meals Included)
Day 05 - Ride from Pisang to Manang (19km, 3,540m)
The route goes through a dense forest in a steep, narrow valley and crosses the river via two bridges, one at 2,910m and the other at 3,030m. The trail continues along the river to Pisang, where the altitude is enough to bring on the first symptoms of altitude sickness or AMS. From Pisang, the route follows through a wide valley that opens up ahead of us. Bikers will pass through Humde (the highest commercial airport in the world) and Braga with its monastery rooted in Tibetan religion. Overnight at a guesthouse.
Rideable: 95%
Distance: 9.24 mi
Time: 2:12:27
Avg Speed: 4.2 mph
Elevation Gain: 1,401 ft
Calories: 671 C
Avg Temperature: 62.6 °F
(No meals Included)
Day 06 - Ride from Rest day and acclimatization in Manang
It is necessary to spend a rest day here to acclimatize. Ascending too rapidly could have potentially fatal consequences. There are many short excursions possible from Manang and remaining active is encouraged to aid acclimatization. Overnight at a guesthouse.
(No meals Included)
Day 07 - Ride from Manang to Yak Kharka (15km, 4,010m)
Today we leave Manang through narrow, medieval-looking streets and then climb steadily up to Khusang. Although the trail is more rideable above Khusang (3,900m), the altitude now takes effect and pedalling becomes a very hard work. It is advised to go slowly enjoying the scenery and culture of this region. Overnight at a guesthouse.
Rideable: 75%
Distance: 6.08 mi
Time: 2:31:39
Avg Speed: 2.4 mph
Elevation Gain: 2,066 ft
Calories: 575 C
Avg Temperature: 45.9 °F
(No meals Included)
Day 08 - Ride from Yak Kharka to Thorong Phedi (12km, 4,450m)
We continue to ascend to higher altitude, and thus make our ride more strenuous as we reach Thorung Phedi. It is important to remain physically and mentally prepared for the highest climb of the following day. Take it easy and enjoy the scenery as we forsake distance for altitude. The scenery of the mighty hills surrounding you is sure to impress. Overnight at a guesthouse.
Rideable: 45%
Distance: 4.29 mi
Time: 2:48:10
Avg Speed: 1.5 mph
Elevation Gain: 1,939 ft
Calories: 482 C
Avg Temperature: 41.5 °F
(No meals Included)
Day 09 - Ride from Thorong Phedi to Kagbeni (22km, 2,800m) via Thorung-La pass (5,416m)
A 4am start is necessary to cross the Thorong-La Pass: the trail can get windy later making it difficult to cross the pass. It will take approximately 4 hours to reach the top (approx 3km) and will be 100% carry for bikers. The effects of altitude can now be fully felt. Once at the top, the trail descends rapidly on a very steep slope (technical riding) for approximately 45 minutes to Muktinath (3,800m) and then on a less extreme gradient on fast, wide flowing trails to the valley floor, where we will be greeted by the medieval village of Kagbeni, last stop before entering Mustang. Overnight at a guesthouse.
Rideable: 85%
Distance: 17.73 mi
Time: 7:58:54
Avg Speed: 2.2 mph
Elevation Gain: 3,299 ft
Calories: 988 C
Avg Temperature: 50.2 °F
(No meals Included)
Day 10 -Ride from Kagbeni to Tatopani (42km, 1,190m)
Today we will descend from snow capped peaks to tropical lowlands. Leaving Kagbeni the trail follows a wide and flat river bed leading into the cobbled streets of Jomsom, with its bustling markets and airport. The trail then follows rough and rocky jeep tracks, descending through villages such as Marpha, and Khopang. Overnight at a guesthouse.
Rideable: 100%
Distance: 37.04 mi
Time: 6:25:47
Avg Speed: 5.8 mph
Elevation Gain: 1,873 ft
Calories: 1,765 C
Avg Temperature: 64.4 °F
(No meals Included)
Day 11 - Ride from Tatopani to Beni (35km, 830m) and drive to Pokhara (820m)
As we descend the temperature increases and the trail becomes less rocky. From Beni the final 15km is a long an undulating track that follows the course of the river and passes through paddy fields, lined with banana plants. Once at Khaniya Ghat we will rejoin the paved road, where a bus will be waiting for us to transfer to Pokhara (2 hours). Overnight at a hotel.
Distance: 11.53 mi
Time: 1:48:28
Avg Speed: 6.4 mph
Elevation Gain: 3,066 ft
Calories: 574 C
Avg Temperature: 62.8 °F
(No meals Included)
Day 12 - Drive from Pokhara to Kathmandu (1,345m)
We return back to Kathmandu by a tourist bus. A pleasant stroll and a last-minute shopping spree in Thamel and Basantapur. We host a farewell dinner in a typical Nepali-style restaurant with cultural performances (dancing and singing with costumes) tonight to celebrate our hard work and achievement in the biking trip.
You have the option to extend your trip to continue onto Chitwan jungle safari, rafting and bungee, Kathmandu valley shopping tour, scenic Everest flight, and other activities. Overnight at a hotel.
(Breakfast and Farewell Dinner Included)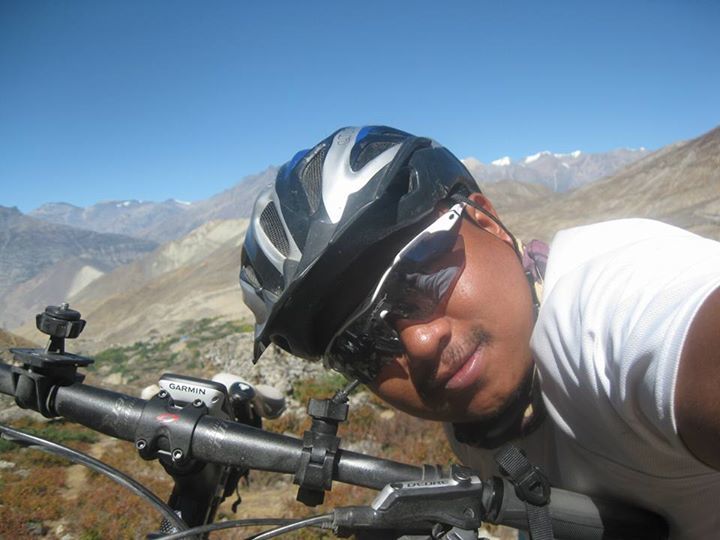 Day 13 - Final departure from Nepal
The trip concludes. Our Airport Representative will drop you at the international airport in Kathmandu for your flight departure from Nepal.
(Breakfast Included)
Best Season: February, March, April, May, June, September, October, November & December
Country Visited: Nepal
Trip Start: Kathmandu
Trip Ends: Kathmandu
Destination: Thorong La Pass/Muktinath
Trip Route: Kathmandu-Nagarkot-Besishar-Manang-Thorong La Pass-Muktinath-Tatopani-Poon Hill-Pokhara-Kathmandu
Trip Style: Lodge to Lodge Mountain Biking and Trekking
Activity: Mountain Biking, Sightseeing and Trekking
Altitude:
5,416 m /17764.48 ft
Group Size: Min. 2 pax
Activity Per Day: Approximately 4 to 6 hrs mountain biking per day
Trip Category: Mountain Biking
Trip Highlight
Sightseeing in and around Kathmandu and Pokhara
Crossing the Thorung-la pass at 5,416m
Tasting the renowned apples, apple pie and apple wine in Jomsom
Sight-seeing in Muktinath and exploring the popular hiking routes in the area
Bathing in natural hot springs at Tatopani
Crystal-clear mountain range visible from Pokhara
A farewell dinner at a typical Nepali restaurant on the day before departure to celebrate our trip success
Contact details: Ram Gurung (ram.manange@gmail.com)