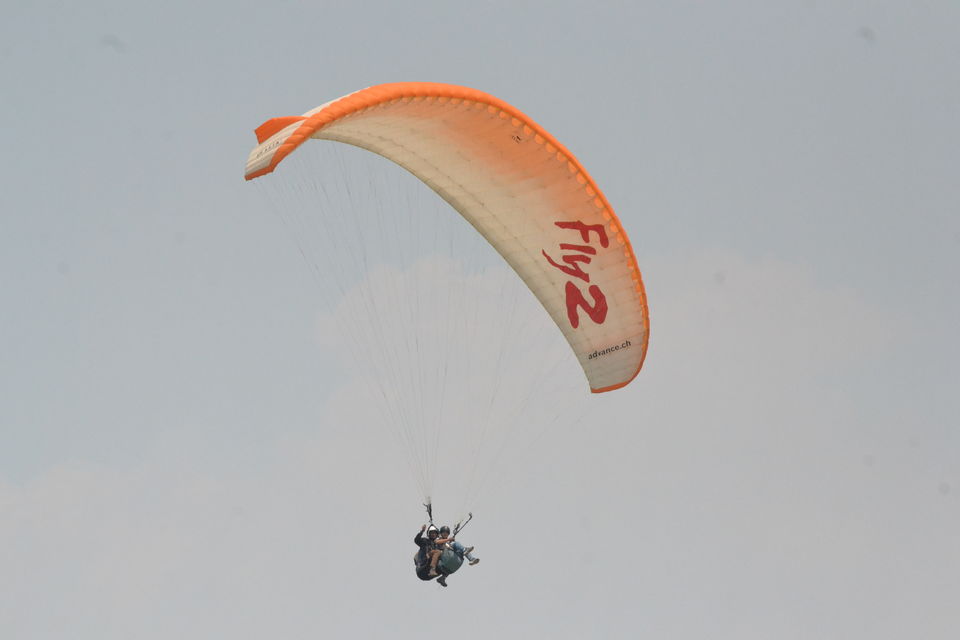 Fly 2... Ready to Depart... And here I jumped from a mountain with my temporary wings on... ;)
Paragliding, A wonderful adventure sport that gave wings to my longing fantasy of flying up in the air like a carefree bird...
Bir Billing, among other paragliding spots in India, is a small village in Himachal Pradesh – famed worldwide – for hosting the first ever world cup of paragliding. Bir Billing is Asia's highest paragliding site and it always feels like an achievement as a mother of three year old daughter doing something like this. It makes me most happy to remember those 15 minutes I spent with mountains. Well !!! That's how I am, I Always believe, live every moment, laugh everyday and love beyond words.. after watching SRK's k k k... KAL HO NA HO.... jokes apart.....lets continue....
JUNE, hottest month in Delhi but was bit soothing in Dharamshala, (Himachal Pradesh) when I went there with family to live with my brother and his wife for few days.. We all together were having fun one night when my brother asked, 'Have you guys ever done paragliding..? I and My husband was like NO, a BIG NO.. One more friend and his wife were also there and None of us except my brother had experienced paragliding before so he was the only motivating soul among us. Total 6 people, spent whole night discussing to go for it or not.
And finally we were convinced, decided to pack our bags and leave for a lifetime adventure. Have heard a lot before but experiencing live was beyond imagination. It was around 6 am in the morning when we all got ready to leave but bit thrilled inside. 65 kms to go & 65 hundred thoughts were coming... We all except the one, were not very sure that we are brave enough to do it.. Bit nervous bit excited..  
Reached the site in 2 hours and the instructor asked us to stop at a place 30 mints before the actual site of paragliding. Butterflies were bouncing in my stomach and i was trying hard to convince my freaking mind that its OK I can do it, Come on JJ go for it.. well that's my nick name.. cool na..!!! We were three women and three men. Men decided to sent us first.. And here we go. A team of three women leaving their children behind with their respective father to take care till the time we got back. We were damn excited but our husbands were in dilemma whether we would be able to live upto their expectations or not.. hhhuuuu.. We did it guys.. ;) moreover we did it fantastically better than them.
Just kidding, They were very proud of us.
I took first parachute flight of my life and words can't define this incredible experience. I was talking to mountains, admiring the landscape and enjoying the silence. Then, we started to descend, slowly. Wish I could spent some more time but my daughter and her loving father was waiting for me at the landing site. Landing was again a great emotion. As soon as my husband saw my parachute approaching, he ran to me like USAIN BOLT.. ;) We all were hugging each other and that moment made me feel like i have attained something in life.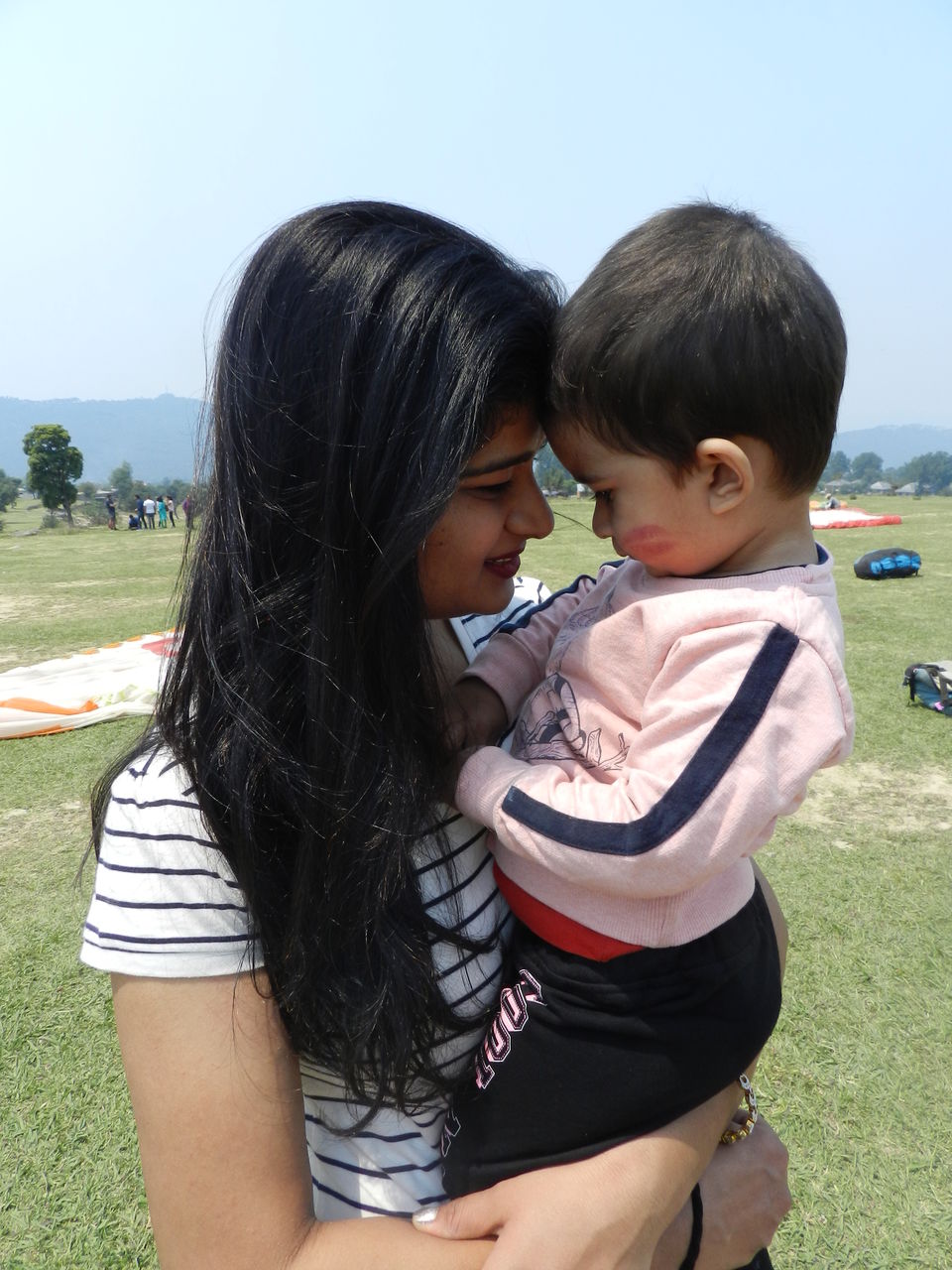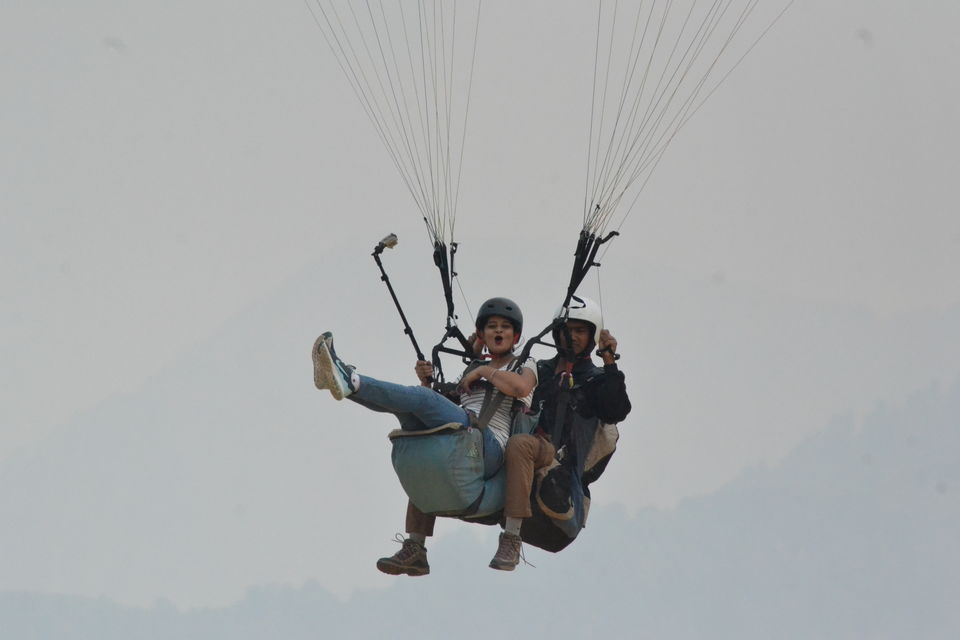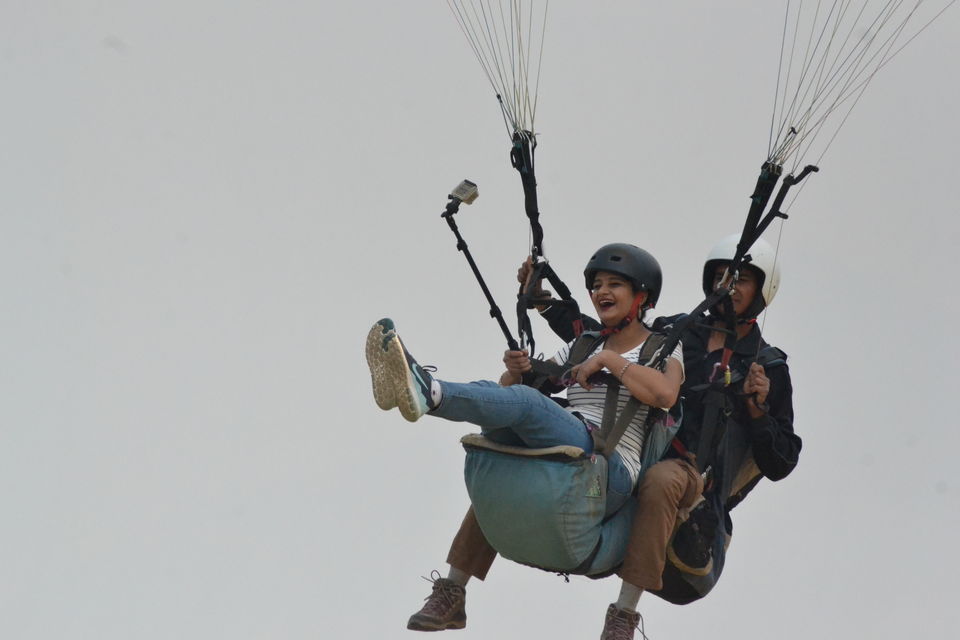 I'm happy to have tried, but I'm not sure I would be brave enough to fly alone. Maybe a second trial, to see if I would feel more confident…
That was my experience guys. Do let me know in the comment section how was yours.. Have a good life.
J. Thakral
(keep Travelling, keep posting)