I had wanted to experience something authentic and unique to Delhi and I asked around my Delhite friend for suggestions. He quipped in that I shouldn't miss the Qawwali nights in Hazrat Nizamuddin Aulia Dargah.
Being a very modest Malayali hailing from South India, completely oblivious to what a Qawwali was, I politely asked him to explain. He just said one word 'Kun Faya Kun'. Now anyone who doesn't live under the rock would have heard the beautiful Qawwali composition of A.R.Rahman and since then I was seized with an innate need to hear Qawwali in person.
But while on my solitary rendezvous to all the monuments around Delhi, I had, in fact, took notice of the Nizamuddin during an auto ride to Humayun's tomb. Partly because I had so much heard the name Nizamuddin blared over railway stations for the name of trains headed there and had always wondered why people would name a place after a person ( I was always used to place names being derived from weird conjunction of random words in Kerala, never sane things like people's names). I was in fact quite taken aback by the squalor that surrounded Nizamuddin area, and made a mental note not to venture out there all by myself. Caught between the need to see Qawwali and a fear for my safety, I hauled my unsuspecting corporate MBA friend, Sheen, on the quest for Qawwali. We also decided to meet our long term common journalist friend, Sahal, since it would be an added bonus to get an insight into what Qawwali will be from a Muslim journalist.
We caught the metro to Jawaharlal Nehru Stadium and hailed an auto to the Dargah at around 7 pm. Now, this was where my observation skill took a huge setback because I had only seen the less used entrance in the Lodhi road and thought that was the only way in. I didn't know there was a proper entrance way through Mathura Road, near the Police station.
As we alighted the auto and prepared to go into through the narrow alleyway, I was met with some menacing looks from butchers that lined along the alleyway. This was an entirely different side of Delhi which was unknown to us and we both were a tad scared of the unknown. For a petite vegetarian, I was treated to the sight of freshly slaughtered chickens and I tried hard not to run back. Midway a woman clad in Burqa, blocking the road , called out to us in a quavery voice and I am pretty sure touched Sheen's arm unnerving him. As we tried not to be intimidated by the people who were throwing us ugly looks, I jumped at the sound of a yelp from a dog who was overrun by a car. Although it went just over the dog's legs, it led to a commotion and I felt strangely scared of going in any further. While we were standing there contemplating what to do, a lot of the shopkeepers called out to us to leave our shoes behind before venturing in any further. There were so many of them yelling at us at the top of their lungs and Sheen ,exasperated, told me it will be a good idea to wait outside on the main road till Sahal came.
Sahal, being the punctual person that he is, arrived 20 minutes late to find two very shaken adults at his hands. He threw his hands in the air, smiled at us and asked us to follow him. Relieved that someone sensible was finally in charge, Sheen and I followed Sahal, round the roundabout and reached the correct entrance way. As we ploughed in with hundred of others thronging to visit the shrine, I cursed myself for picking the wrong entrance-way.
As I entered, the pathway was strewn on both sides with a myriad of shops, none of them being butcher shops, and the owners with much more benevolent eyes called out in general, milder bargaining tones. As we were winding down the way, the road narrowed down to pathways bathing in the golden incandescent lamps.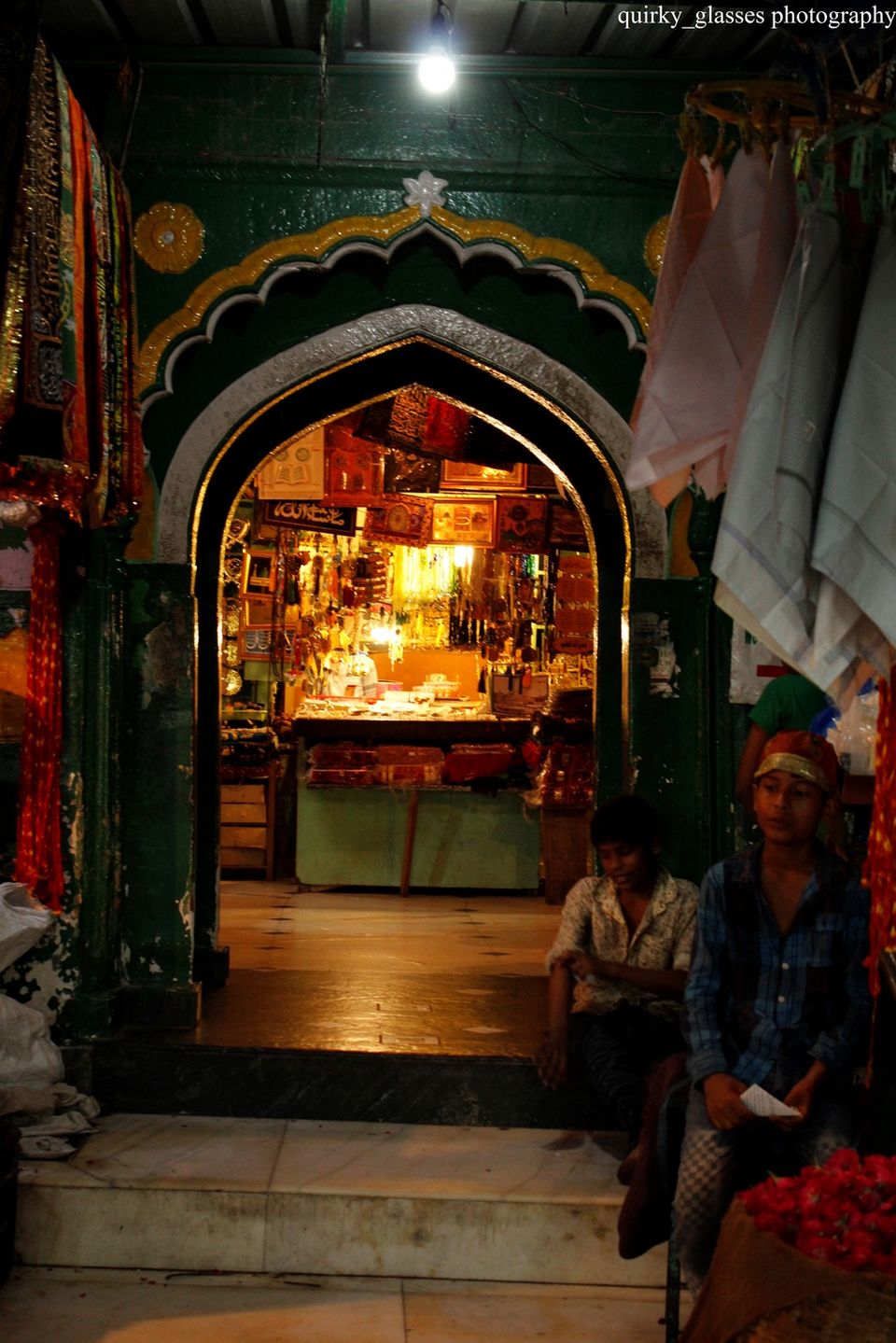 Beneath the orange glows, my eyes feasted upon a plethora of colourful Chaadars in green, golden, red velvet and plates carrying freshly picked roses. I had never seen anything so exceptionally beautiful.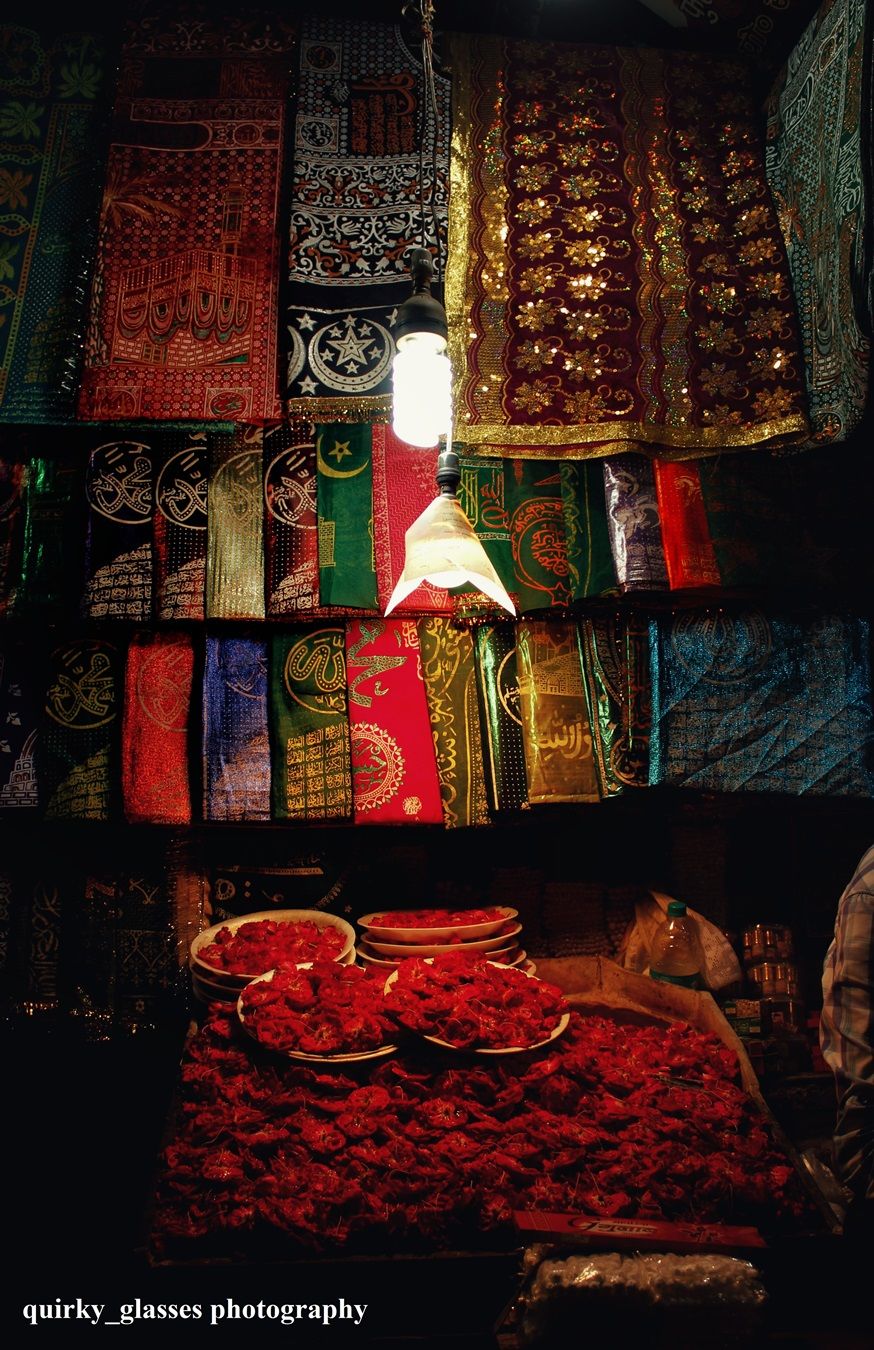 I do not know if it was my excitement at having reached the Dargah finally or the sudden elation of finding something so beautiful amidst such a grim place, but my pace quickened and I felt myself speeding up the alleyway, stopping here and there to take a picture of the surrounding beauty.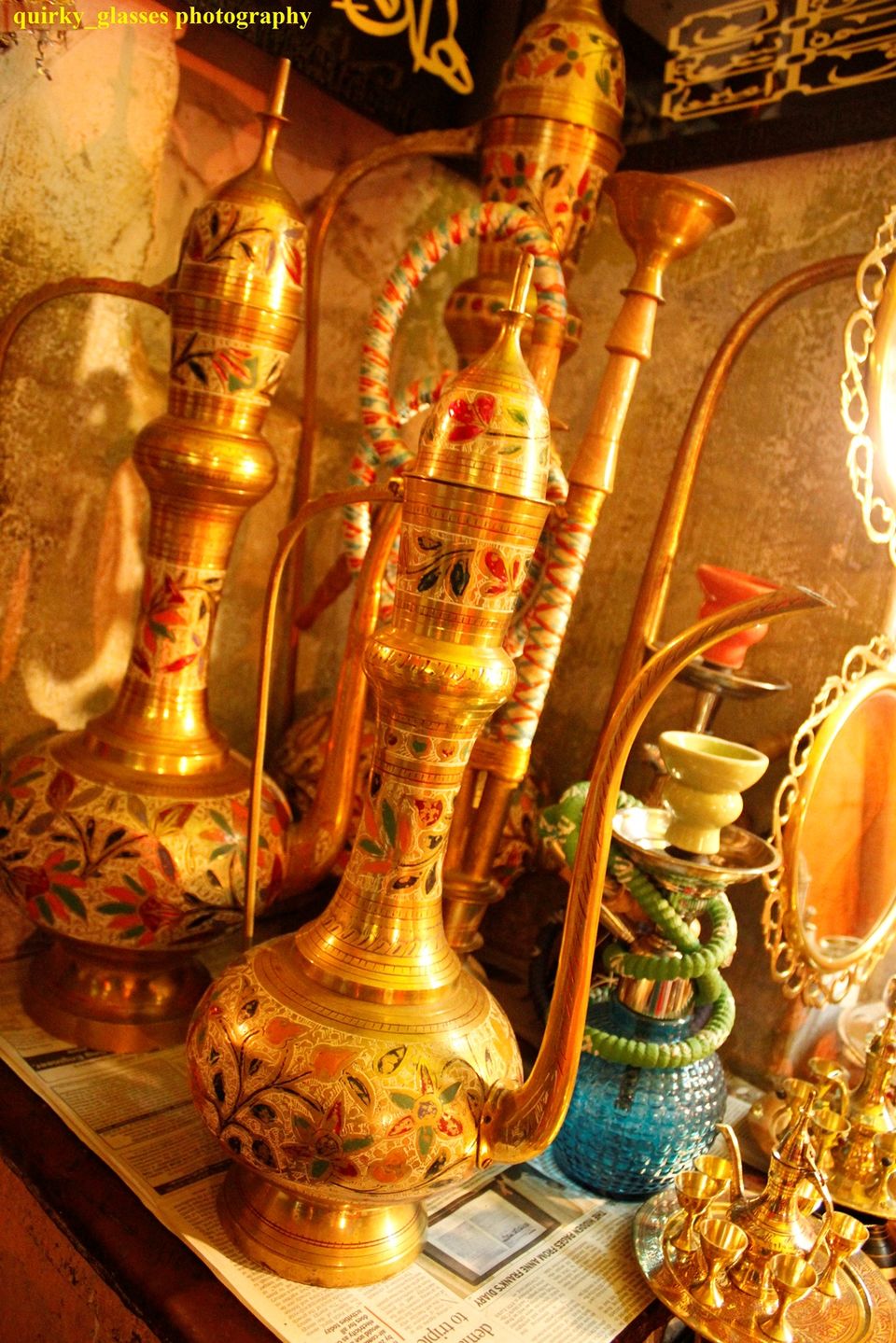 Finally, we reached the small entrance to the shrine, left our footwears outside and stepped into the cool marble flooring. I realised quite to my surprise that there were people lying and squatting about the floor. I nearly collided with the two tombs due to my equal part excitement and equal part fear that the Qawwali might be over since I was not hearing any sound from the shrine.
My fear was put to rest as I reached the portico in front of the white-domed shrine when I saw the singers seated on the floor facing the shrine and were, in fact, taking a break before starting the next song.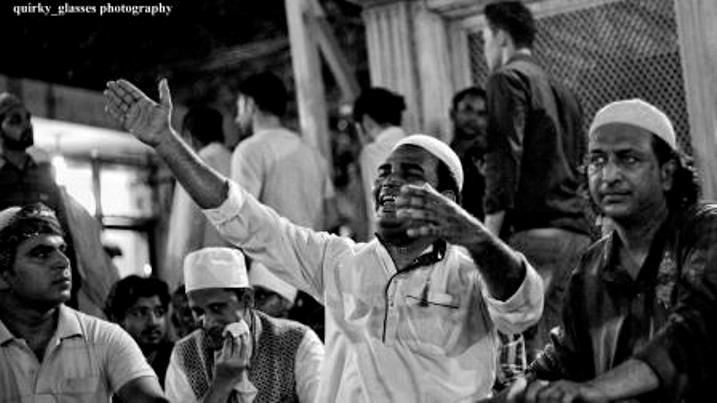 The three of us quickly found a spot in the audience and seated ourselves on the marble floor on the sides of the singers. Soon the group of singers clad in white Pathan suits and topis began their Qawwali rendition and I was mesmerised. The faith they held for Sufism channeled itself into the energy in their voice. The accompanying hums of the harmonium drowned out the general outside humdrum. I noticed the audience nodding their head in appreciation of their tunes.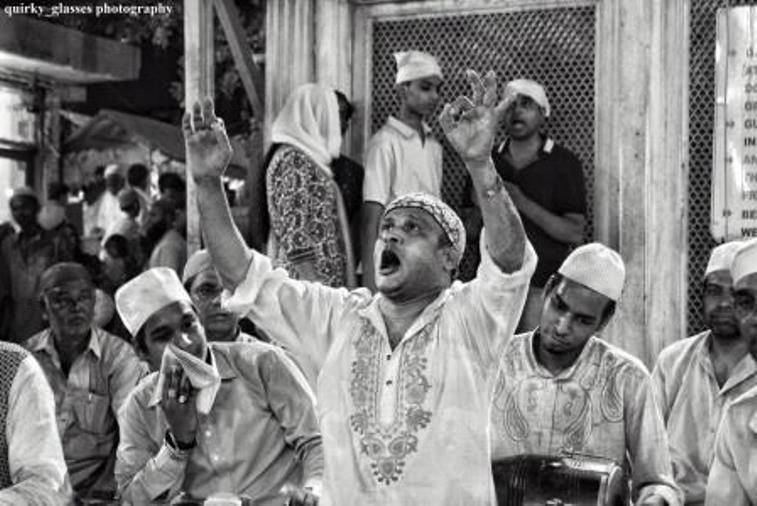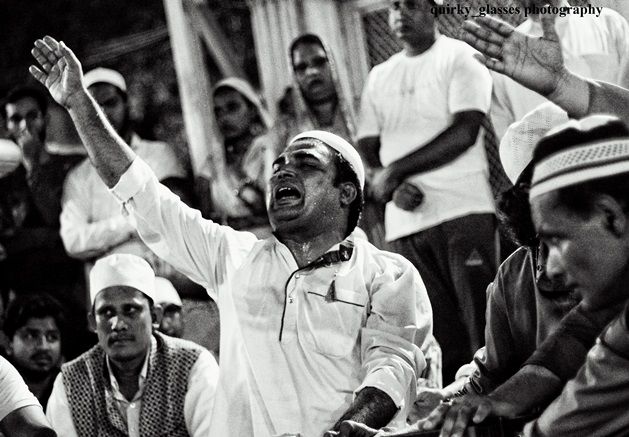 Once my ear got accustomed to the songs my eyes began to wander around the Dargah and its golden coloured latticed walls. I saw a woman standing outside the shrine under the huge chandelier offering her prayers(women aren't allowed inside the shrine) and many others tying threads over the lattice walls (which is considered auspicious for making your wishes come true).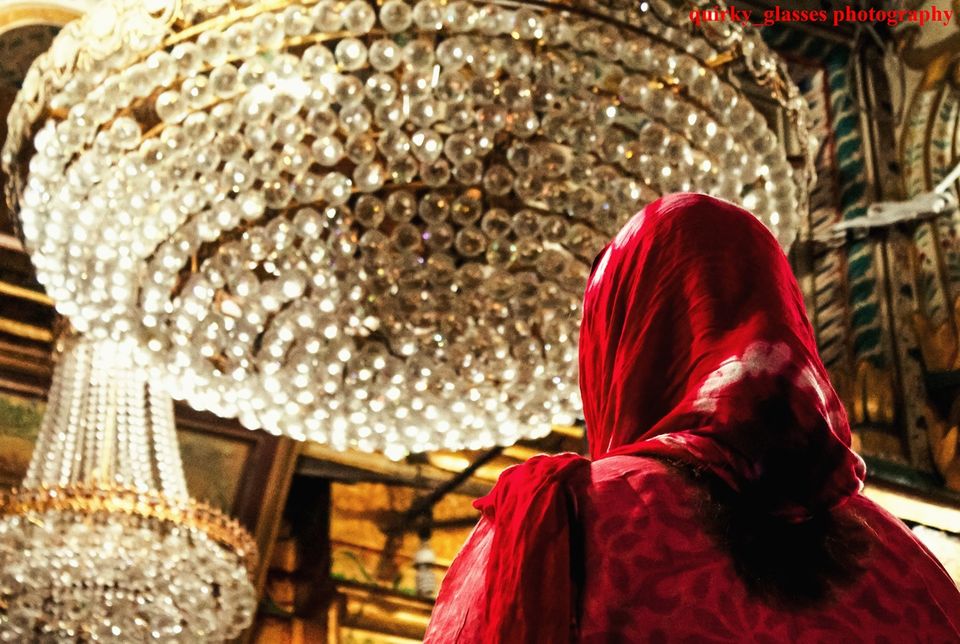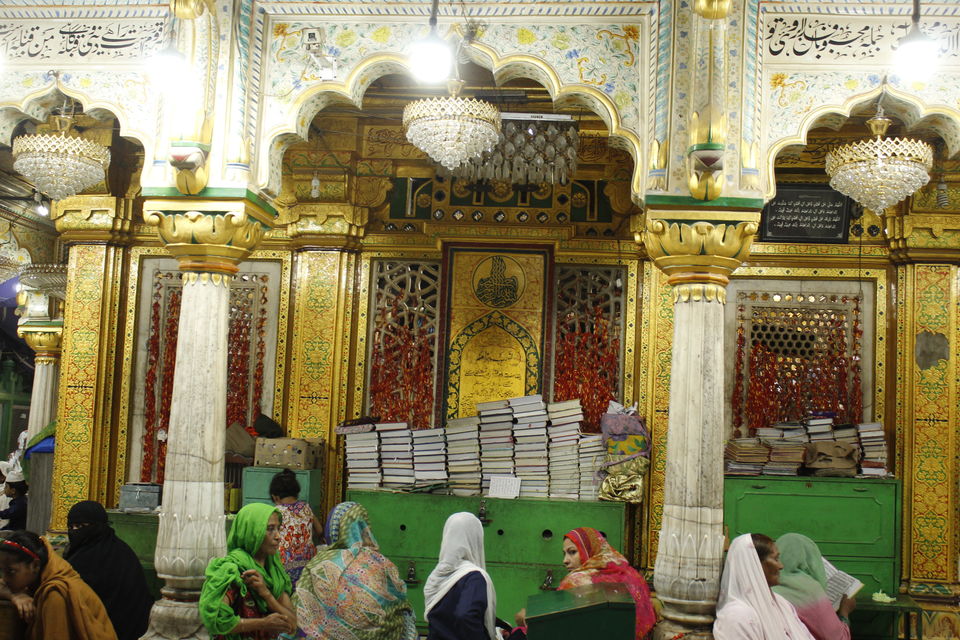 We sat through the entire performance and when the Qawwali night ended, with a heavy heart I got up to leave. My eyes caught the inside of the Jamat Khana masjid that was built adjacent to the Dargah. I stood transfixed at its widely expansive red sandstone interiors until Sheen pulled on my sleeves to go.
We rounded the Dargah offering a silent gratitude at having had the opportunity to witness an authentic Delhi experience and headed back home.