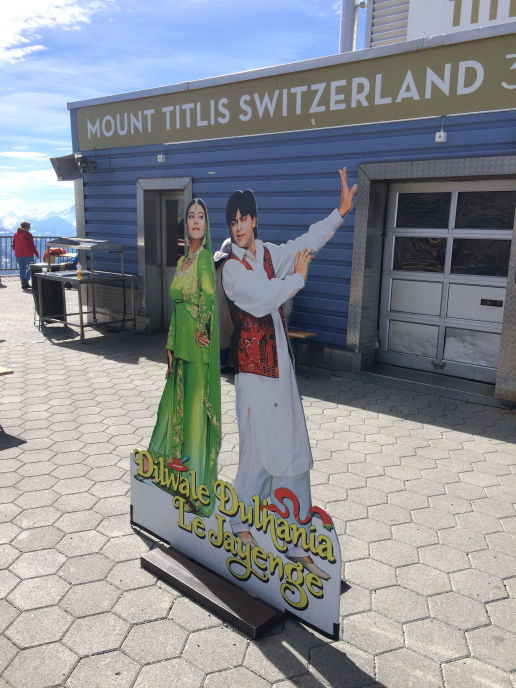 During my trip to Switzerland I planned for a trip to the famous Mt. Titlis. I guess every Indian who go to Switzerland, do the same planning that I did and visit Mt. Titlis. It seems that for some reason this place has titillated the travel buds of every Indian. Switzerland is top honeymoon destination for Indian couples planning a foreign trip, and it was clearly visible on Mt. Titlis. It seems that I am in some hill station in India ( not underplaying the beauty of India in any way).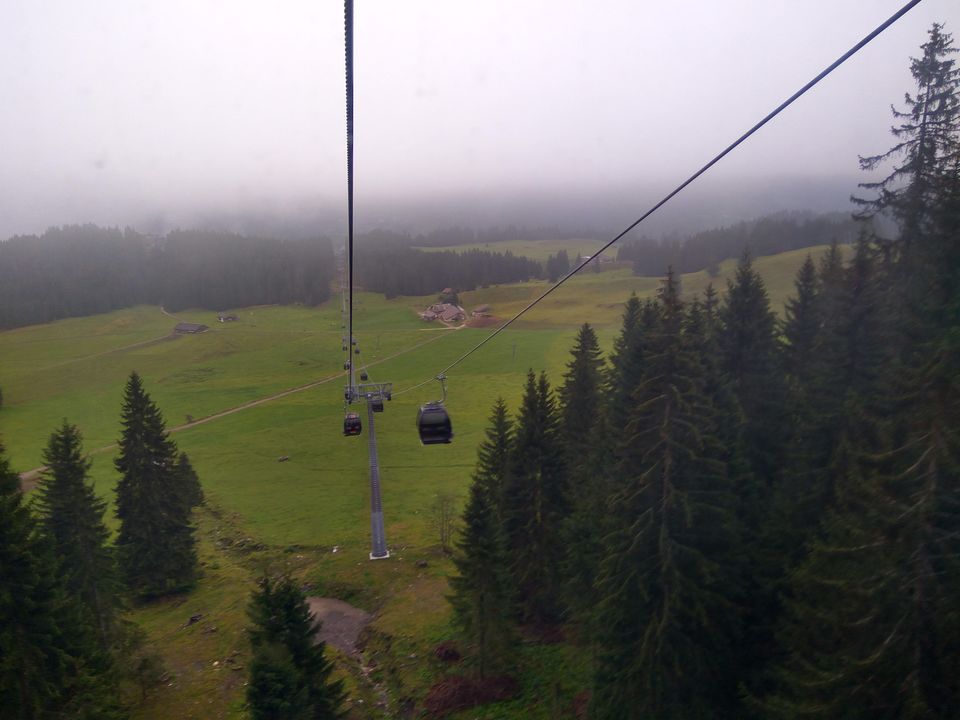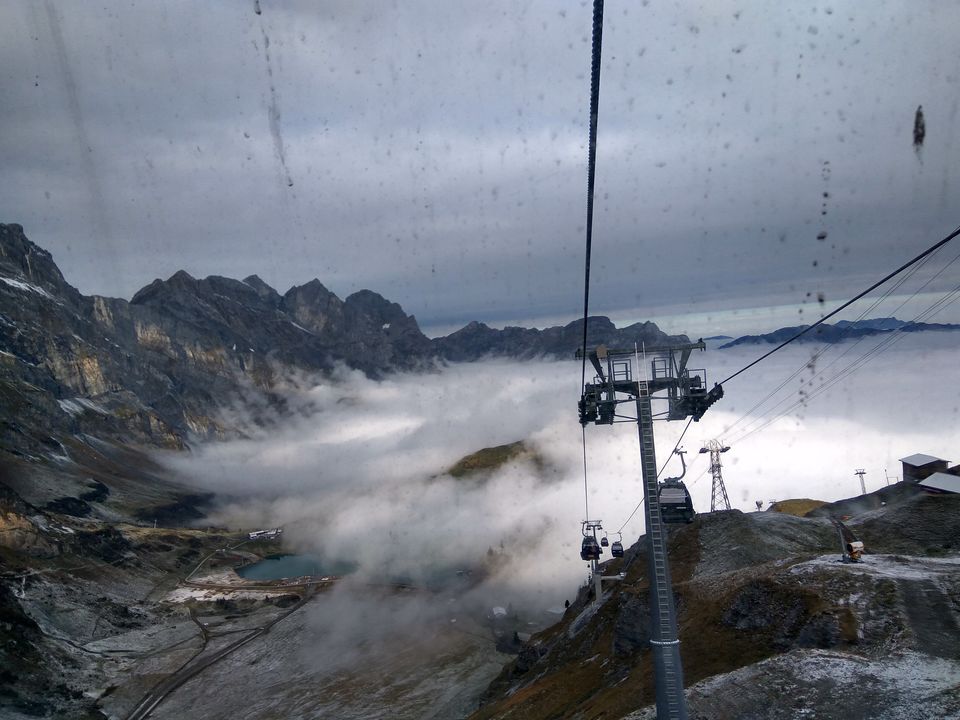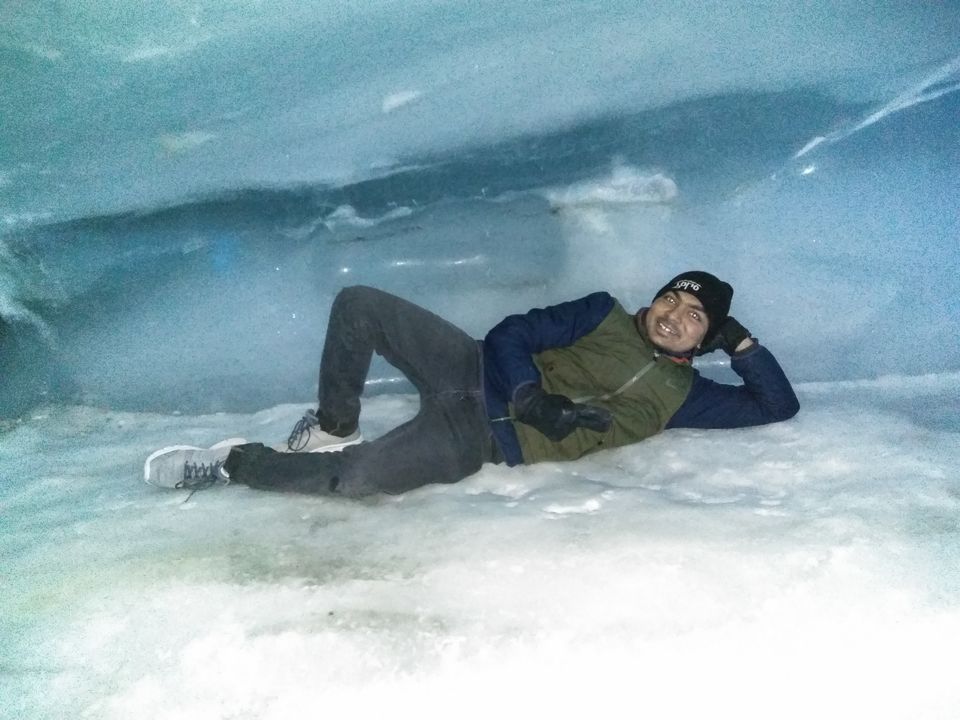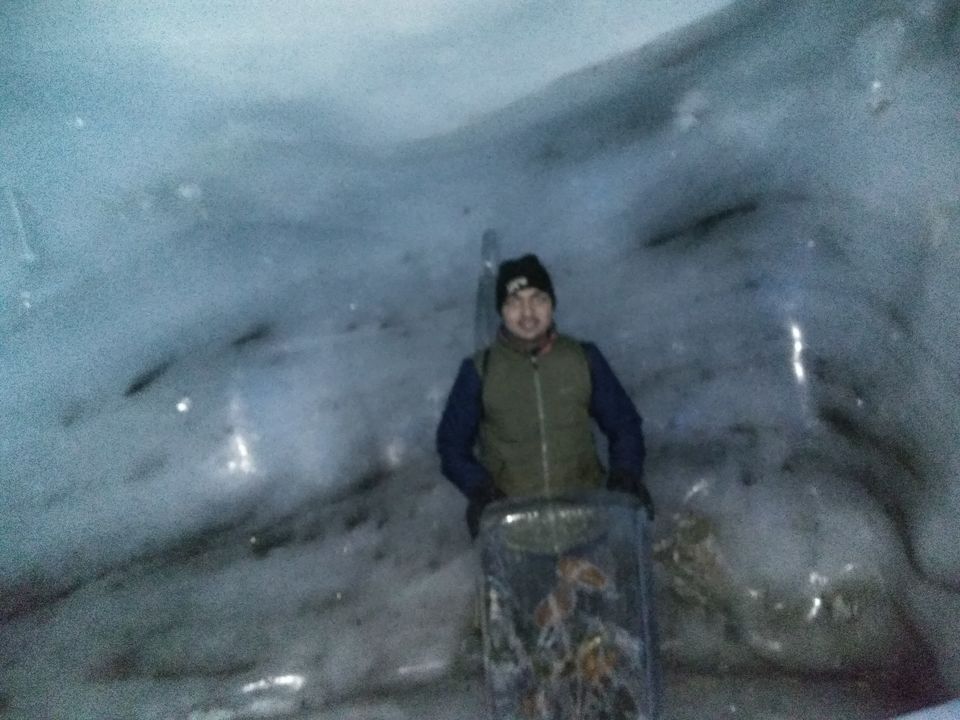 The easiest way to get on top is through rope-way. The rope way was one of its kind, I have never seen such thing in India. Whenever We want to go and see snow in India on some hill station during summers, we have to take a long drive up the hill and get frustrated, stuck in traffic. This rope way was like a path to heaven!! It was so long, that from grasslands it just takes you so high that suddenly you are above clouds and when you come out of the spell of magical views you will start noticing snow around you.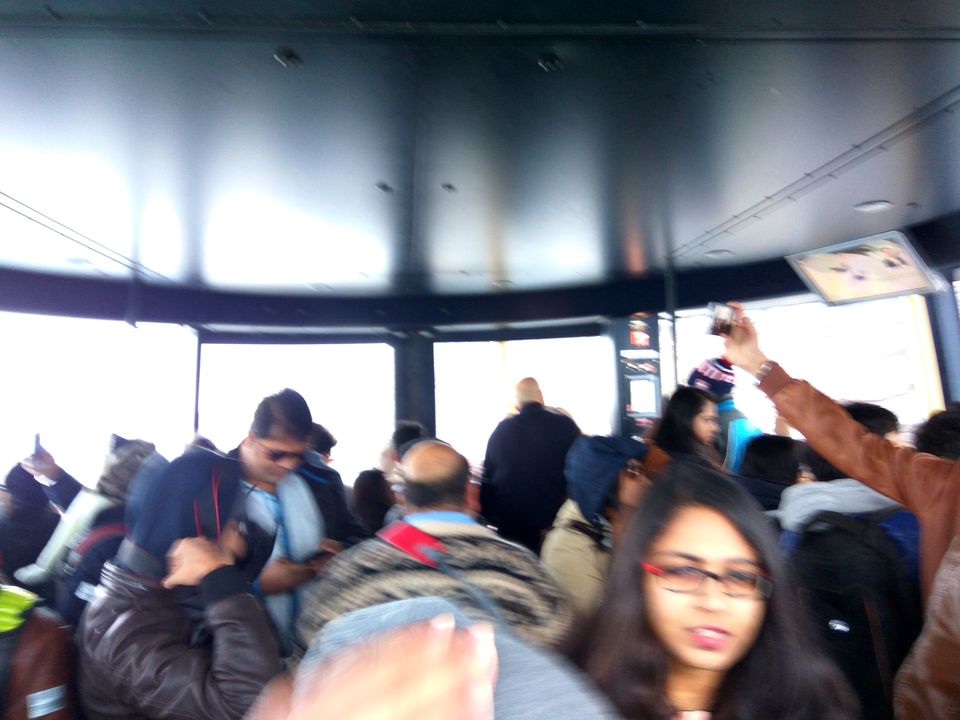 The Rope way journey was some 10 minutes and the cabin was full of Indians. Around 30 Indians in that cabin all speaking Hindi. I suddenly felt that I am back in India. When the cabin stopped and we have to change to different cabin, it reminded me of Rajiv Chowk metro station in Delhi. ( How everyone rushes to change the metro ;))
The sights from the rope way were truly mesmerizing and on reaches top you will find yourself in a play field of snow. We passed through a tunnel of ice and stopped to gives some poses. After passing through the tunnel the whole area is covered with soft snow. You can play all day long with your friends in snow.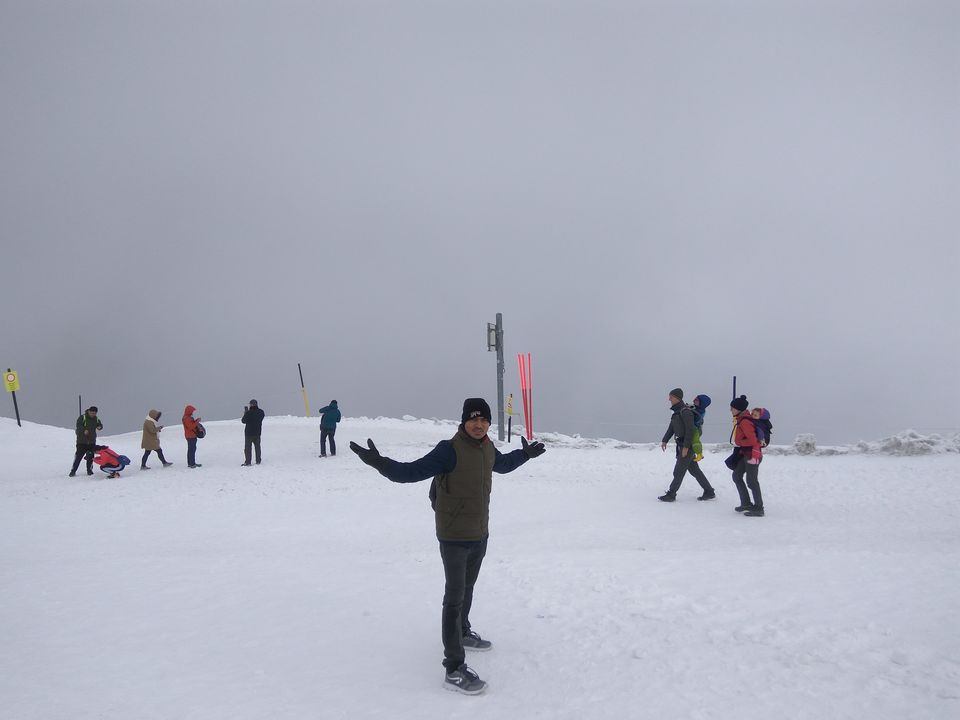 Surprisingly I saw lot of things translated in Hindi. Ice flyer was translated in Hindi and it sounded a bit funny. (first time in any city in Europe), and after that I saw "Shah Rukh" with "Kajol" from "Dilwale dhulaniya le jaenge". So, all the Shah Rukh fans, go and get a photo with Shah Rukh in Switzerland. After indulging in bollywood its time for some Indian food, when we came down the Mt. Titlis, we saw a shop selling Indian Street items, a mouth watering Samosa and a spicy Vada pav is what attracted my attention. The feeling of having Indian food there was awesome.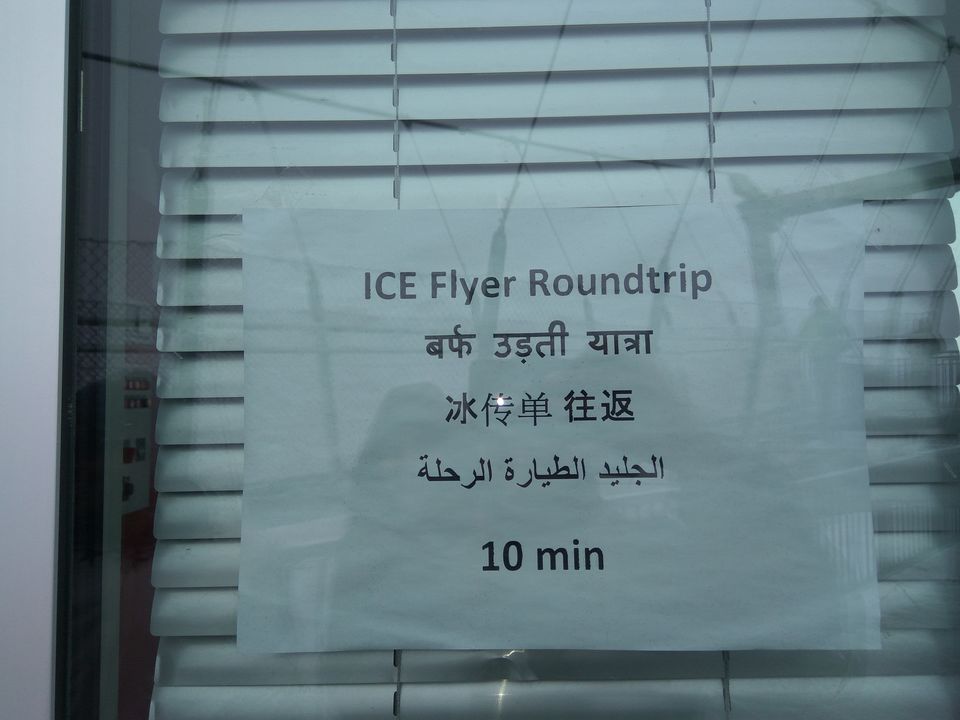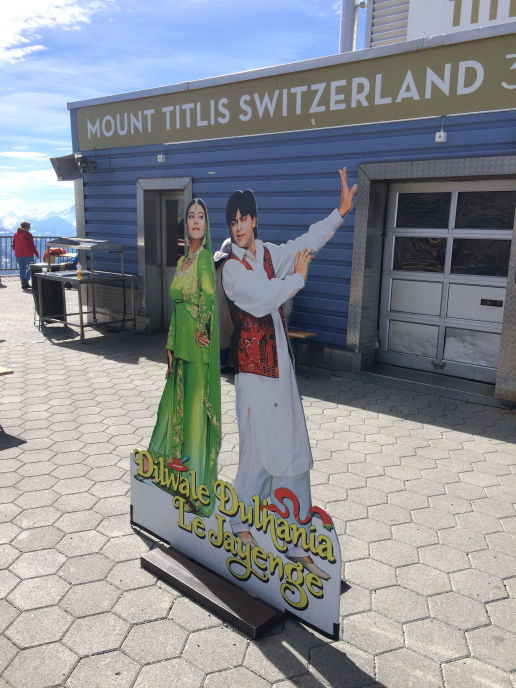 So a trip that I was expecting of an exotic foreign place turns out to be an Indian paradise hill station. Maybe the number of tourist visiting this place is so high that there is so much Indian-ness filled in this place. Nevertheless it was the best part of my Switzerland trip.