Hello Guys!! I am back again with another interesting BlogSpot. My new journey, with a new divine experience . This time I am gonna take you to another historical temple situated to the north of Odisha "The Maa Tarini Shrine, ghatagaon ,keonjhar" .
Maa Tarini is the female embodiment of power and the presiding deity for all Shakti and Tantra peethas or shrines in Orissa. This temple is very well versed in Hindu religion. It's believed that no one has come empty handed from Maa temple. So, anybody visiting keonjhar cannot afford to miss this divine place.
How to Reach here
Maa tarini temple is located in Keonjhar district of Odisha. The nearest railways station is kendujhargarh from where the temple is around 50 Km. The nearest airport is Bhubaneswar airport from where one need to travel to keonjhar through bus or train. Buses ply from Bhubaneswar, Cuttack and most other major towns of Orissa to Ghatgaon. Often people hire taxis to travel to Ghatagaon from any part of Orissa. For some tour packages, you can also contact Orissa Tourism Corporation, Bhubaneswar or tourist office in Keonjhar.
I travelled to keonjhar railways station from there took a bus to the temple which took me around 1.5 hour to reach the temple.Near the temple one can see many shops which were sell coconuts and various items like sweets, candles, sindoor(Vermilion) which can be offered to Maa.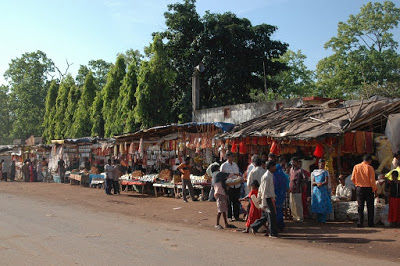 On moving little front, there was the entrance to the temple on the right. The entrance is like an Urn and two horses outside the temple. One of the horses was having a big passage on its chest. Those devotees who reach during the temple closure time can drop there offering in the passage, which directly goes to the Deity.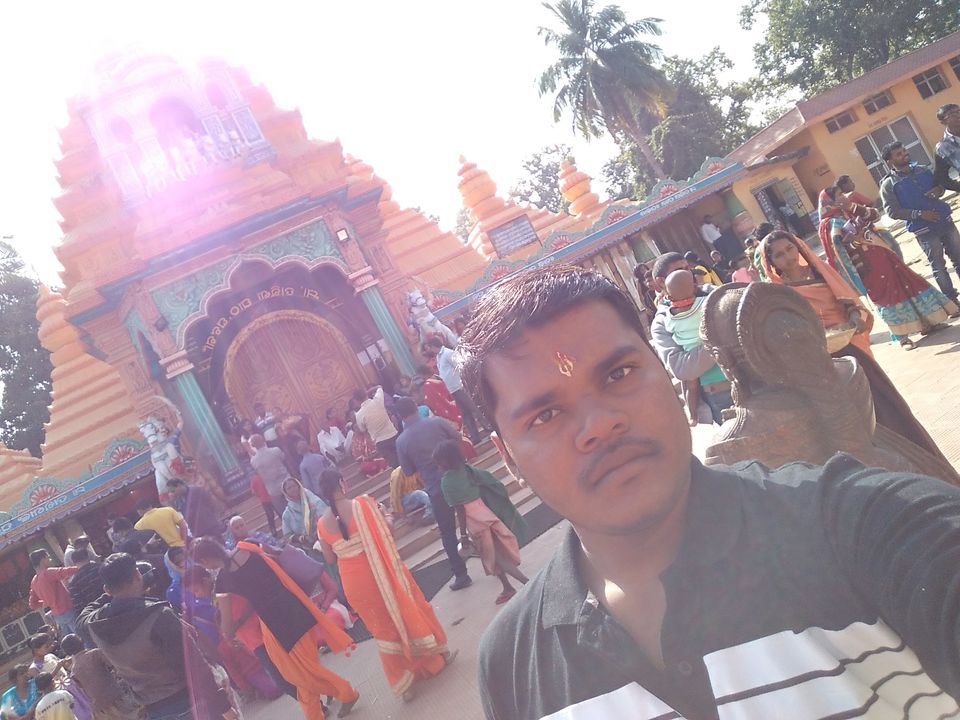 At the entrance the camera and mobile phone are collected, and photography is not allowed. So I submitted my phone and entered inside the temple. There is a lane which directly takes you to the sanctum. As I reached near I could see the diety covered with coconut surrounded by four pillars. The temple structure is unlike any typical Kalinga style deula architecture. Rather except for the prefect top enclosure, there are no walls, only pillars to support the top. This gives 360 degrees view to devotees and the deity Mother's 360 degree blessings showered .Lots of coconuts where offered by the pilgrims. Devotees from all over Orissa and also from outside Orissa send thousands and thousands of coconuts to Maa Tarini temple every day. It's believed that offering a coconut to the Goddess brings wishes true. Collection boxes for coconuts can be seen at all big and small transport hubs in Orissa. As a matter of fact, you can hand over a coconut to ANY public transport vehicle in Orissa and rest assured the coconut will reach Maa Tarini's temple.
Maa Tarini is always depicted as a red face with two large eyes and a mark in the middle which serves as an indication for a nose and also a tilak. This primitive conception is symbolic of the simplicity of tribal beliefs and ceremonies. The red colour has been attributed to dyes made out of iron ores which are quite plentiful in the state and would thus have been used by the tribes for anointing and decorating the sacred figures of worship. The ornate letters in the background mean "Maa" or Mother in the Odia language.
One can get a devine feeling in the temple,it was very peacefull. It is belived that Maa has always answered the prayers of her devotees. Maa's has given each one of them what they deserve to get. Maa needs nothing from her devotees except few things like dedication, pureness and love.
Prasadam is available for ₹45/- per person if you wish to eat there. Parcel is also there for an extra charge. The prasadam is a complete meal consisting of salt with one green chilly, khichadi rice, mango tokku, mixed vegetable, dal with vegetables, white rice and kheer served on leaf plates. There is a handicraft store selling local crafts at reasonable price.
There are many stories that revolve around the history of the lord. Many debates run around the historians regarding he installation of the god.
I liked the peace and divine feeling of the place. I took blessing of Maa and had tasty Prasadam at the premisis. Also the place atmosphere was so cool that you will never want to comeback.. I would suggest visiting once in a life for everyone to get the blessings of Maa Tarini……………..