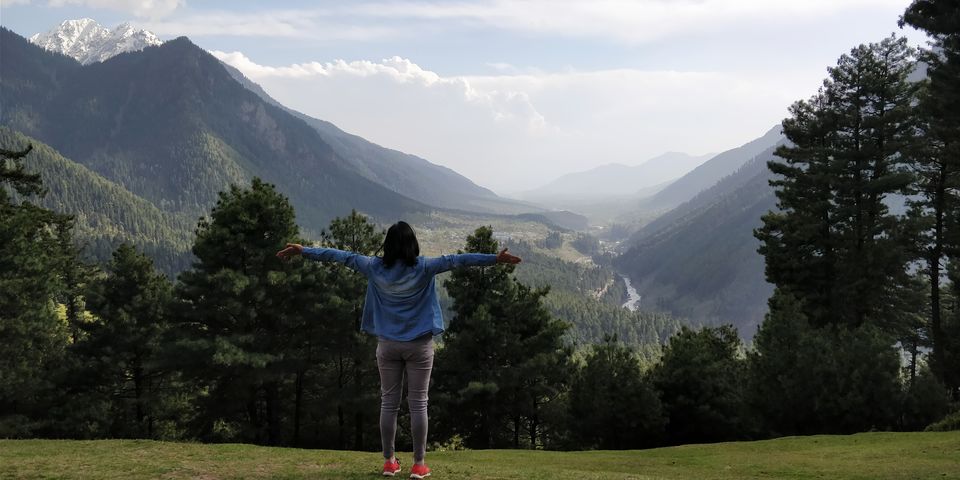 Kashmir, what I can say, the beauty of this place can be felt only when you see this place through your eyes. This place is beautiful beyond the eye of any lens. I visited Srinagar and Gulmarg during my Leh trip and that time I decided that I will come here again with my mother. She was always fascinated by those beautiful views which were shown in old movies.
Finally, this year (2018) I planned a trip to Kashmir with my entire family. We boarded flights from Delhi to Srinagar on 26th April.
Day 1:
We entered Srinagar with a beautiful view of Snow covered mountains and greenery all around 12:00 PM where our taxi driver was waiting for us. I booked a taxi for my 5 day trip to save myself from any hassle during travelling. Our taxi driver was really a kind and soft spoken man.
We directly headed to Dal Lake from the airport as we already have our booking for a house boat. That was one of the most fun and beautiful part of our trip "Staying in a houseboat". There were 3 bedrooms in that house boat with a living and dining area. The boat was beautifully crafted. Rooms and washrooms were very clean and well maintained. After taking some rest we booked a Shikara ride. In Kashmir you have to show your bargain skills. I am not at all good in that, but my sister, she nailed it. It was more than 2 hours ride and it was amazing. I loved it. You can actually see plants growing inside the lake. There is an entire market sets up at Lake. You can find Chai seller, Kesar Seller, Flowers and what not on that lake. I would suggest not to buy kesar from them. Just enjoy the simplicity and beauty of the lake.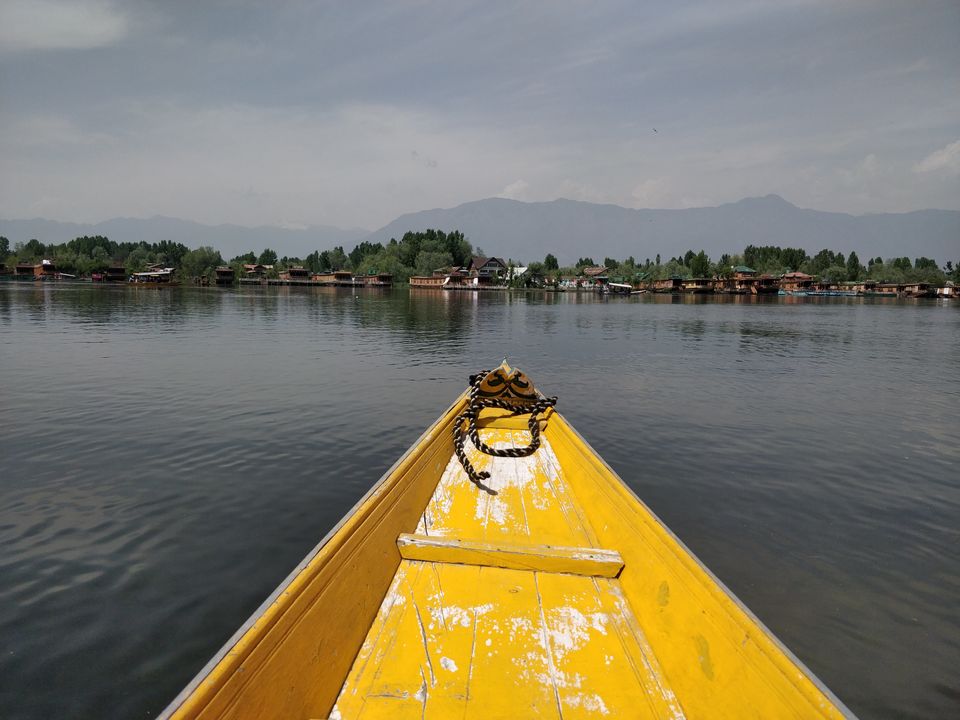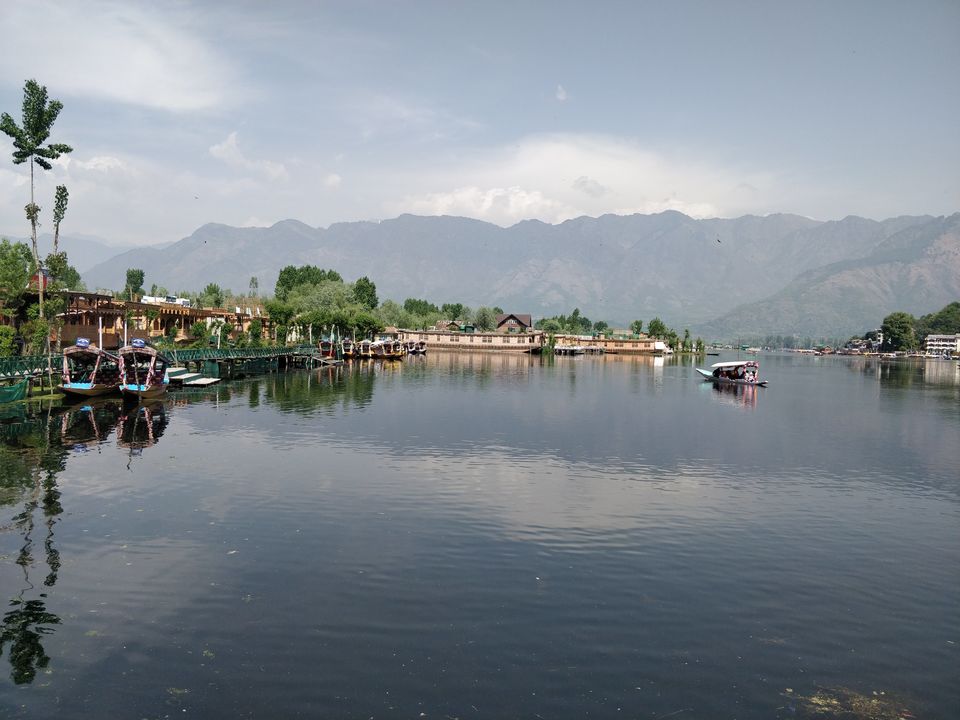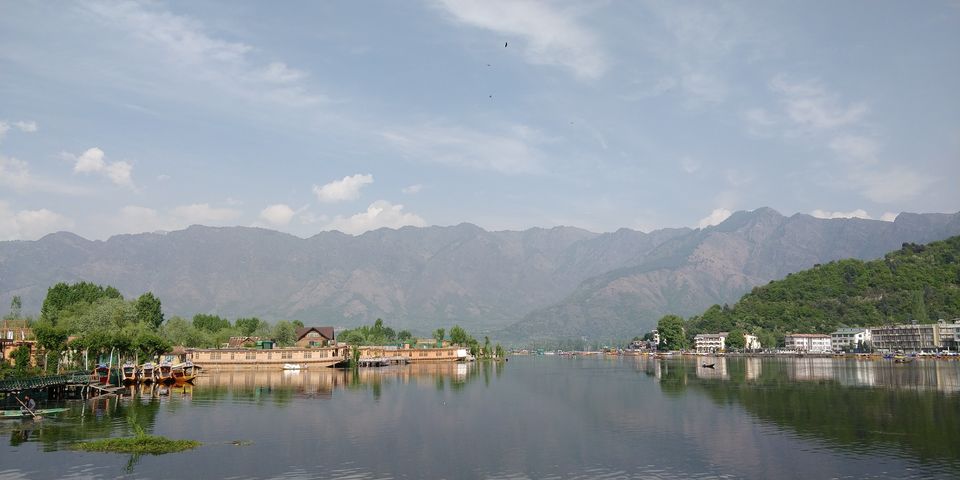 Later we had our delicious dinner on House boat and a sound sleep. The next day was for Pahalgam.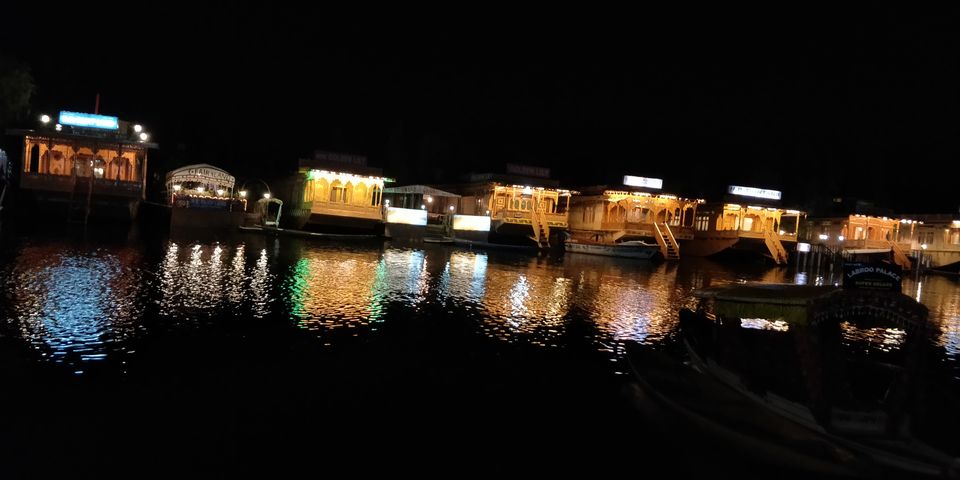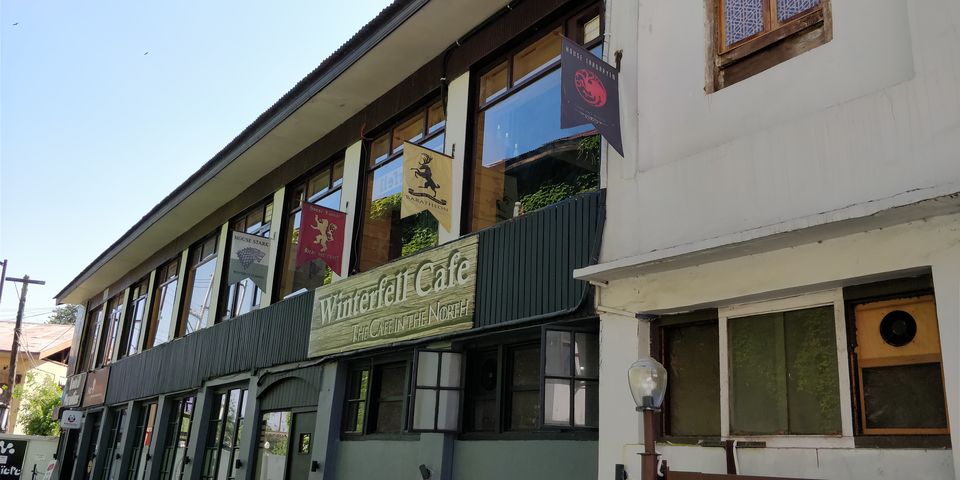 Day 2:
After having our breakfast, we started for Pahalgam. It is almost 3 hour journey from Srinagar.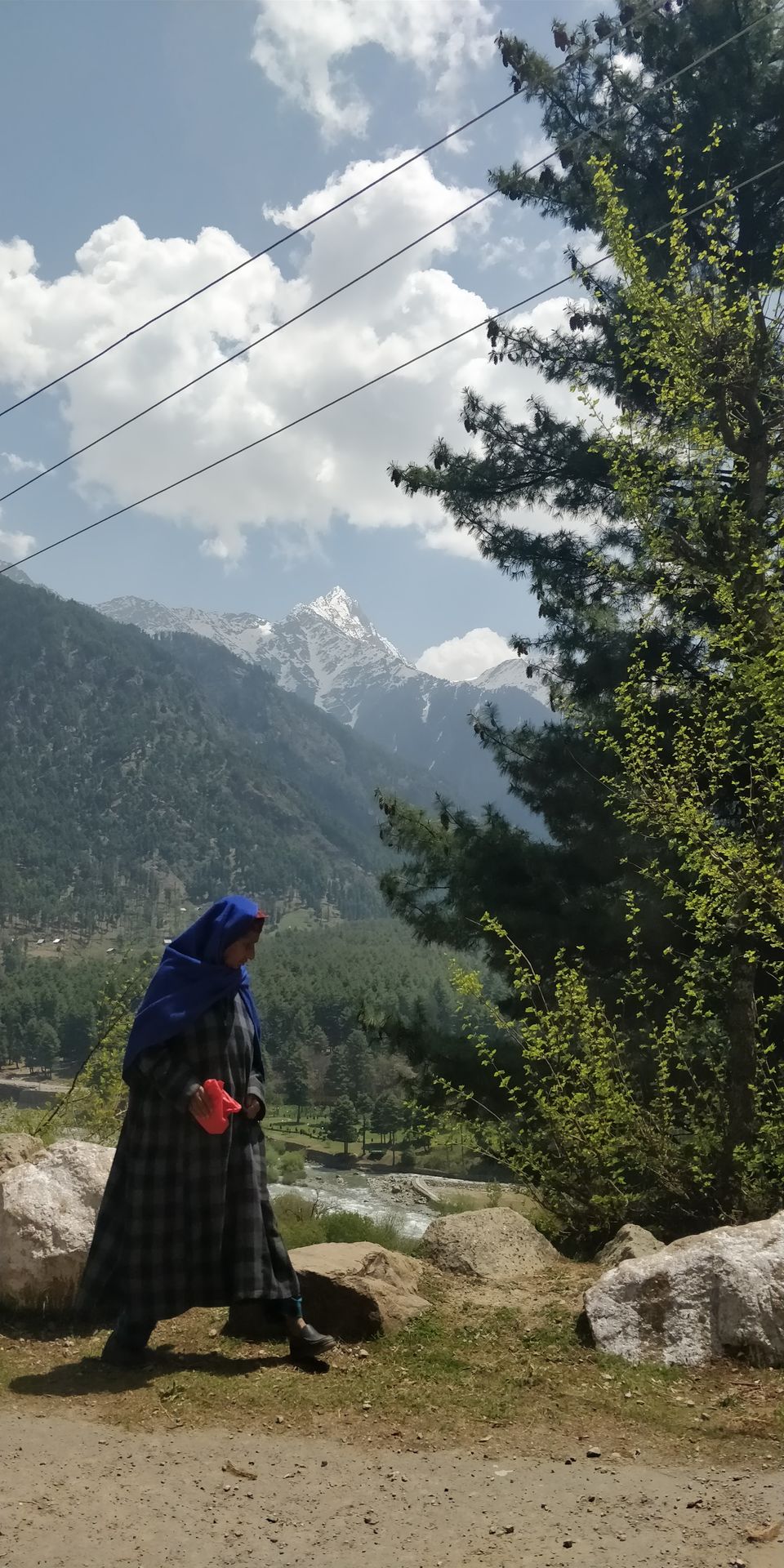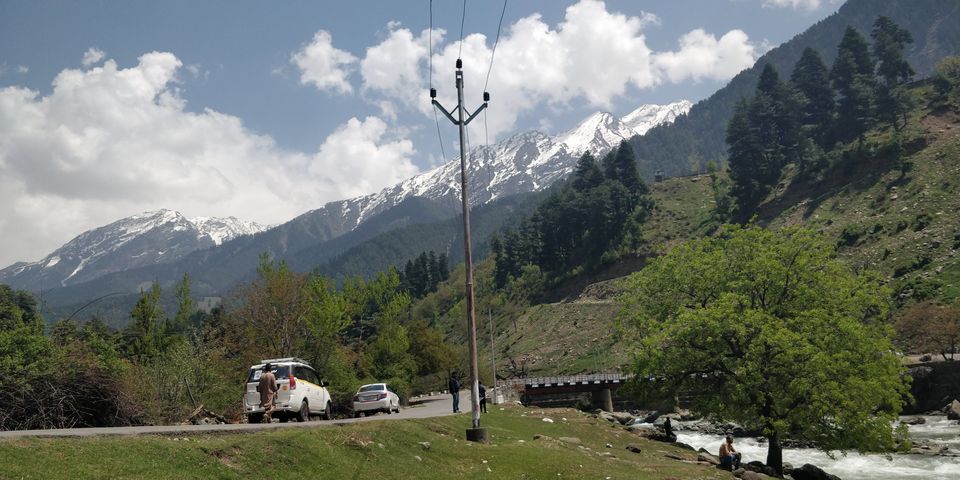 I already booked a hotel online. Standard room in that hotel was not that good but manageable. Staff were really good. This was the day to see the beauty of Pahalgam and that can be done by pony ride. Now again the game of Bargain started. Our Taxi driver already told us to cut down the price to half what the porters will tell you. We did the same. They asked for 3500 per head and I was like what! After so much of arguments they get ready for 1200 per head. There were 4 horses but only 2 porters. We started through a normal road and suddenly horses turned to a very difficult path. It was through forests and rough. My mother was scared of falling down but porter managed so well. In start I thought we should quit this ride and go back to hotels but our porters were like "you have to see this. You will never forget this beauty." Every word was true. Yes I have never seen such beauty in my life. It is heaven, a real heaven.
Our first stop was Mini Switzerland/ Baisaran valley: Entry fee is 10 Rs.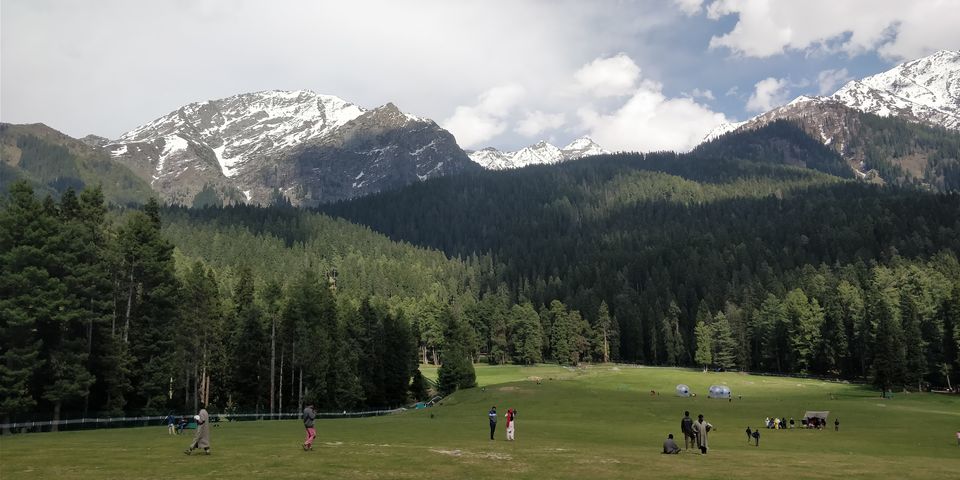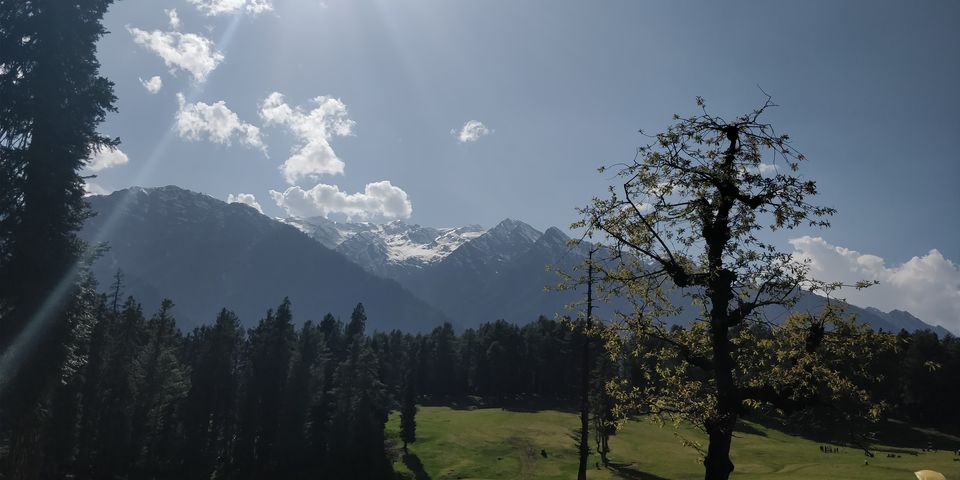 They call it Mini Switzerland, I have never been to Switzerland so I cannot compare but the beauty is jaw dropping. Full Place covered with Mountains and Pine trees, wherever you see, the land is green. Everything was so beautiful there. After taking some pictures we started for our next stop.
It was not like that you have to wait to see something beautiful. The journey in itself was beautiful. Green dark forest and the sound of gushing river will surely make you happy here.
Our next stop was Kashmir Valley and I have no words to describe its beauty. I was overwhelmed when I reached there. If there is a place called heaven, I will say this is the place. Everything was so beautiful there. Snow covered mountains and those green landscapes. A chai corner and peace in surroundings. It was worth all the pain we faced to reach there.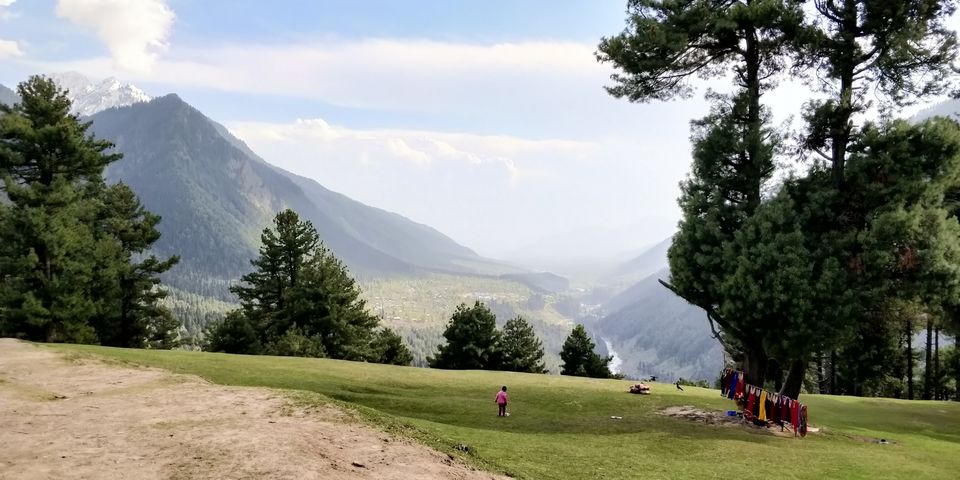 Next we headed to a waterfall, clean and clear water was so refreshing for all of us. We sat there for a while and then started to get back to Pahalgam city. We have bargained a lot with those Horse porters but I agree that it was really worth it. Controlling horses and walking all the way is not an easy task. As I already said we were having two porters with us, and one of them was holding my mother all the time. We were thankful to him for being so nice and patient with us.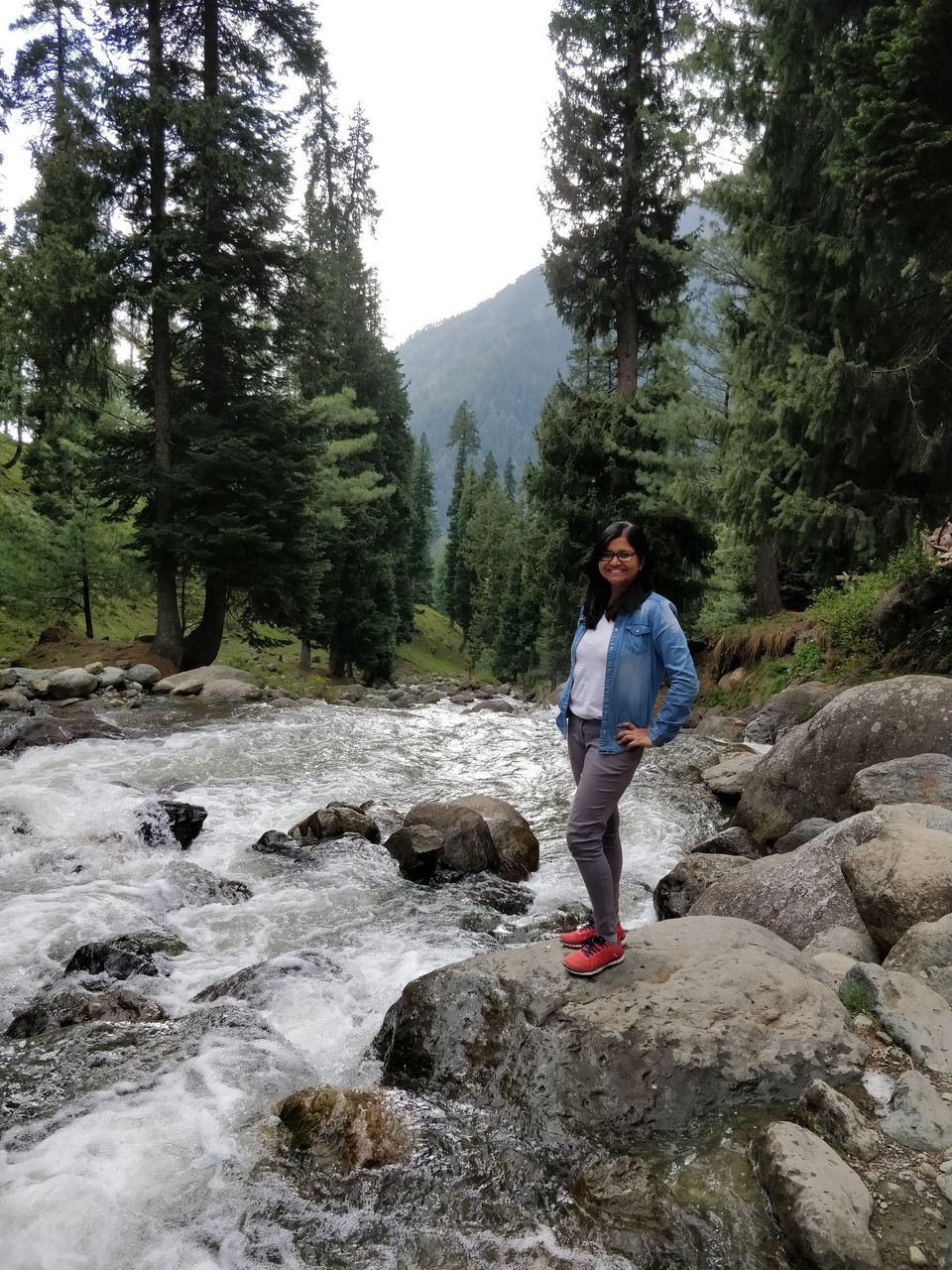 This day was one of the most beautiful day of my life. Though I was very tired, but I was extremely happy to see such an amazing beauty through my eyes. We slept like nothing that day.
Day 3:
Next day was for Aru Valley,Betab Valley and Chandanwadi. You have to hire a local taxi to visit this place. It will cost Rs 1500. We were so tired of Pony ride that we didn't take any Pony ride in Aru Valley.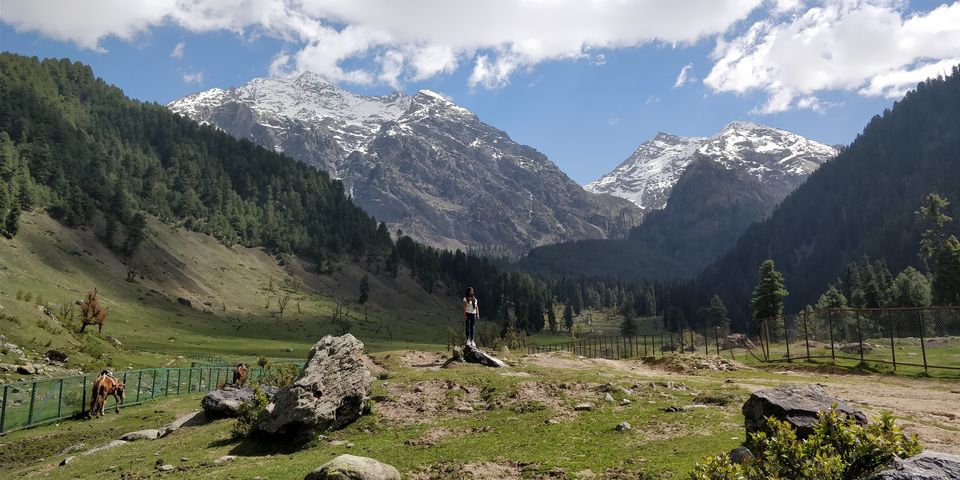 Chandanwadi is also a good place to visit. There was little snow in Chandanwadi but that was all dirty and slippery. I and my sister get more attracted towards the gush flowing river in Chandanwadi. Though it was tough to go there we went there and sat there till our driver came calling us.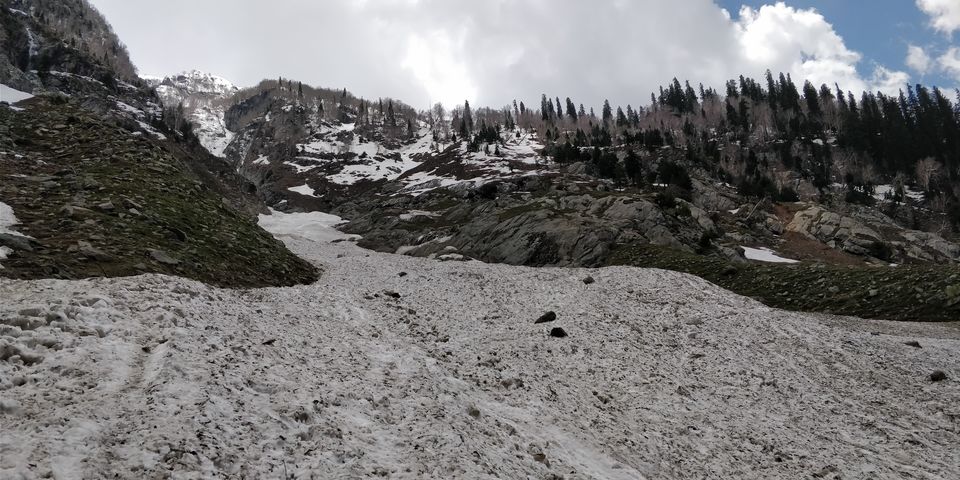 When you hire a taxi you get only 1 hour for each place. So he started shouting that we took a long time there and we have to pay more. I told him that we will compensate that half an hour in Betab Valley. Later we decided not to go inside Betab Valley, as it didn't look so promising to us. We went back to our Hotel and after lunch left for the Srinagar.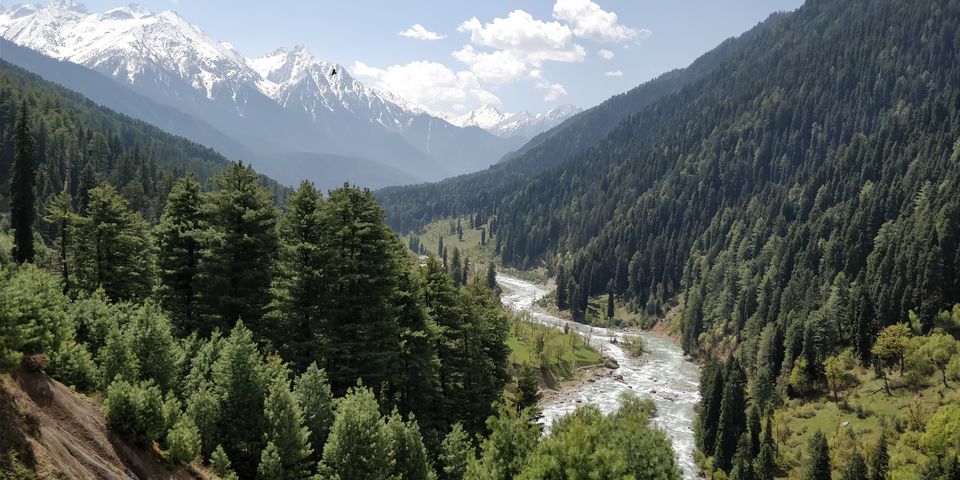 We already had an online Hotel booking in Srinagar, but it didn't go well. Hotel was not at all good and was in very poor condition. I checked the Hotel condition and decided not to stay there. We were not ready to manage 3 days in such a bad hotel. I think there must be some standards to be followed to register these Hotels online. We trust what we can see in the pictures. So with this bad experience I asked my Driver bhaiya to help me in finding a good Hotel and he did. He took me to a nice Hotel near Dal lake.
Rooms were good and service was awesome. And plus point was Dal Lake was in front of me. We finally felt relieved and slept peacefully.
Day 4:
We started early for Gulmarg. I was excited for this day as my Mom was going to witness this much snow for the first time and I feel happy when I see that amazed look on her face. In Gulmarg there are two phases, Phase 1 and 2. You have to book tickets separately from Base point to Phase 1 and from Phase 1 to Phase 2. I booked ticket from Base point to Phase 1 online a day before, but failed to book tickets to Phase 2. As we reached close to Gulmarg, our cab driver suggested us to hire a guide so that we can get tickets easily to Phase 2. Next was to rent boots and over jackets. After picking our fit, finally we reached to Gulmarg parking area. It's only 1Km from parking area to ticket counter for Gandola. We hired pony ride for this. Finally our guide asked us to stand in line and he went to book for Phase 2.
When you are travelling to Gulmarg during summer season, there is not much in Phase 1 to see. You must go to Phase 2 to get some good experience of snow. As far as you can see, you can see snow everywhere. This was a first encounter with snow for my family and they were really excited.
My mom and I sat on a stone to capture this beautiful view in our eyes, whereas my younger siblings were more into Skiing. Pictures cannot do justice to the beauty I was experiencing in this trip.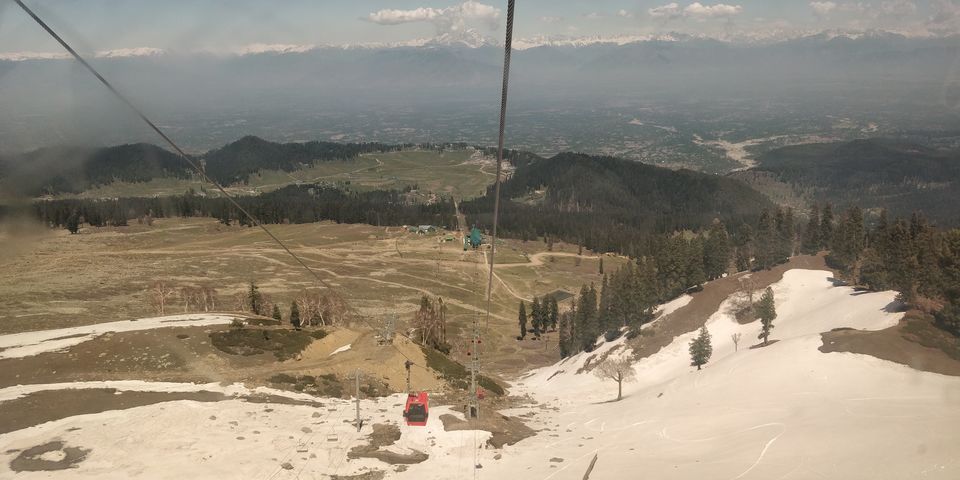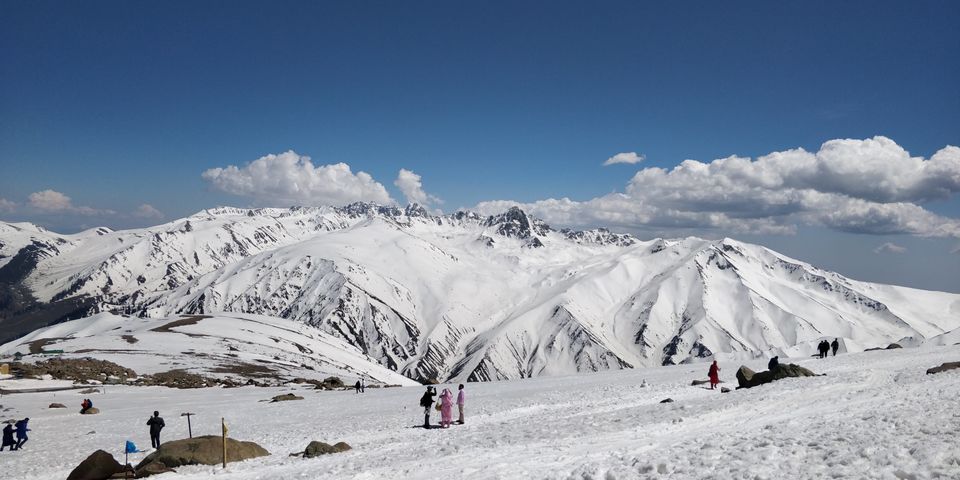 It was an amazing and beautiful trip. But I have learned few things from this trip.
1. No need to book cab if you have plans to roam locally in Srinagar. You can book an auto or so.
2. There is no need of guide in Gulmarg. You can buy your own tickets there.
3. If you are visiting Gulmarg in summer, rent boots but there is no need to rent jackets. Your light jacket can work.
4. Do not take a pony ride in Gulmarg until and unless required. Ticket counter is not more than a Km from parking area. They will flatter you with different points to see but believe me they are not worth it.
Happy Travelling!
Frequent Searches Leading To This Page:-
4days at gulmarg, base camp packages at jammu and kashmir, glacier trek packages for friends, solo trip kashmir packages from banglore, family trip packages to jammu and kashmir ,kashmir tour packages for family , top kashmir tour packages for honeymoon, kashmir group packages , sports activities in gulmarg , top activities in kashmir , top valley to visit in srinagar , budget hotels in kashmir , best local site seeing in kashmir , srinagar best food , adventure in kashmir