Anmol and I may work together, but we are very different people. While I have been talking about joining the gym for the past six months, he never misses a single one of his cross fit sessions. He sips green tea, while I gulp down whiskey. He sweats it out on the football field, while I am content in watching Friday Night Lights from the comfort of my room. You get the drift.
So when we decided to go on a seven day trek in an offbeat part of Kashmir, everyone was sure which one of us would make it back alive.
We had hired a guide and were going with 14 other people – most of them strangers. We were going to see the seven great lakes of Kashmir across three passes as high as 15,000 feet. We would trek every day without a break or even a halt for acclimatisation. There would be no phone network. No time to complain. And no choice but to move ahead.
This is our story (in our words) from the mountains of Kashmir. And how it turned out surprised even us.
A day before the trek
Himani: It was the only time I had let my friends decide on a holiday destination. And it was a bad idea. They had signed me up for a trek. Not a simple uphill climb ending with a triumphant group selfie, but a strenuous 7-day tredge in an offbeat part of Kashmir. I wasn't worried till I was. And then I was just worried. The folks at work teased me to no end. They joked that maybe I should pitch a tent on Day 1 and wait till the group made their way back there. A day before I was due to leave, I woke up at 4 in the morning with butterflies in my stomach. I tried to tell myself that this was a vacation, an adventure. But my heart knew that my brain was lying.
Anmol: I knew this was going to be difficult but exhilarating. Mountains always are. Between cross fit and football on the weekends, I had prepared well enough to survive this 80 kilometre grind. Besides, once you begin there is no turning back.
And it begins…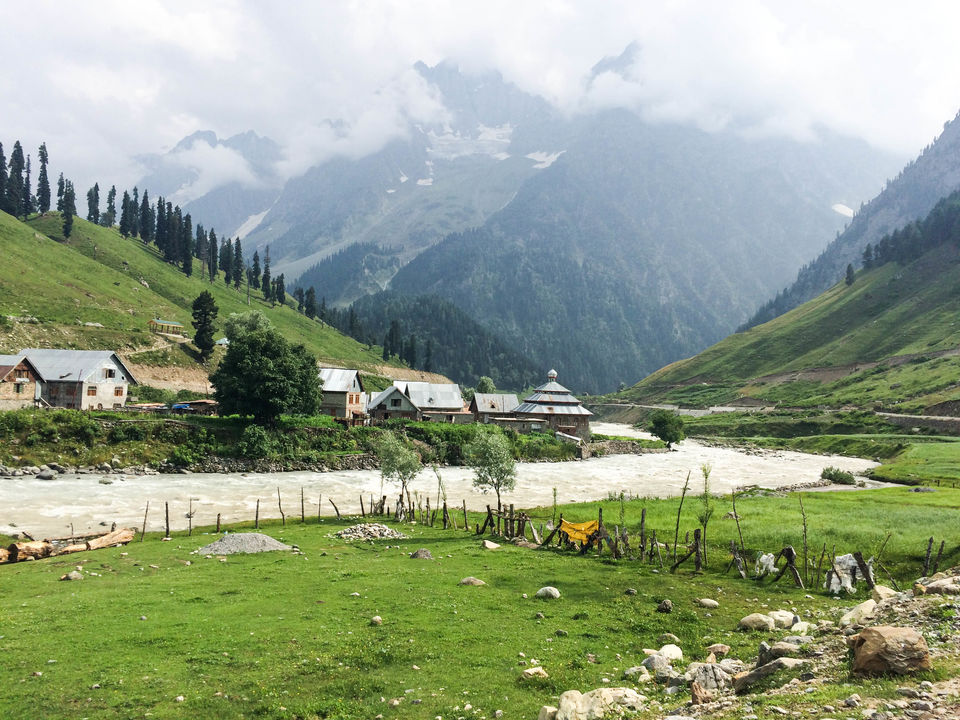 The first campsite, set up in quiet area of Sonamarg near a water source. ~Credit: Himani Khatreja
H: I knew they knew that I was new at this. I started huffing and puffing a few minutes after the trek began. I had woken up early and taken care of my morning business quickly so I would be ready before everybody else. When we finally set out at 9 am, I felt pretty confident. I was even humming a little. That stopped when the steep uphill climb began. The tune caught in my throat and I was out of breath in two minutes. The panic rose up in me. I raised my head to see the group fly ahead. I sipped some Gatorade and moved on. I only saw the group again while they had stopped for lunch. I was filled with jealousy. They were laughing and eating together. They finished and set off again. The next I saw them was 4 hours later. The camps had been set up for the night and most people had already taken a short nap. I gave them a weak smile and went to my camp to sulk.
A: Screw cross fit and football! This was more tough than I had imagined. I woke up in the middle of the night with excruciating pain in my calf muscles. I popped a pill and went right back to sleep.
The endless mountains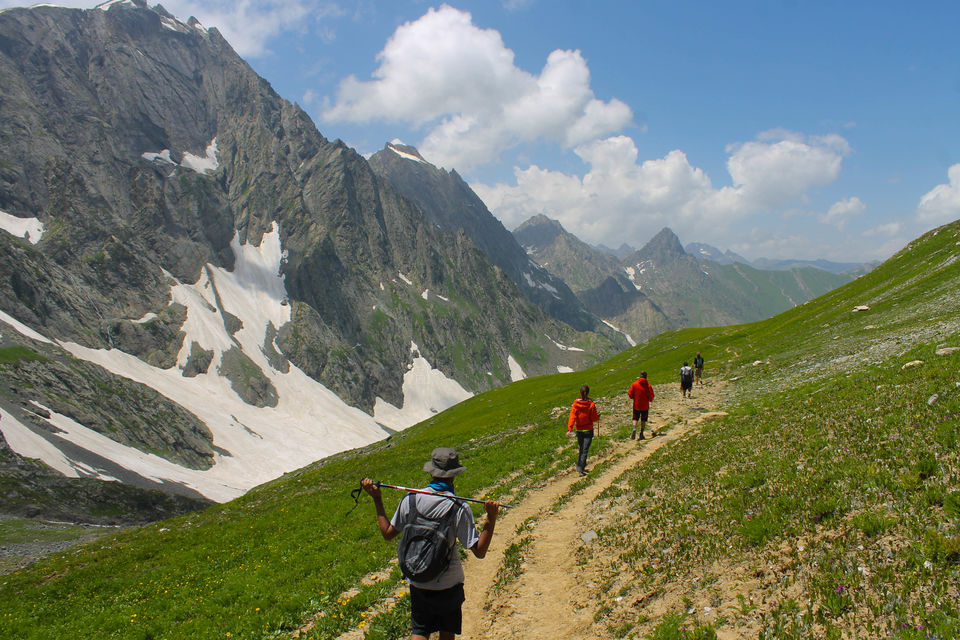 Day 3: The walk was beautiful but endless. ~Credit: Pratyush Singh
H: I was absolutely miserable the first three days. Even the stunningly surreal landscape couldn't cheer me up. The group marched ahead while I walked alone. Our guide had called the second half of the 3rd day, the endless mountains. And wow, were they endless! I had been carrying on for almost 8 hours. My feet were swollen and my body felt limp. With little idea of how much further I had to go, I felt myself giving up. I was no more than crawling when I saw my guide a few steps downhill from where I was. "This is ridiculous," he shouted. "You are 3 hours late. Everyone is waiting for you and they can't get past the Army check post unless the whole group is together," he said. He turned around and started walking. As usual, he was too fast for me to keep up. With no choice but to follow, I walked as fast as I could while trying to ignore my dented body. We reached the Army base and I handed one of the officers my id. Then I broke into tears.
A: Mountain after mountain after mountain. It was an endless walk. More than 17 kilometres, I think. My head hurt, the nose burnt by an unforgiving sun and body was dehydrated. I felt delusional. We finally reached the campsite at six o clock after 10 hours of walking. Thank God!!
It's not so bad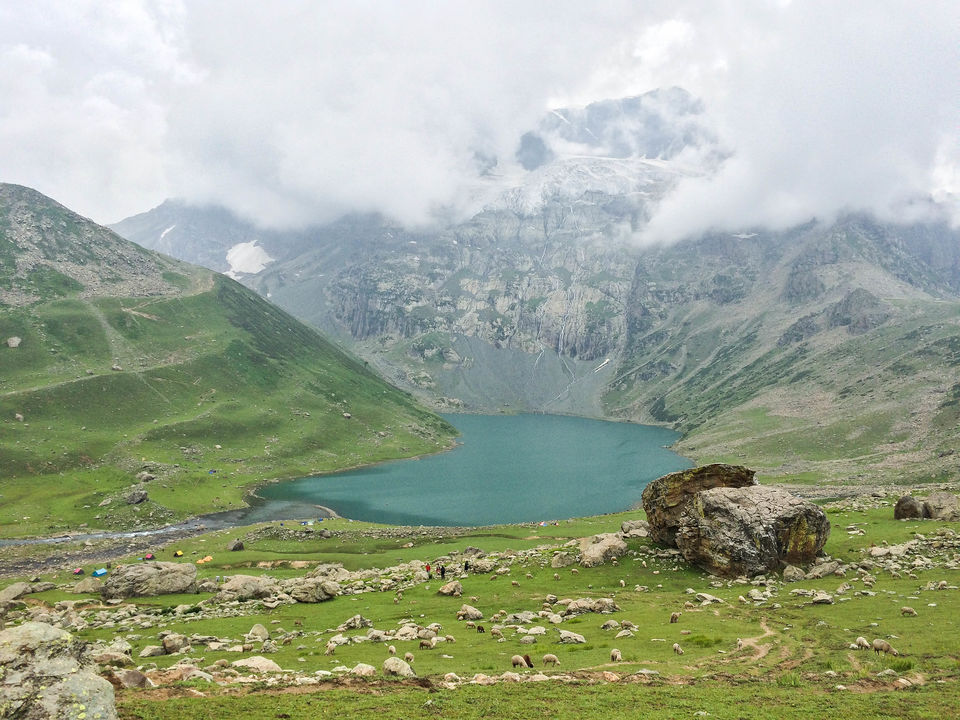 We camped next to the Nundkul Lake on day 5. The popular Gangabal Lake is a mountain away from it. ~Credit: Himani Khatreja
H: I knew I was going to be just fine the day I found my rhythm. Just like how the boyfriend had been saying to me since we started the trek. I didn't understand what he meant then. What rhythm? My body was too occupied trying to feign fitness to manage a "rhythm". But I was wrong. My body figured out exactly how many steps I could take before needing a break. And exactly how many breaks I could squeeze in without lagging behind. I found myself being with the group more and more. And for the first time in the last 4 days, I felt myself relax. I felt free. Free to not only look around, but also take it in. Free to feel that everything was going to be just fine.
A: I sat on a rock. The sky above the mountains was the colour of orange. It was beautiful beyond words. It was inspiring. I took out my notebook. The exhaustion vanished. The pain was forgotten. Everything changed.
Back home
A: I jumped into the freezing lake. It's one of those things you do even though it's foolish. A cold current passes through my body. A few days of fever are better than a lifetime of regret.
H: I didn't see it coming. After spending the better part of the journey cribbing and crying, I had expected to be relieved when I got back home. But my feelings surprised even me. Suddenly, everything lost meaning. I didn't understand why I wanted to waste time running in the rat race, when I could be happy right now. Every cell in my body ached to go back. Back to a time when time felt like it was mine. Back to a place that was untouched and beautiful. Back to a me who I very much liked. But the world is getting to me again.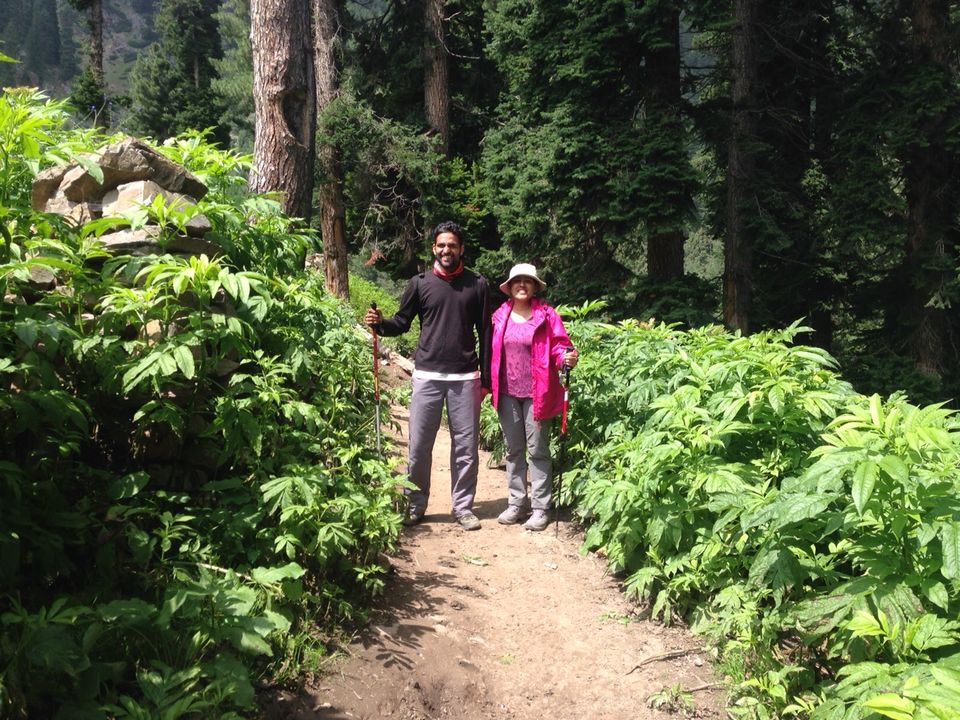 A triumphant Anmol and I at the end of the 7-day trek. We made it! ~ Credit: Apoorv Khatreja
The spell is breaking. We're almost back to being our cynical selves. Maybe it's time to escape again? Do we hear the mountains calling?
(This post has been jointly authored by Anmol and me.)
Frequent Searches Leading To This Page:-
Nundkul Lake base camp package, best trekking in kashmir, mountain trekking in kashmir, trekking places in kashmir