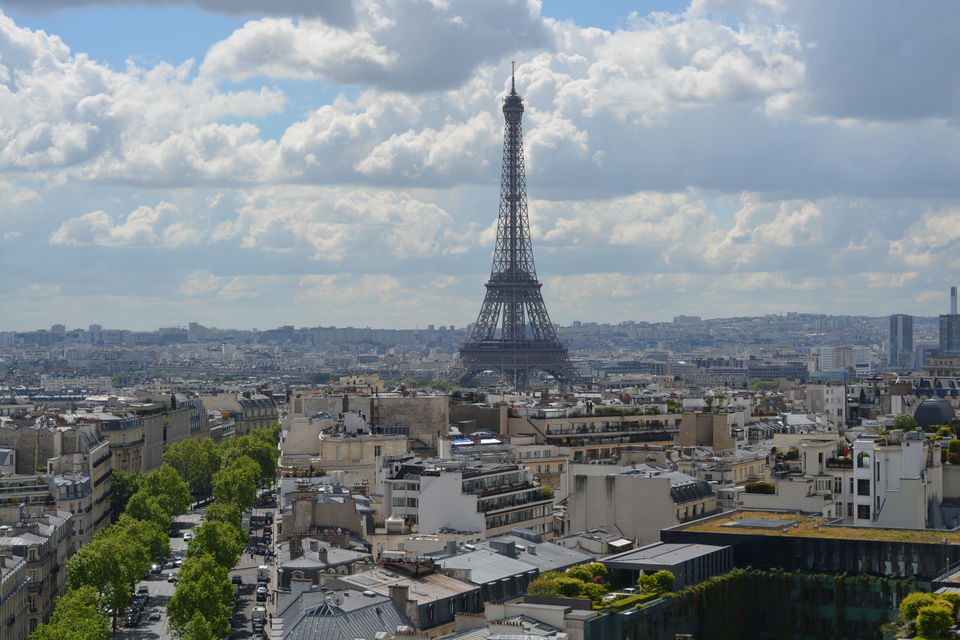 The many nights I had spent trying to cajole my husband into saying yes to this holiday, and when he finally said the magic words "Okay start planning", was like music to my ears. Initially we had decided that only the two of us would go, but the thought of our only kid who was already 19 years old missing out on a wonderful vacation with her parents made us change our mind. We had never gone on an international holiday without her and we didn't want to do it now. It was decided that this would be her last holiday with her parents, as she would be too old to accompany us in future. Well, such decisions are meant to be broken...so we never know! ;)
The planning started in full swing. Since I am a homemaker with a lot of time in hand, I would sit in front of my laptop for hours together researching on what to see, the cheapest modes of transportation, what to eat and where to eat.
Destinations were decided, visas were done and so were the tickets. We decided to stay in an AirBNB accommodation which was a first for us. We went through the numerous reviews given to the hosts and were satisfied with what we read and we zeroed in on one at St.Denis, an elderly couple who had a room in their first floor of their cute little apartment.
We landed in Paris by evening and since my husband's internet wasn't working in spite of the free wifi available in the airport and his credit card not being linked to Uber there was no way we could book an Uber cab, so we took an airport taxi instead. The driver, a friendly Moroccan had a box of home made cookies on his seat which he offered us, we shamelessly took a cookie each and devoured it in no time. Now when i come to think of it, I get the jitters. How did a free cookie get the better of us!? What if it were to be drug laced? What if we were kidnapped like in the movie, "Taken"!? Thankfully none of that happened as the driver was a very sweet guy and only wanted to offer 3 hungry looking Indians some of his wife's cookies.

Since the host knew we were coming she was waiting at the gate to receive us. A pleasant lady probably in her 70s came up to us, introduced herself as Francois and hugged and literally kissed us on our cheeks and even offered to take our bags into the house for us, but we politely refused. The house was in a nice apartment complex and hers was a duplex apartment. We were offered a bedroom upstairs with no attached bath, but the separate bathroom which we were supposed to use was downstairs. The room was literally small with a double bed and a single bed for the 3 of us, but had a nice view of a canal right outside our window.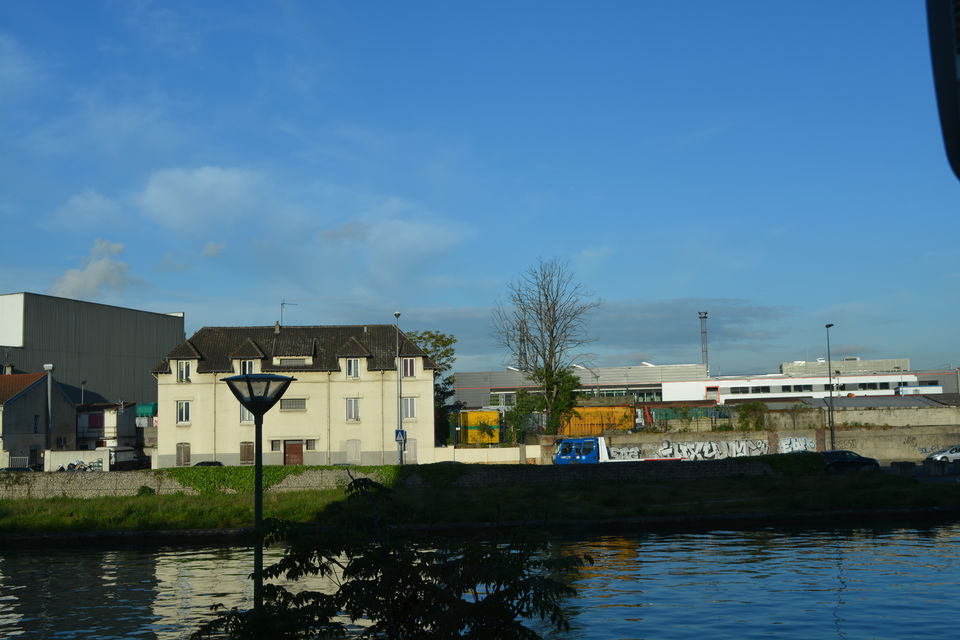 Francois offered us some wine once we settled in and said with an air of pride that, being in the land of wine there was no way we could refuse her offer. Her husband was a Spaniard and knew no other language other than Spanish and French and yet wanted to converse with us, a very friendly man. Francois used to be a tourist guide and her English was excellent, so she was our official translator.

The next day by the time we woke up the breakfast table was laid for us with baguettes, slices of cake (which we mistook for some sweet bread) multi grain bread with different types of jams, cheese and chocolate covered raisins, fresh fruits and to drink there was coffee and orange juice. We missed not having eggs so we requested her to serve us eggs for breakfast and she willingly did that the next day.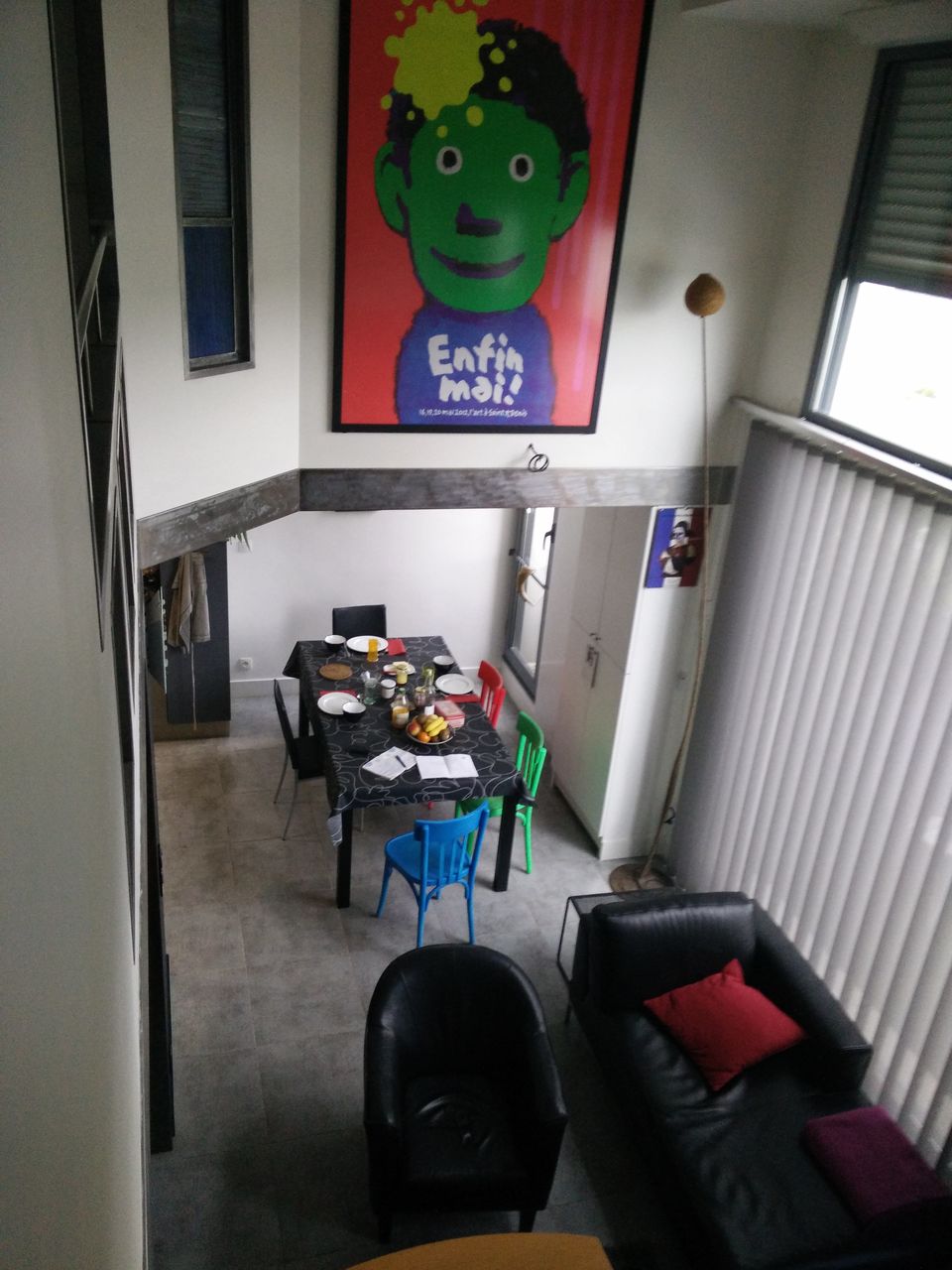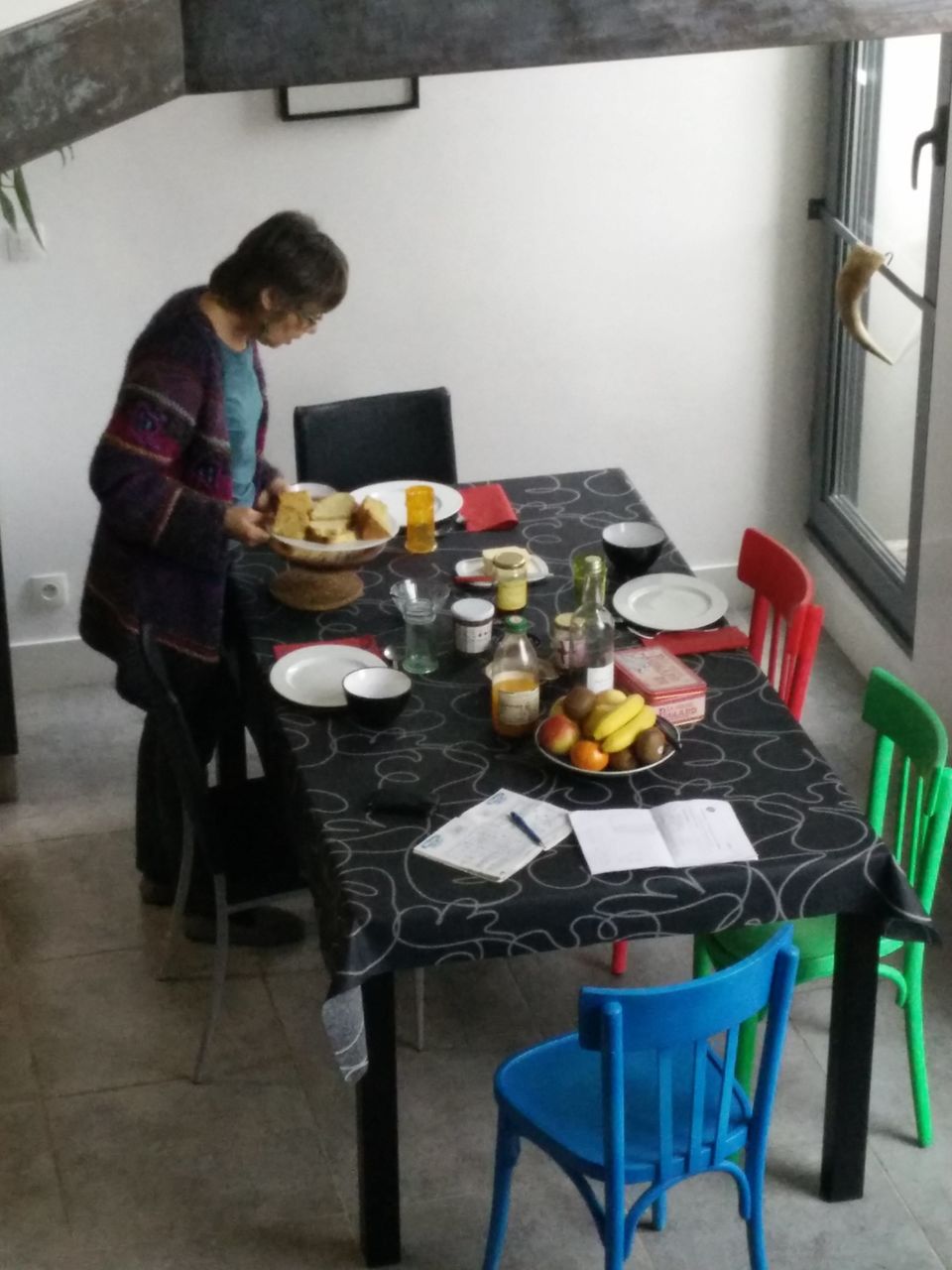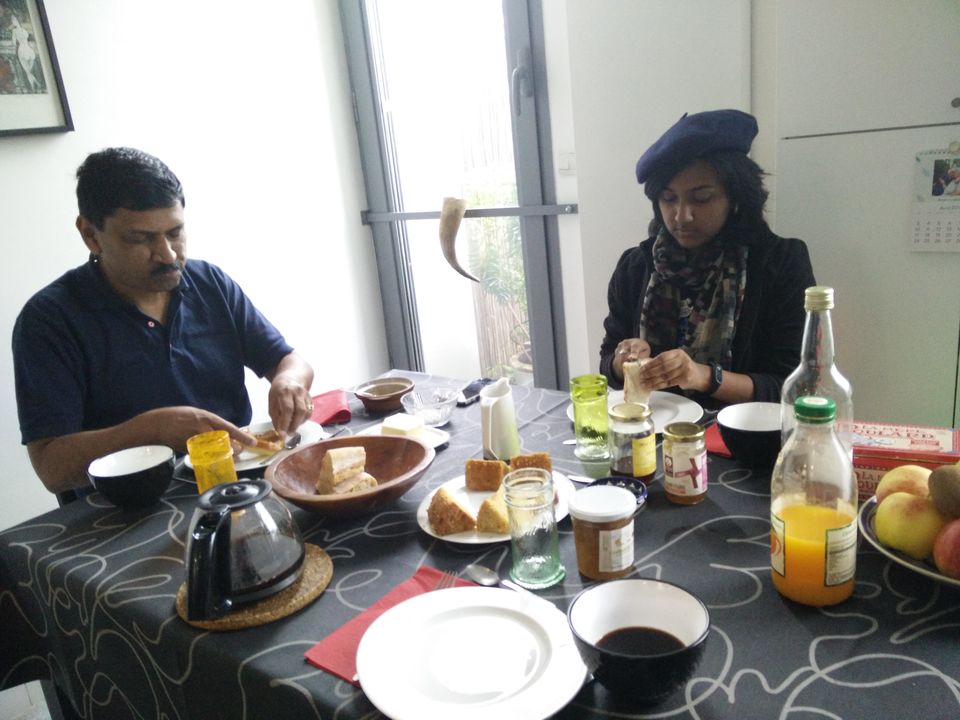 Basilica of St.Denis
Francois wanted to show us around Saint Denis which according to her was supposed to have been the capital of France and not Paris Central. She took us to the basilica and explained how legend has it that after his head was cut off, Denis is said to have picked it up and walked several miles from the summit of the hill, preaching a sermon the entire way. The site where he stopped preaching and actually died was marked by a small shrine that developed into the Saint Denis Basilica, which became the burial place for the kings of France.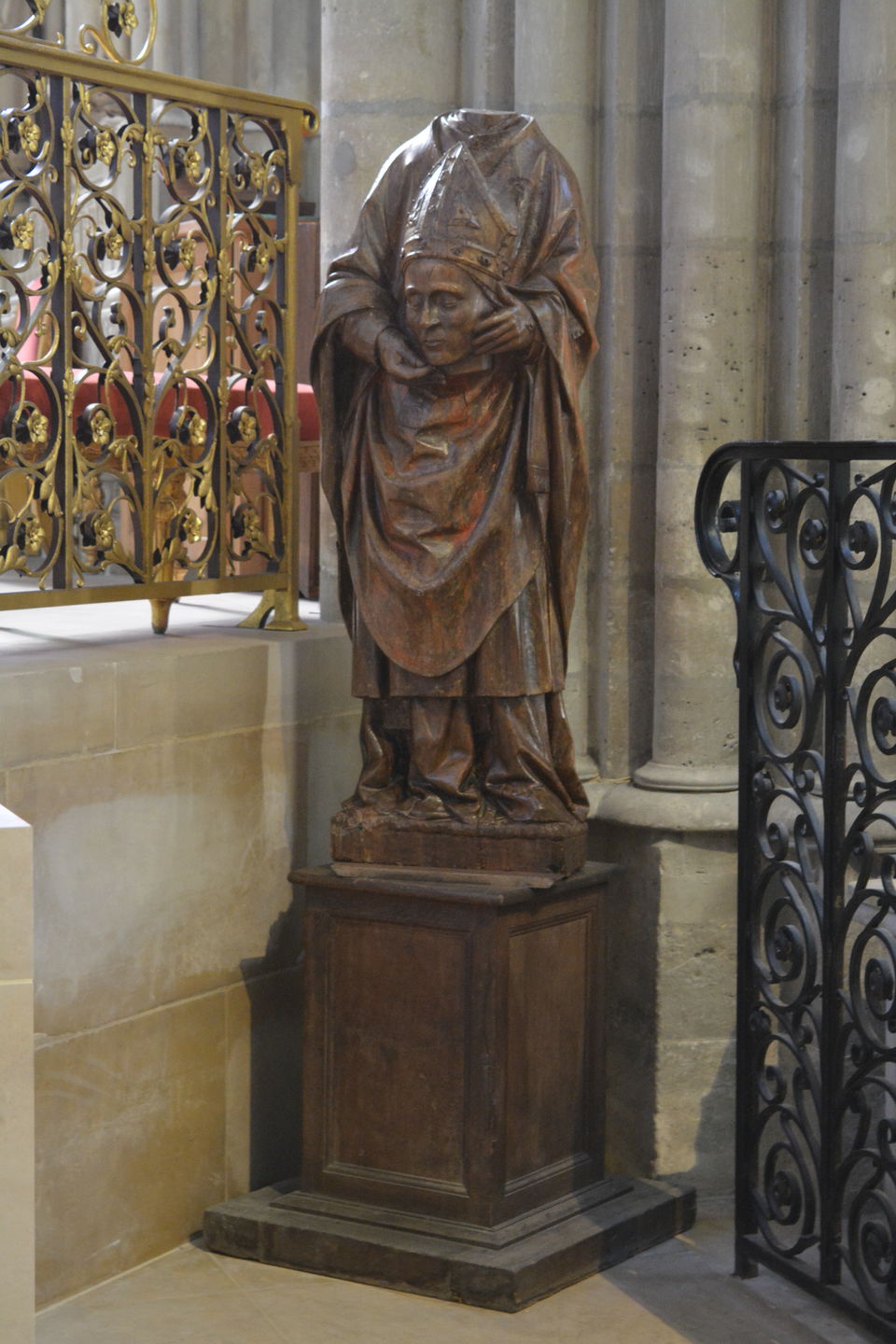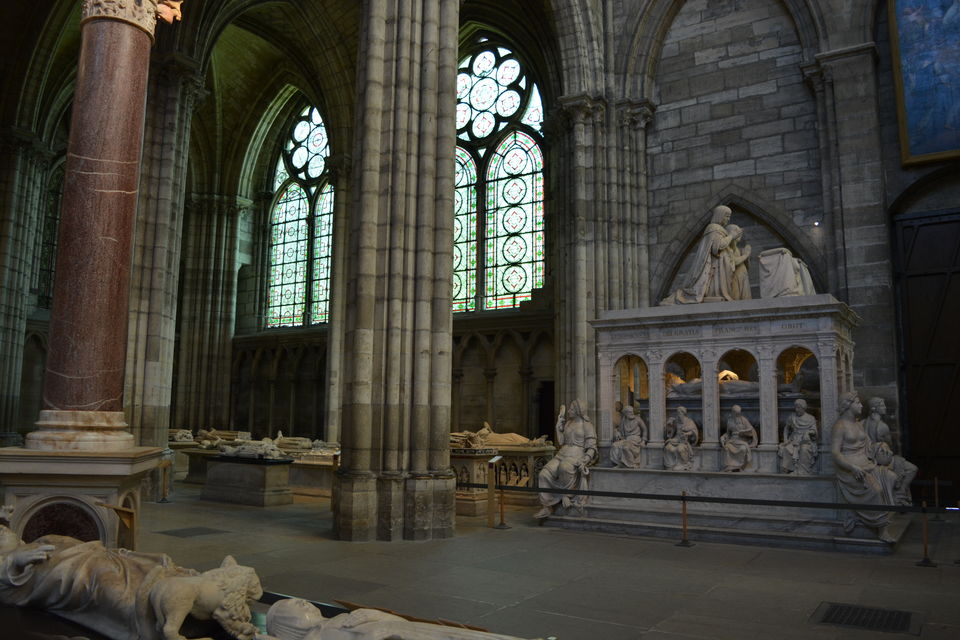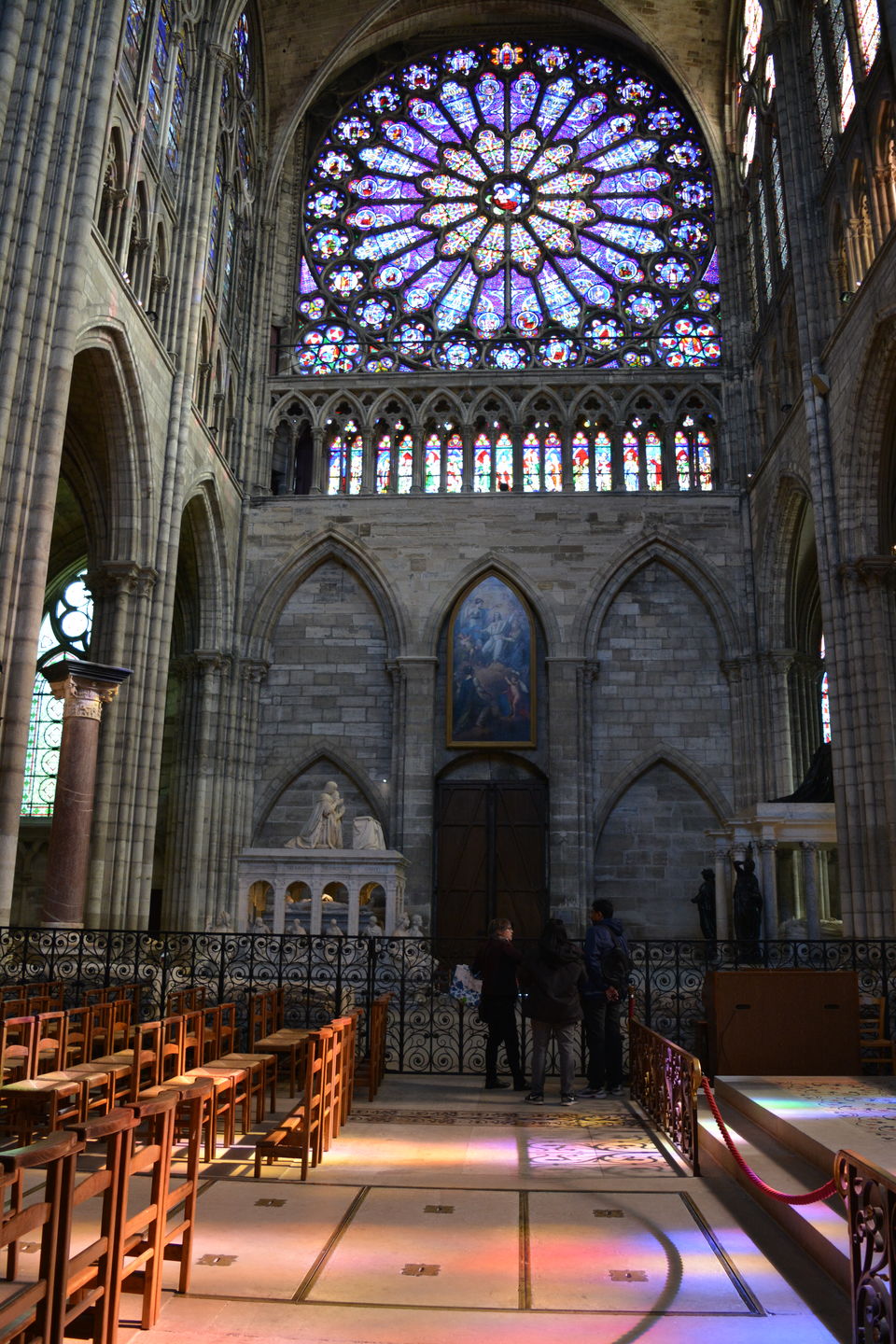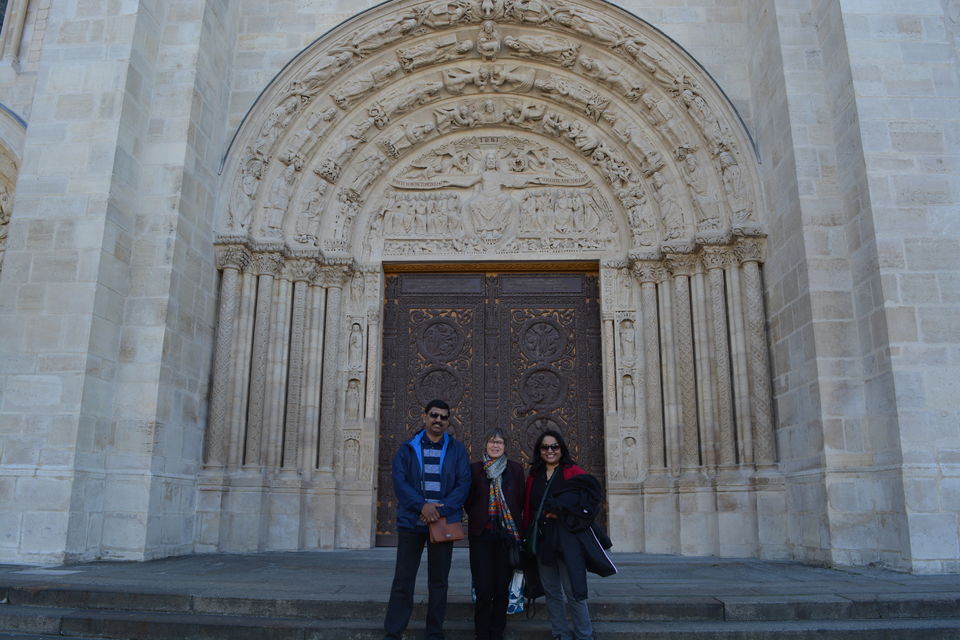 Travel made easy and cheap with the Mobilis Pass.
For all our sightseeing travel we bought a ticket called the "Mobilis Pass" which we found out to be the cheapest way of moving around Paris and was valid for 2 days with unlimited travel in trams, metros, funiculars and buses from zone 1 to zone 3, wherein Zone 1 was where the Eiffel Tower, Arch de triomphe, Louvre and other major tourist spots were; Zone 2 was where Sacre Coueur, Montmartre and Moulin Rouge was and the Zone 3 ended just at St.Denis so we made good use of our Mobilis Pass.

Day 1
The tour starts now.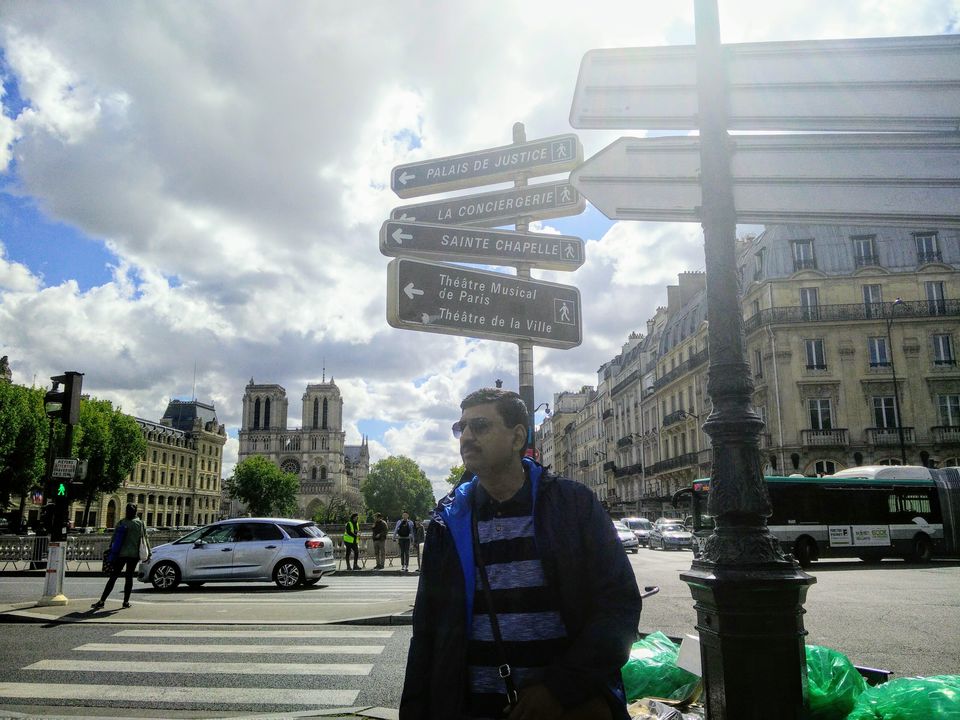 Now our holiday literally started, we had decided to do all of the sightseeing by ourselves with the help of maps. From Saint Denis we went to Saint Chapel and were put off by the long winding queue to get into the chapel, so decided against it. The question was where to go from here. (My husband unknowingly stood under a direction signage; realising the photo opportunity I clicked this snap. You can see the garbage strewn around this lamp post which was not something we expected to see in a place like Paris).
Arc de Triomphe
Our first stop was Arc de Triomphe and we climbed the 284 steps to reach the top for a breathtaking view, which would have been worth it, if we were fit enough to climb so high. With pain in the knees and a lift service being available only for the physically handicapped, pregnant ladies and senior citizens, we didn't fit into any of that category so had to do it the hard way. Climbing up was okay but climbing down was painful for all three of us.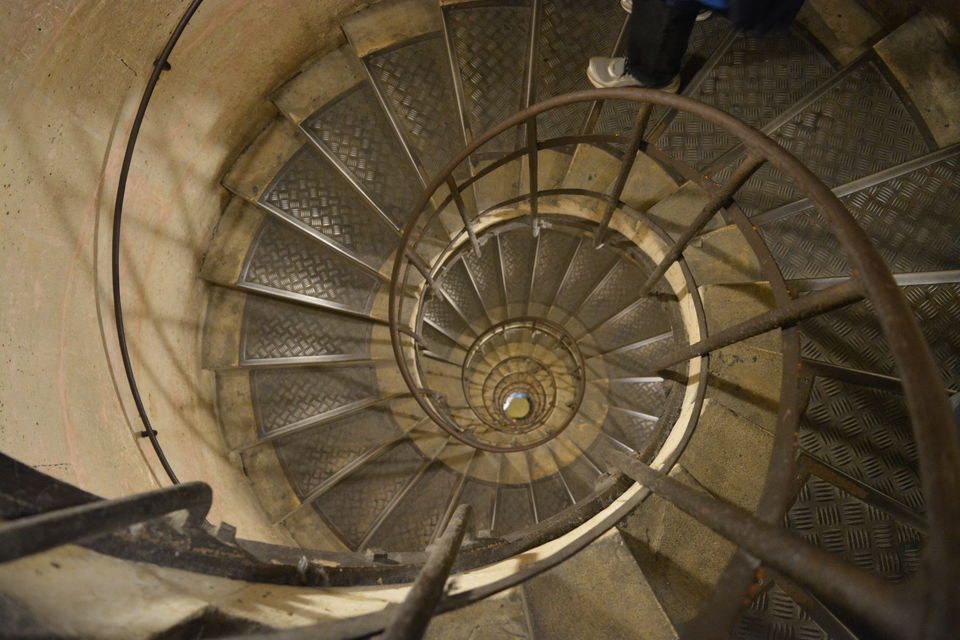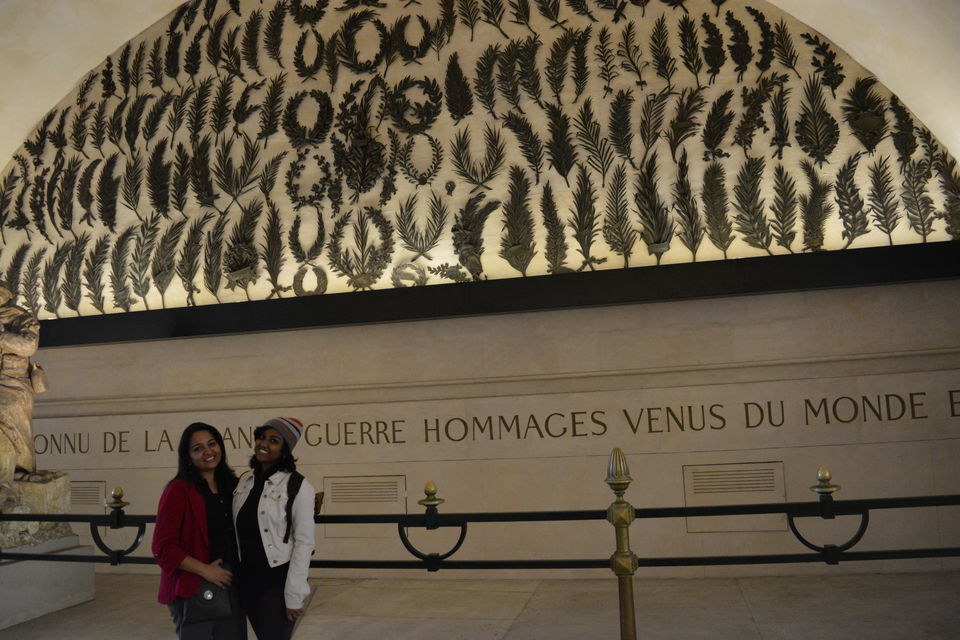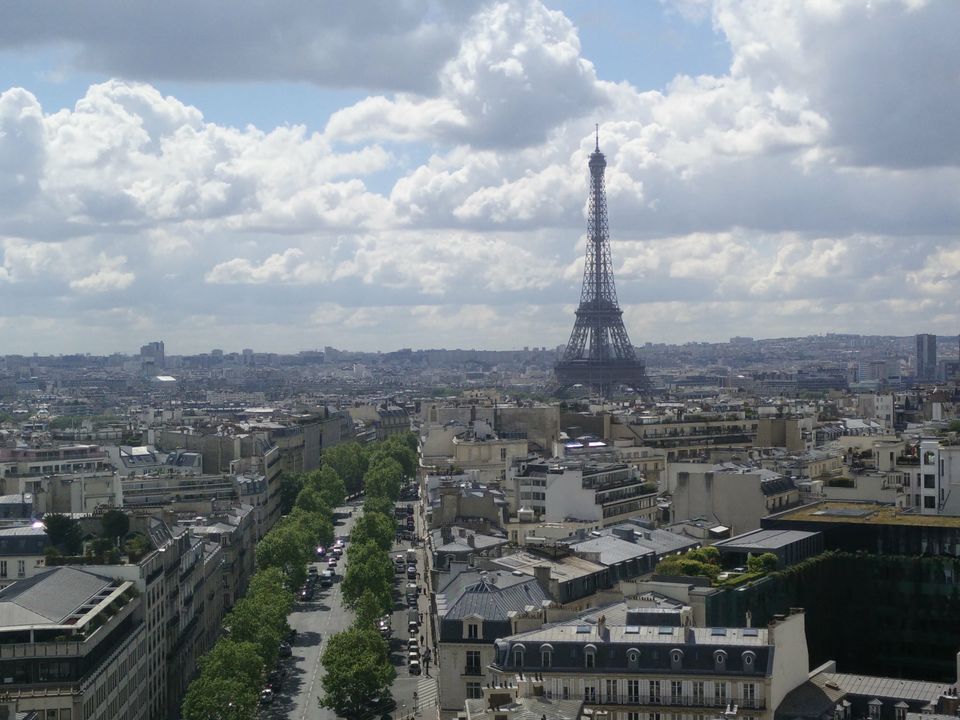 L'AS du FALLAFEL
Once we got down the Arc, we were famished and headed straight to the famous Las Du Fallafel which claims to sell the best falafels in the world. All three of us being foodies this place had to be on our list of must eat things in Paris. We even gave Champs Elysees a miss which i regret even now.
We walked a lot, took a metro and finally reached this place which luckily had a table at the far end for three. We ordered our food and since we are not used to eating falafels so often, except for those rare occasions where we have dined at a Mediterranean restaurant we would not be able to vouch for this being the best Falafel sandwich in the world, but it sure did fill our stomachs in a good way.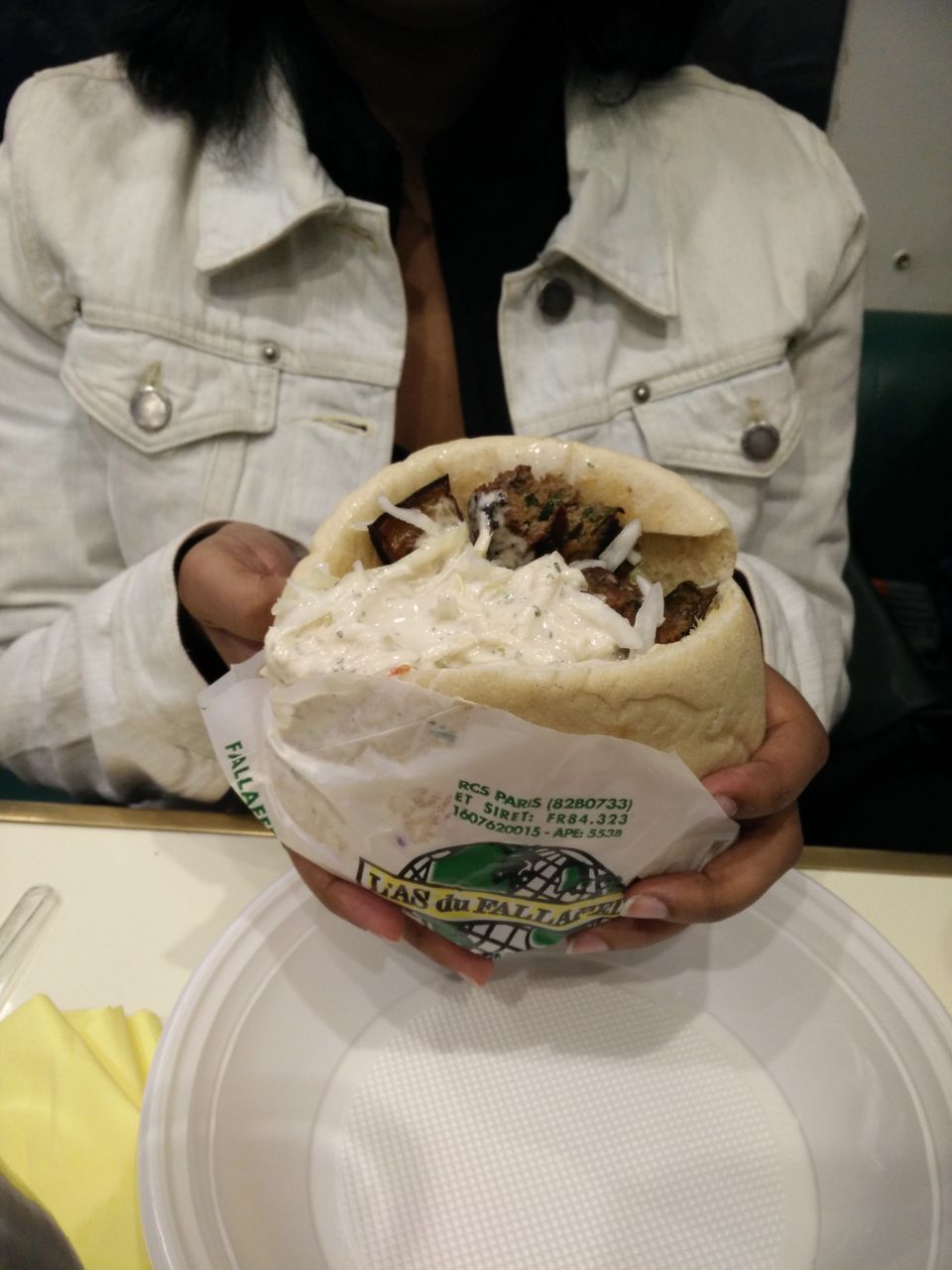 Eiffel Tower
We decided to see the Eiffel Tower next and were wowed by the majestic size of it. As luck would have it, my husband lost the online ticket to go up the Eiffel, so we had to let it pass. Instead we took some pictures in front of it and then decided to sit in the garden behind it admiring the giant structure. But it started getting really chilly, so we decided to go to the bridge of locks as that is where we had to board the river cruise too.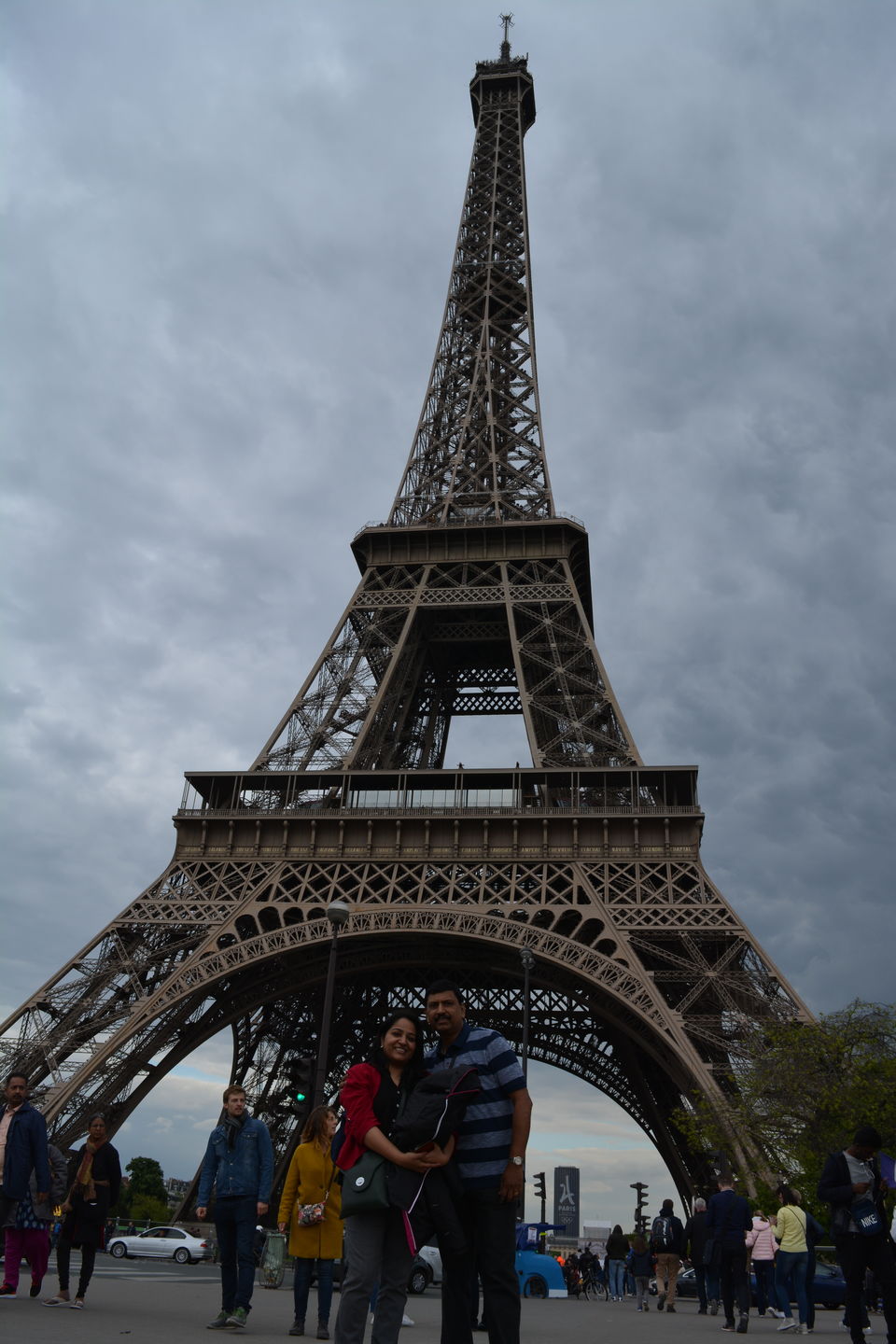 The Bridge of Locks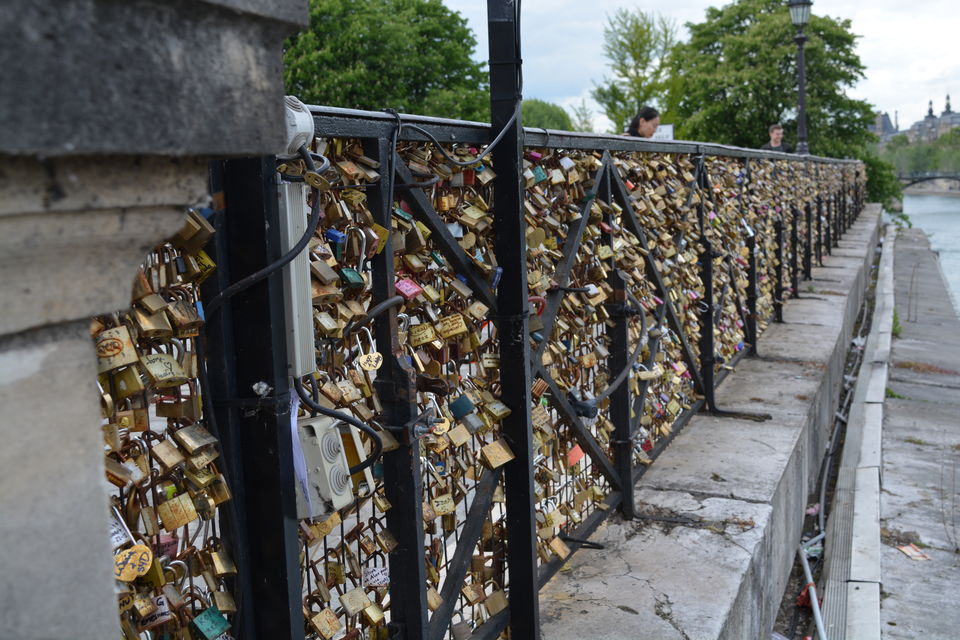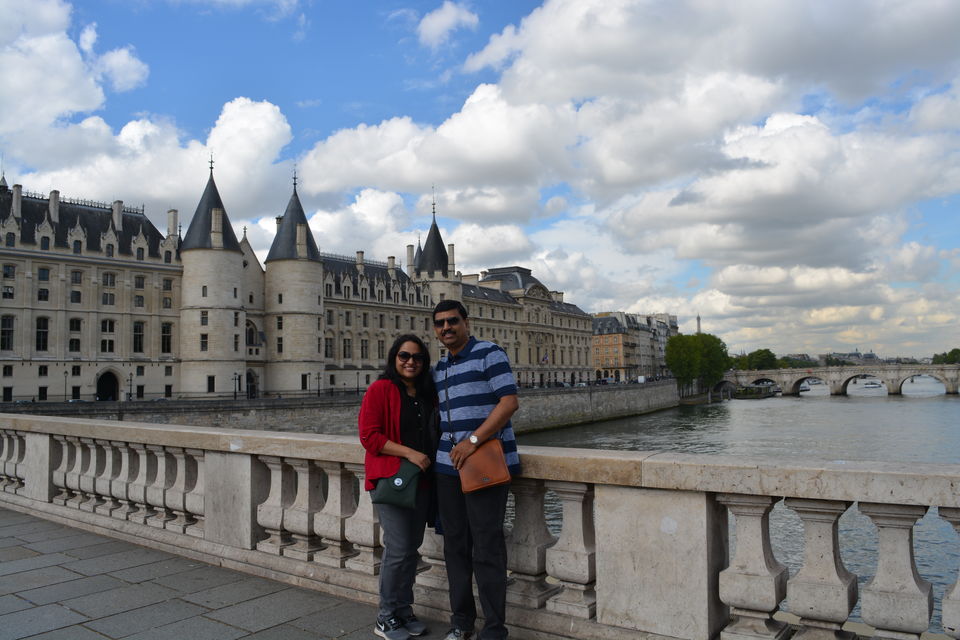 Cruise over the River Seine.
From the Eiffel Tower we took a metro and came to the Bridge of Locks and had almost an hour to kill before the cruise on the River Seine. So we walked around clicking pictures, but by the time we boarded the cruise we were a little late and didn't get the seats on top of the boat and had to sit in the lower deck, which was a blessing in disguise because it was freezing cold outside and the boat ride on the top deck would have turned us into ice figurines by the end of the ride. The ride started but unfortunately most of the commentary was inaudible in the lower deck, so missed out on hearing quite a few things. The main attraction was the sparkling lights of the Eiffel Tower which at the stroke of each hour sparkles for five whole minutes every night after sunset and I was so eagerly looking forward to seeing that glittering spectacle.That was the best part of the Paris trip.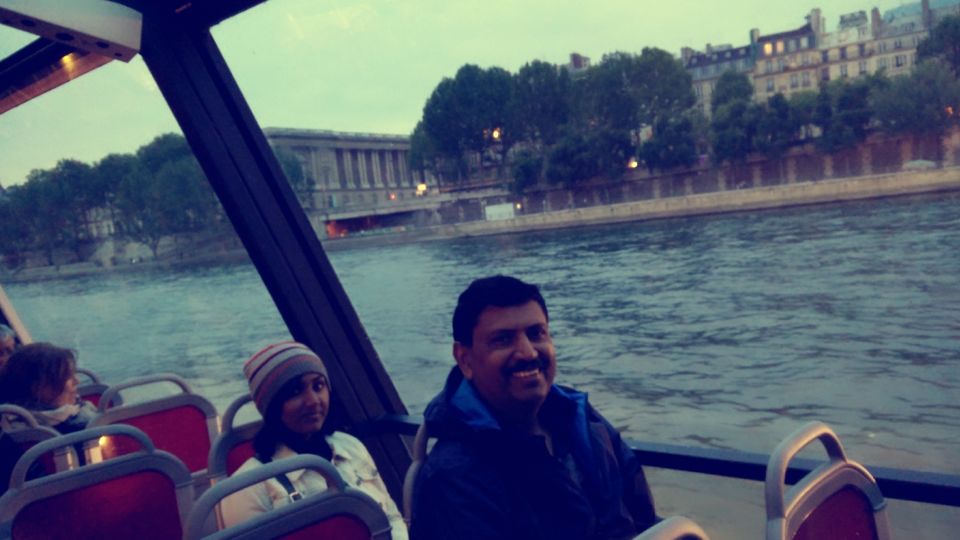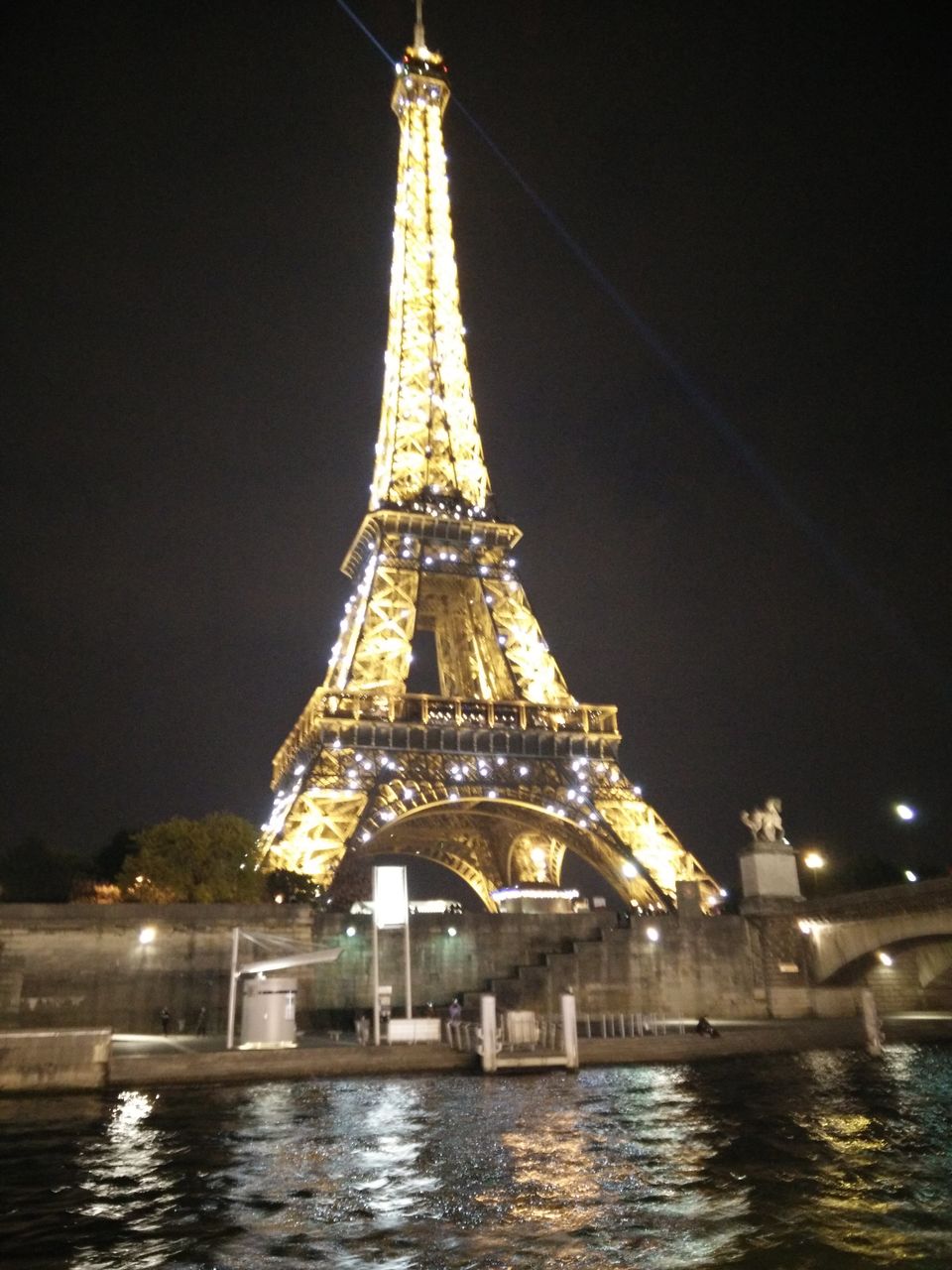 After the boat cruise we had to get back to Saint Denis but before that we had to have dinner. We decided to have a burger at McDonald's and then headed back home with aching feet. Had a nice hot shower and got into the warm bed where my husband and I massaged each other's foot while our daughter fell asleep. We too were exhausted from a very tiring but happy day and fell into a deep slumber.
DAY 2
GALLERIES LAFEYETTE
The next day to our bad luck the weather was gloomy and was continuously drizzling, so we decided to go to an iconic upmarket mall, 'Galleries Lafeyette'. The stained glass dome shaped ceiling was extremely beautiful. We had our lunch from the food court there and also bought an assortment of macaroons from PIERRE HERME.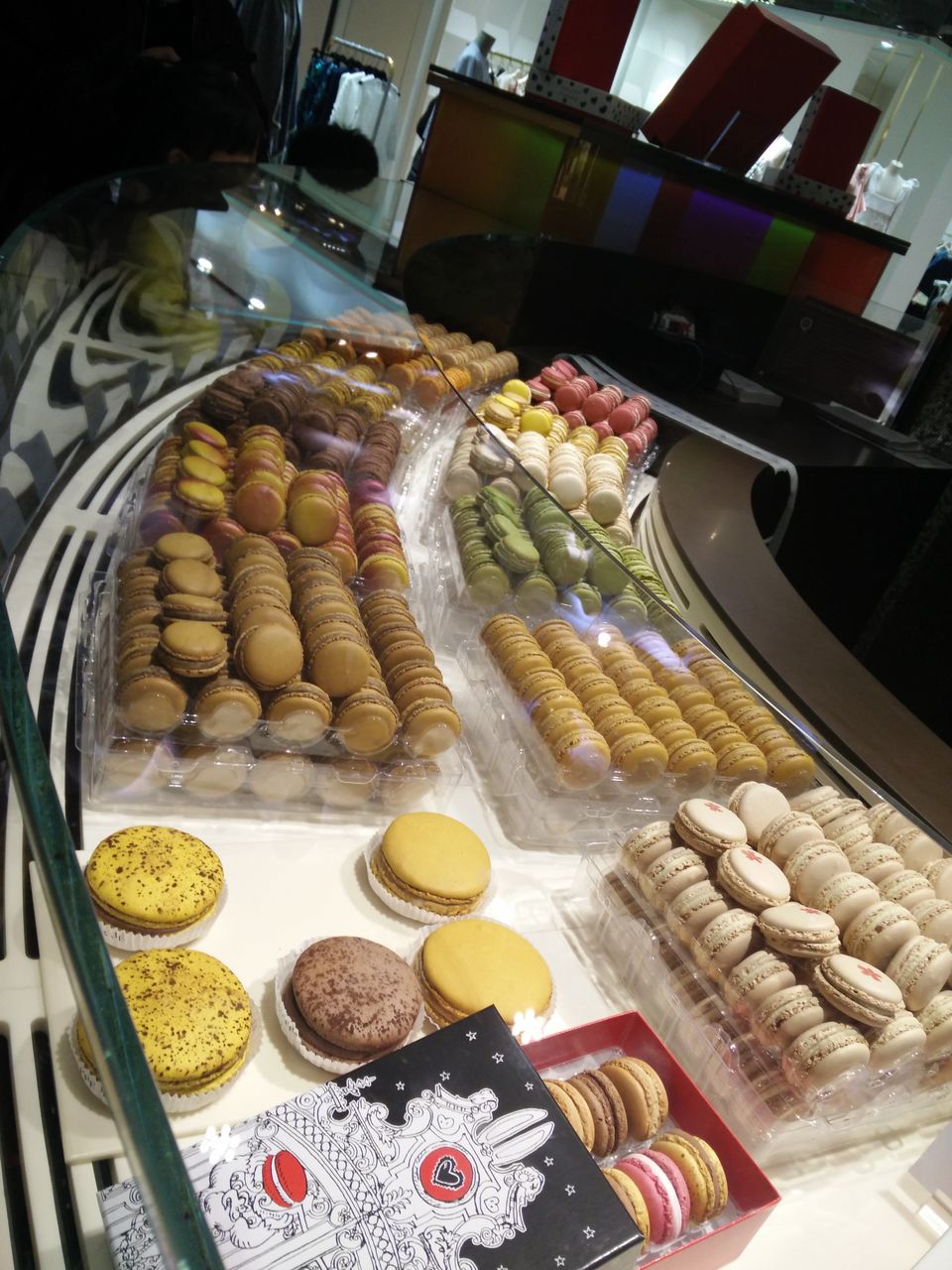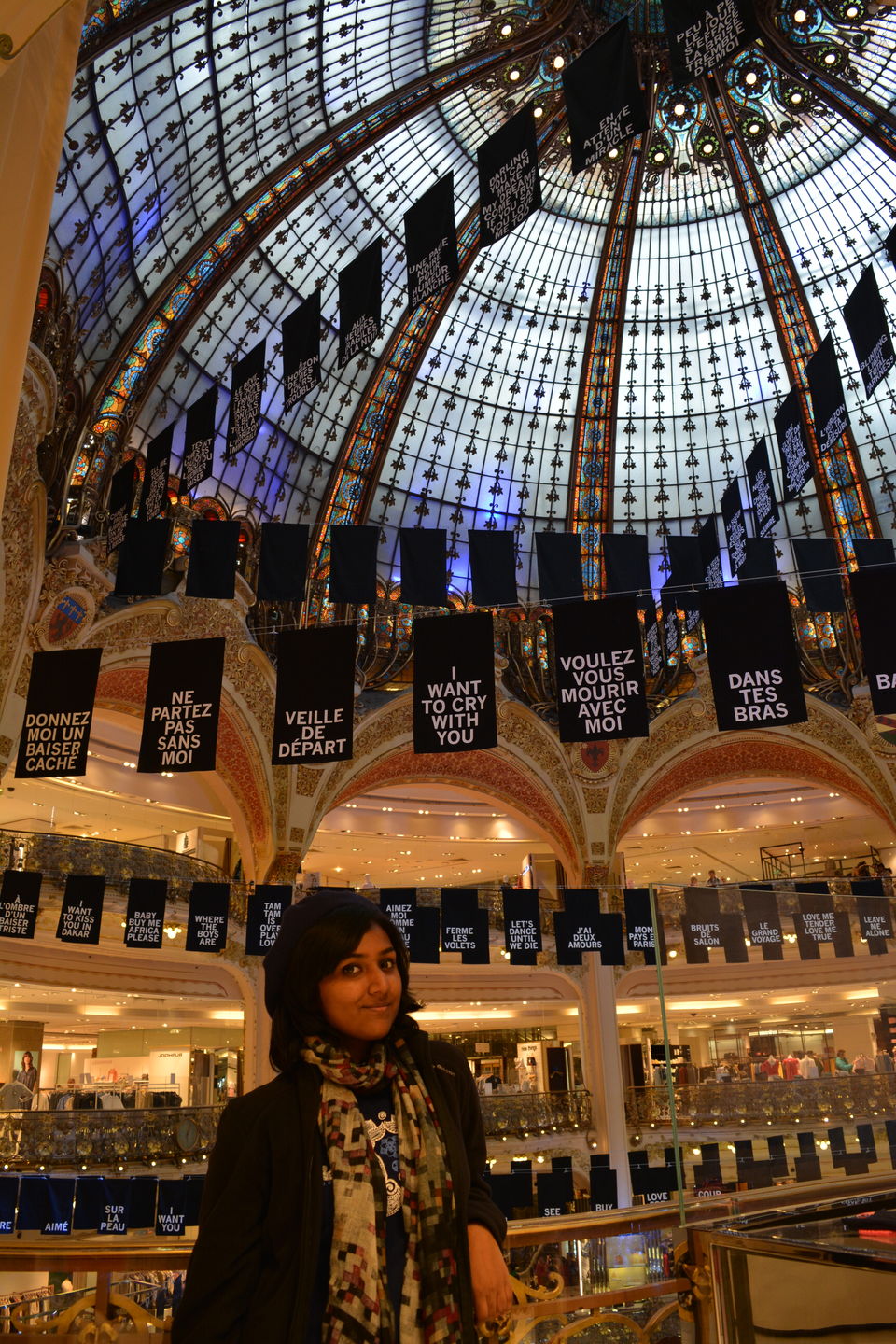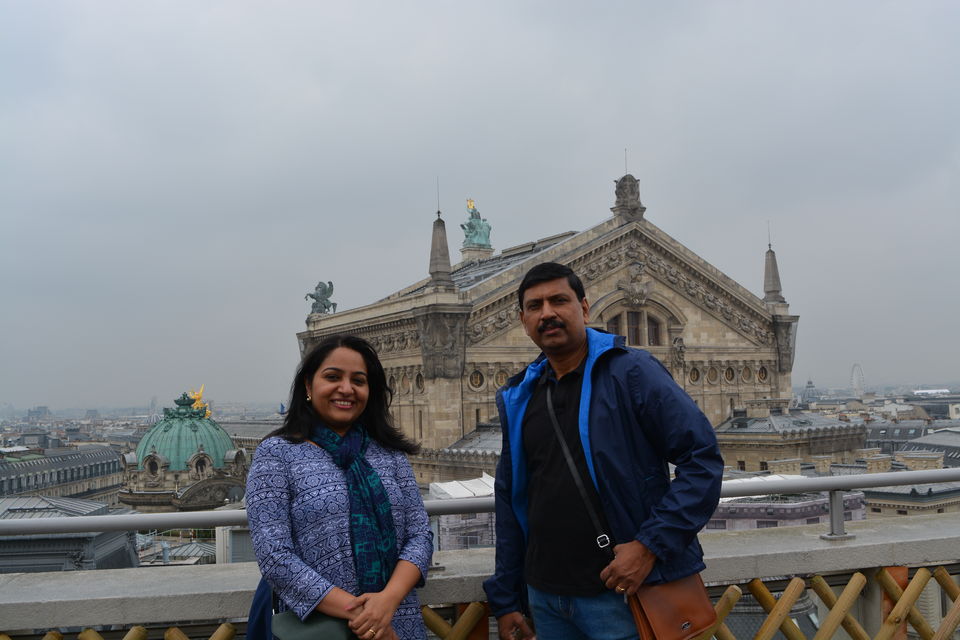 SACRE COEUR
We boarded another metro to go to Sacre Coeur on this wet gloomy day, but the rain did not dampen our spirits. On reaching the place we were so disheartened to see the steep climb to go up the chapel and yet the touristy spirit made us walk all the way up and that is when we realised that we literally climbed 300 steps, which was more than the number of steps at the Arc de triomphe. Towards the last bit both my daughter and I gave up, my husband, the fittest amongst the three felt it was unfair having come this far and miss going inside the chapel. Have to admit that the view in spite of the clouds and the drizzle was still wonderful. One could see the whole of Paris from there. I can't imagine how beautiful it would have looked on a bright and sunny day. Sigh!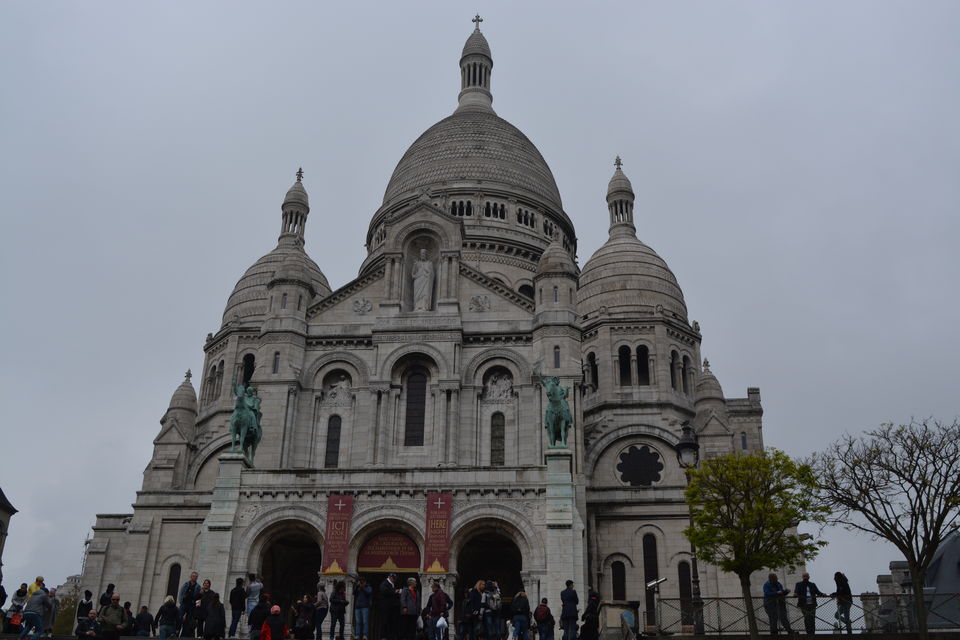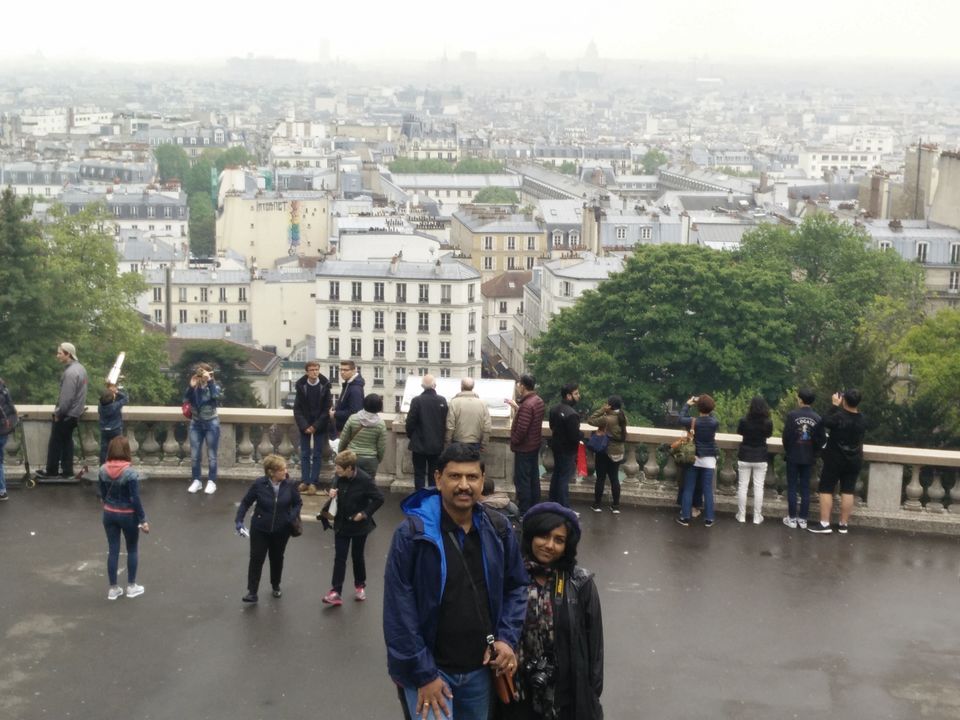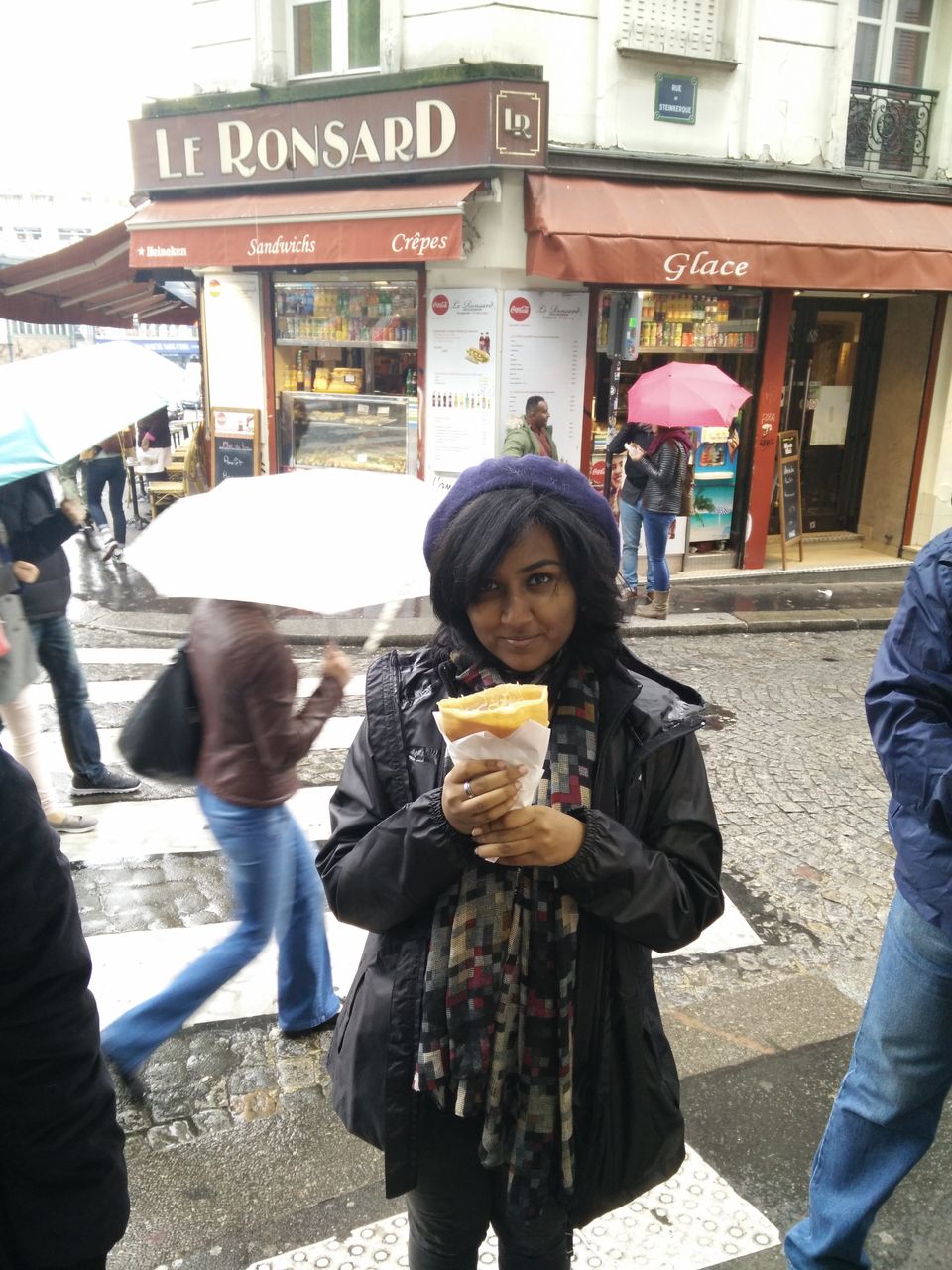 After a crepe break at the foothill and a pee break costing 1 euro for a pay toilet…that was when we saw a funicular going up to the Sacre Coeur and with the Mobilis pass we could have travelled for free. We kept kicking ourselves for not checking that option out. If only we knew! We walked around asking people how to reach Montmartre, the way we kept pronouncing it was wrong and didn't get much help with directions, and finally an Indian who understood our pronunciation told us to take the funicular and go up till Sacre Coeur and then take the road on the left leading to Montmartre and the way to pronounce it was (Moh- mah and not Mont Martyr). So we took the funicular and started walking along with the other tourists.
Montmartre
Montmartre was a place where the world renowned artists like Pablo Picasso, Vincent Van Gogh and their likes lived and gathered inspiration from around there and drew many a pictures. The cobbled streets of Montmartre has now become a touristy place with the numerous artists dotting the stretch and making paintings of willing tourists. We did not waste much time in this part of town as there was nothing interesting for us to see.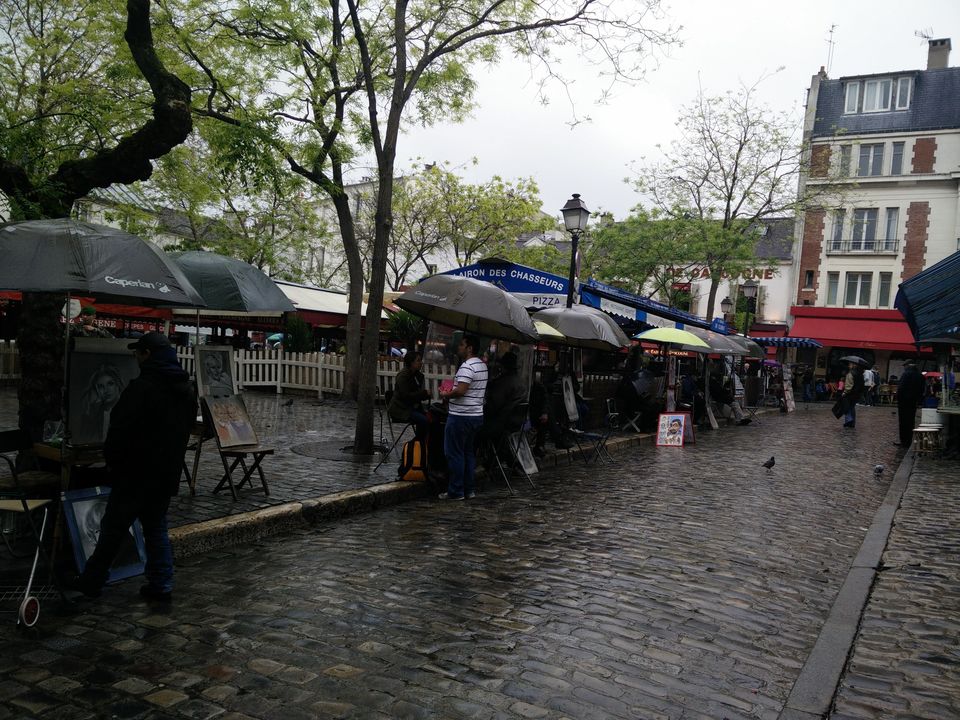 Moulin Rouge

We walked towards the famous Moulin Rouge, with no intention to watch the show but to see the famous red windmill which was again for another clichéd click.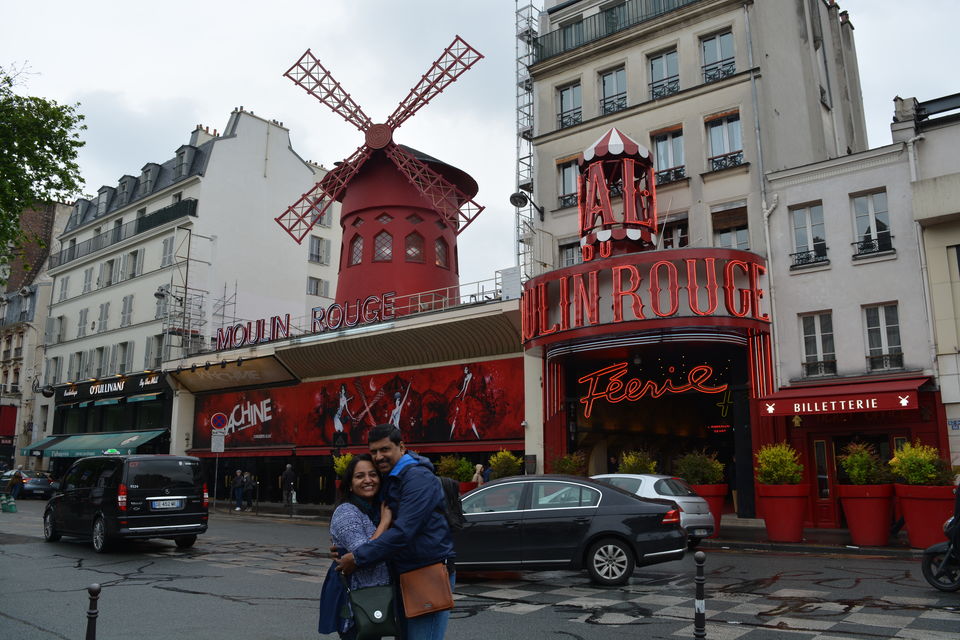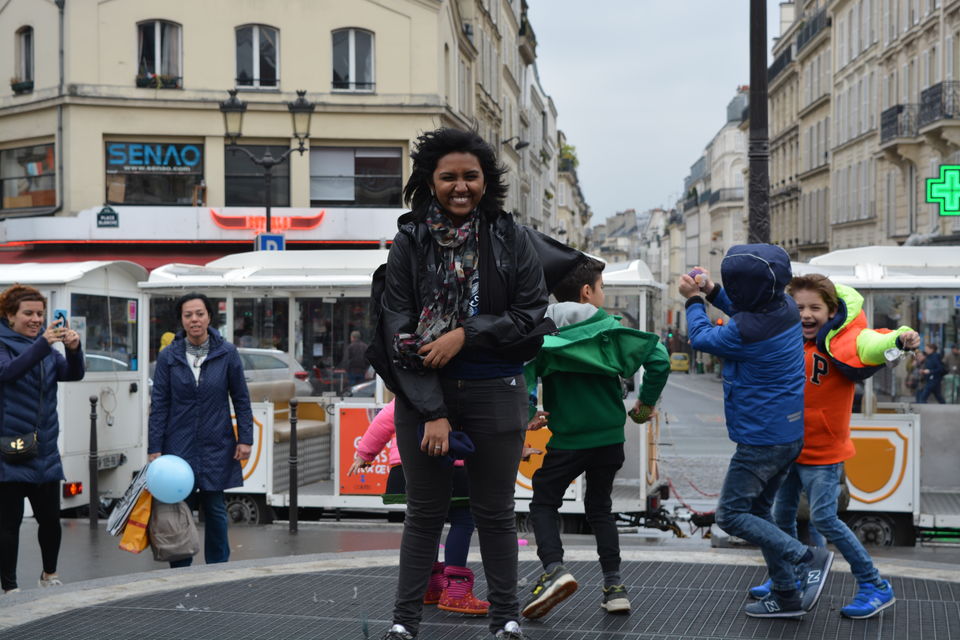 LOUVRE MUSEUM
My husband wanted to go to the Louvre in the morning itself, though I tried dissuading him from doing so and yet he insisted. During my numerous research about the timing of Louvre I had found out that the Louvre is closed on Tuesdays but on Wednesdays and Fridays it would be open from 9a.m.-9:45p.m. which most of the tourists don't know about. Since it was a Wednesday I told him that we could come back in the evening and do it, but gave in to his stubbornness. On seeing the big crowd and long queue he decided that we should go to Sacre Couer and Montmarte. Now it was time to hurry back to the Louvre. Since it was a Wednesday we knew we could go to the museum in the evening and see the artefacts without much of a rush, we again took a very crowded metro and went to the museum. Am not a great lover of art so I didn't particularly enjoy the museum, and to top it my feet was aching with so much of walking.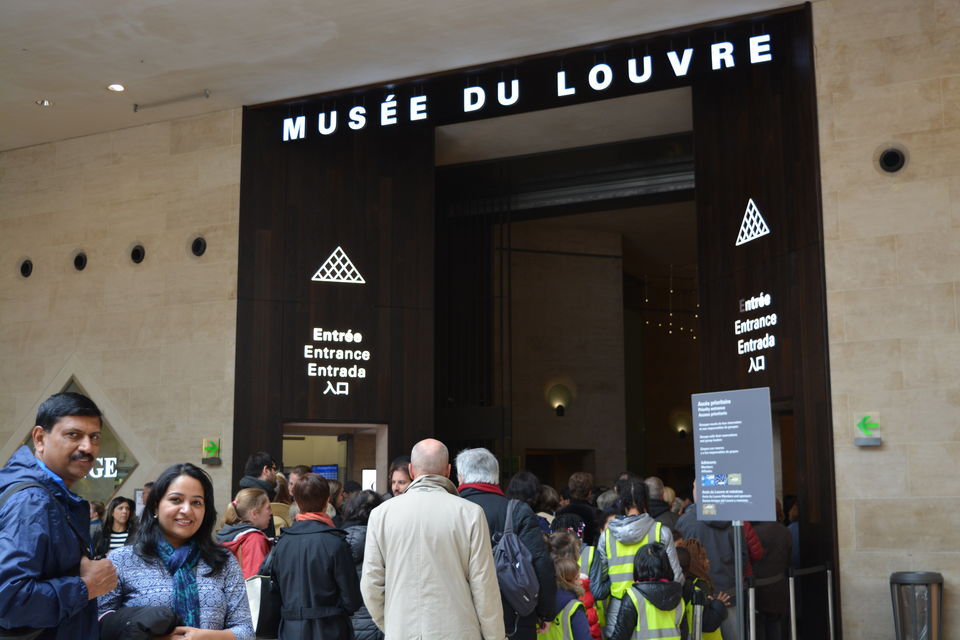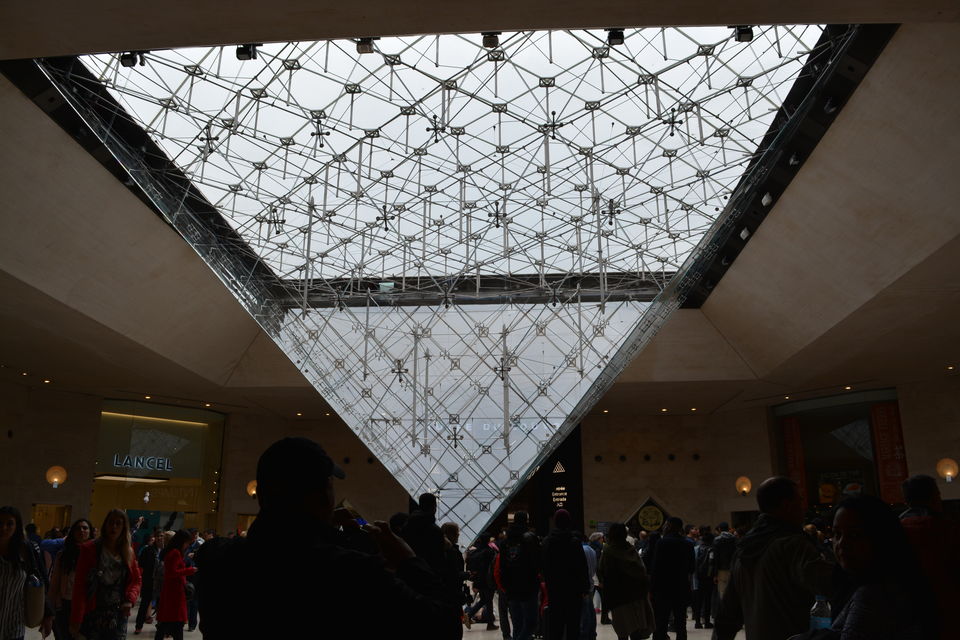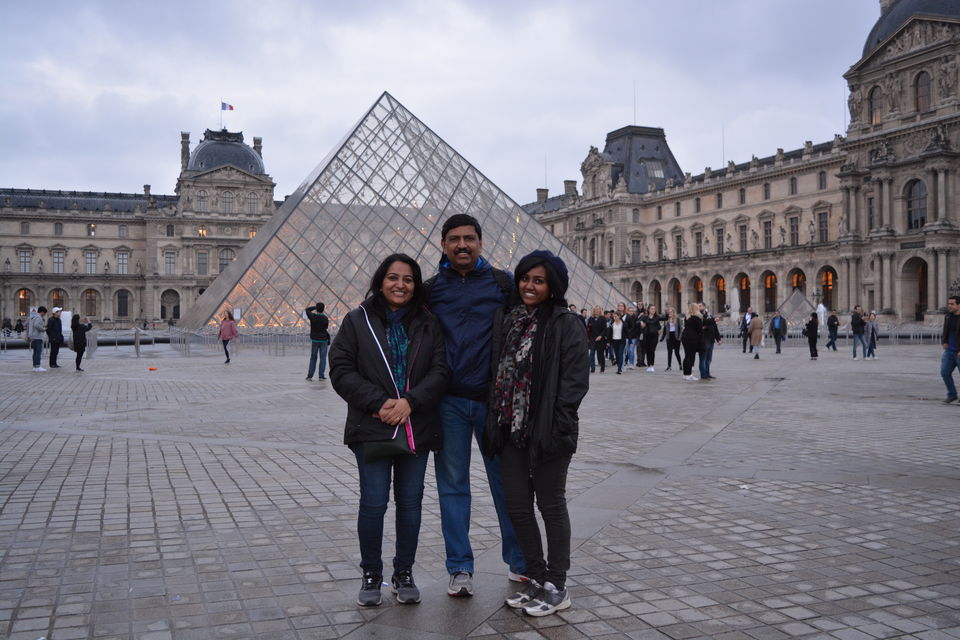 After the visit to Louvre, we were so tired with absolutely no strength to even stand, we staggered to the metro to go back to Saint Denise and again had to walk till the place of our stay. En route we stopped at a restaurant to have dinner, which was burger and fries. The portion of the fries was humongous, we could barely eat even half of it. The sad part was that since we could not converse in French and they speak no English it's the tourists that suffer. We had to let go of another restaurant that we wanted to have our dinner from only because they could not understand what we asked for.
Finally it was time to say goodbye to Paris and this was just the beginning of our holiday, we were still brimming with excitement to see what Amsterdam had in store for us. We had a train to catch from Gare du Nord (officially Paris North is the terminus station from where we had to catch the Thalys from Paris to Amsterdam Central).
Goodbye Paris, will definitely come back another time.
PS: There is so much to see in Paris and just a couple of days is not enough to enjoy this beautiful city.