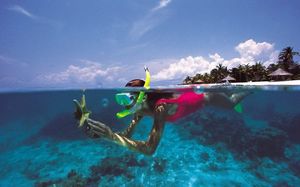 Best time to visit
January to May and October to December is the best time to visit the island.
Things to do
Trips to the beach and playing around in the water is surely on the cards here.
Budget
This varies and is based on ones duration, type of accommodation, places that one wishes to visit and other such charges.
Andaman Islands
The Andaman island lies around 1000 kilometers to the east of the Bay of Bengal and is the most remote state of India. To reach there, sone must take a flight from cities Kolkata, Vishakapatnam, and Chennai or travel by ship. The island is covered by dense green forests and is home to some of the oldest indigenous tribes of the land. White beaches and blue waters have resulted in the place being developed by the tourism department and today the island features on the list of must-visit places and holiday destinations around the world. The pace allows one to indulge in many water-based sports and activities like snorkeling, diving and underwater walking.
Reviews of
Andaman Islands
•
10
Attractions near
Andaman Islands