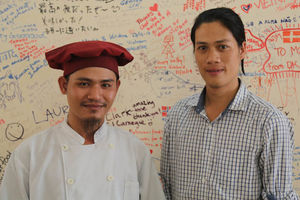 Places to stay near
Cyclo Resto
Experience Saigon with Locals
Homestay in villa 1, FREE dinner!
22nd floor/Dope View/Free WiFi/LGBT
River-view room,city center (dream)
Reviews •
1
If you don't want to spend a lot of money and looking for the traditional Vietnamese meal for a low price, Cyclo Resto is the place to visit. The food is always fresh and Chef Vu also offers a cooking class where you can learn how to prepare some of their top notch Vietnamese dishes. You will enjoy a 5 course meal for $6. Your five course meal will consist of Spring Rolls, Shrimp Soup with Winter Melon, Beef with Fried Vegetables, Stewed Snakehead fish in a clay pot, Fried Chicken in Lemongrass, Steamed Rice, and . They are open for lunch and dinner.
Attractions near
Cyclo Resto