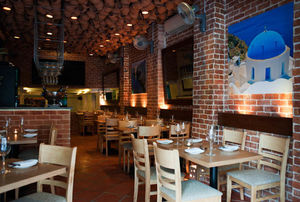 Places to stay near
Saffron
Experience Saigon with Locals
Homestay in villa 1, FREE dinner!
22nd floor/Dope View/Free WiFi/LGBT
Reviews of
Saffron
•
1
Enjoy Mediterranean food at its finest at Saffron where they greet you with a glass of sparkling wine and they won't charge you for it! Saffron takes its cooking inspiration from Middle Eastern, Northern Africa, Greek, Italian, French and Spanish cuisine. What you will notice first off is the amazing decor – make sure to look up at the ceiling as soon as you enter inside. This Mediterranean Bistro offers signature dishes whose portions are huge size for a single person. If you like the classics try their cheese plate or crostinis to start, Escargot with mushrooms for your main meal and Chocolate bread pudding for dessert. Best in Show: Twice Cooked Lamb – the lamb is braised and pressed with mashed potato puree. For dessert enjoy the walnut and honey baklava served with pistachio ice cream.