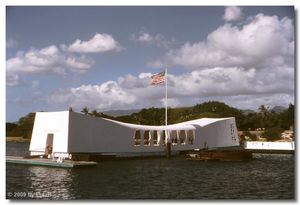 Places to stay near
USS Arizona Memorial
Free 1 airport pickup &Waikiki ride
Free 1 airport pickup &Waikiki ride
Private Room 2 km from HNL w/ W&D
Private room in paradise!!!!!!!!!!!
Free 1 airport pickup &Waikiki ride
Reviews of
USS Arizona Memorial
•
1
To commemorate the veterans from the Pearl Harbor attack, this memorial reminds us of all of the brave and strong soldiers who fought for their country. A ferry takes you out to the memorial which straddles the sunken hull of the ship, which still spews out oil bubbles leaving glistening puddles on the surface of the ocean. A chilling feeling travels through my spine every time I visit the memorial. The war wall is engraved with a multitude of names of soldiers and their legacies they leave behind. An eerie hush envelops this mystifying and emotional environment...
Attractions near
USS Arizona Memorial