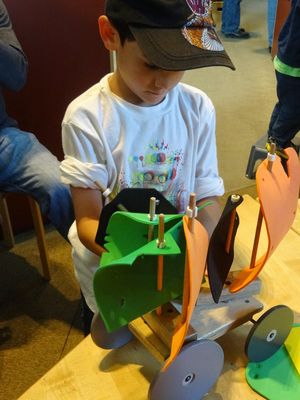 Rank
2 out of 192 attractions in Albuquerque
Explora Science Center and Children's Museum of Albuquerque
Places to stay near
Explora Science Center and Children's Museum of Albuquerque
Charmed Casita near Old Town
Albuquerque's Million $ View
Downtown Victorian- bedroom w. bath
Cute home in Historic Barelas!
Reviews of
Explora Science Center and Children's Museum of Albuquerque
•
1
Explora! Children's MuseumThis is a great children's museum. It is so educational and organized very nicely. There is a water area that has several hands-on exhibits demonstrating how dams work, water currents, undercurrents, waterfalls, drainage systems, fountains, and how taking the air out of the water can make the flow crystal clear. There is a wind area where the kids can build windmills to see if they work, a vehicle with sails to race, and airplanes to test their design in a wind tunnel. A musical area allows sound waves to become visible, demonstrating how different pitches make different frequencies and waves. The outdoor area allows children to build forts out of life-size Lincoln logs and test a sound dome. Our favorite areas were the electrical area that allowed the children to learn about electrical connections and currents by hooking wires up to batteries, which would light a lightbulb when connected correctly, and a bicycle on a tightrope, which was balance by weight.
Attractions near
Explora Science Center and Children's Museum of Albuquerque