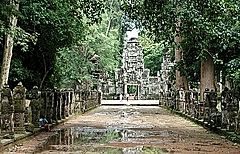 Reviews •
3
The temple complex resembles a large linear design in a dense jungle setting. Preah Khan is considered as one of the most significant buildings erected during the ancient Khmer empire.
Though this is one of the "big four" at Angkor, it remains the least preserved of the lot and intentionally so. There is plenty of overgrowth and roots growing out of structures. There are also entire parts of the complex that are in a state of disrepair -- adding to the aura of mystery. The complex itself it seemingly endless, with one gallery opening into another and so on. Go with plenty of fluids, this one can be a knee-crusher.
The single most impressive "tree-in-temple" site in Angkor, with none of the crowds of similar site Ta Phrom.
Attractions near
Preah Khan Temple