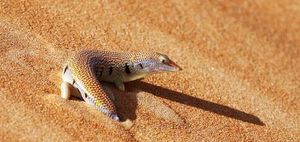 Desert National Park
Desert National Park, Rajasthan, India, is situated in the west Indian state of Rajasthan near the town of Jaisalmer. This is one of the largest national parks, covering an area of 3162 km². The Desert National Park is an excellent example of the ecosystem of the Thar Desert. Sand dunes form around 20% of the Park. The major landform consists of craggy rocks and compact salt lake bottoms, intermedial areas and fixed dunes.
Reviews of
Desert National Park
•
3
The Desert National Park in Jaisalmer is one of the largest national parks in India, spread across 3,162 square kilometre, with sand dunes forming 20% of the area. The national park protects the ecosystem of Thar Desert, combined with salt lake bottoms and rocky land forms.This fragile ecosystem serves as the natural habitat to several bird species, combining both resident and migratory birds. Eagles, falcons, harriers, buzzards and vultures are amongst the very many who help in sustaining this 180 million-year-old habitat. In fact, 6 million-year-old dinosaur fossils have also been found in the area.
Desert National ParkThis is one of the distinct national parks situated in Rajasthan. As the name suggest, the park has a fragile ecosystem consisting of rugged rocks, sand dunes and salt lake bottoms. The endangered Great Indian Bustard, which is found in relatively good numbers, along with Blackbuck and Chinkara are the main attractions of this place. Its rich fossil collections are 180 million years old!
Attractions near
Desert National Park