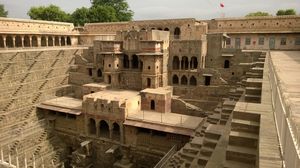 Things to do
History tours, photography
Traveller Types
Couples, Friends
Rank
1 out of 1 attractions in Bandikui
Chand Baolu StepWell
This is a step well that looks much more beautiful than just a well. This is now under the administration of the Archeological Survey of India and is an evident example that the Rajputs never ran out of water. The geometric complexity of this monument makes it even more attractive and charming. The green water of the well is no more in use but makes it a prime tourist attraction. The place is in the Abhaneri District of Eastern Rajasthan.
Reviews of
Chand Baolu StepWell
•
3
India is dotted with ancient step-wells, no doubt. But no number of pictures or descriptions could have prepared me for the spectacular sight of Chand Bawri in Abhaneri district. The thought of a beautiful relationship between geometry and engineering flashed through my mind. The view is breathtaking and is a must-see. Aesthetics combined with functionality - architectural style of the old. No words can describe this experience!
It was constructed during 8th - 9th century. Chand Baoli is the most famous stepwell of Rajasthan, which was built to conserve as much water as possible during Nikumbha dynasty.
Attractions near
Chand Baolu StepWell