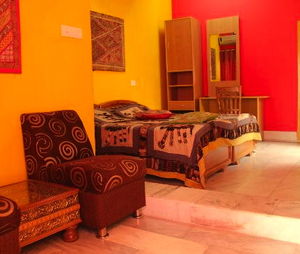 Open hours
The Check in time at the guesthouse is 12 pm while the check out time is 12 noon.
Things to do
This guesthouse is located close to the Ghats and thus one can plan a visit there.
Budget
Charges start at INR 1350.00 for a standard room and go upwards depending on the amenities provided with each room.
Ganpati Guest House
The options of lodging Varanasi just keep getting better. Located close to the Meer Ghat is the Ganpati Guest House, a place that offers one a comfortable stay while one is on a visit to the city. The services provided by this guest house include air-conditioned rooms, free WiFi, laundry, a travel desk to help one with travel related queries and bookings, a business centre, transportation to and from the airport and as well as train station and a restaurant and bar. This restaurant serves a variety of dishes, beverages and as well as light snacks. The rooms are spic and span and the staff here make sure that one enjoys their stay at the guest house. Attached toilets, running water and cable television are some of the other services that the guest house provides.
Reviews of
Ganpati Guest House
•
1
A step up from my earlier budget accommodation, the Ganpati Guest house turned out to be an excellent midrange option. Offering WiFi (a real luxury in non-metropolitan India), a view of the Ganges, and rooms with a generous dose of personality -- my needs were more than met at this laid-back joint.
Attractions near
Ganpati Guest House