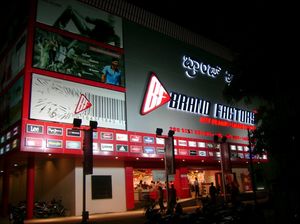 Open hours
10:00 am to 11:00 pm
Budget
Depends on Purchase
Brand Factory
The Brand Factory is a chain of retail stores owned and operated by The Future Group. The Brand Factory is truly a shopper's paradise. They have a huge collection of clothes and fashion accessories feature by over 200 brands at a very affordable price. The Brand Factory is popular because of the high discount rates that it provides throughout the year. People normally don't prefer to buy from mall but when one enters Brand Factory, no one can leave without purchasing as it has very attractive collection and the price is also the cheapest compared to the brands. It has a huge collection for men and women of all ages. When people become brand conscious, they think they have to fix a high budget but that is not the scene in Brand Factory. Around 10% -75% discounts on all popular brands throughout the year. This is the best place to shop in the whole city.
Places to stay near
Brand Factory
OYO 875 Apartment Eyrie Hospitality
OYO 1256 Compact Magnolia
Caspia Hotel Bangalore Whitefield
Reviews •
1
There's one is any city, but Bangalore's brand factory boasts of only the top-notch brands like - pramod, forever new, provogue etc. Other than that it also spaces a Mc Donald's on the entry. Located along side Brand factory is Coupon. Together they are paradise for shopaholics like me. I remember of once buying a levis worth 2500 and getting another of the same price , two tee shirts from levis and shoes from nike free of any range, yeah speaks for itself. Brand factory is also located in a place which is particularly famous for the best restaurants in the city. Also Marathahalli is the best place to buy the traditional and very famous Mysore silks and the crape sarees.
Attractions near
Brand Factory