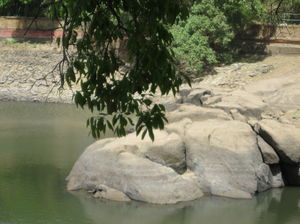 Best time to visit
When in Mount Abu
Trevor's Tank
Anadara Road is in Mount Abu is well known for a big Rock which is popularly known as Honey Moon Point. It's an attractive point for the visitors because the rock itself has a shape of a man and a woman and thus also known as the honeymoon point.
Places to stay near
Trevor's Tank
Hotel Good Luck Residency
Reviews of
Trevor's Tank
•
2
Trevor's Tank a slightly less visited beauty was our next stop.Trevor's tank is a dream come true for reptile and hill lovers. We saw a crocodile sitting in disguised form of sleeping perhaps searching for its prey, the many fishes in the pond. There are also two hiking routes to observe the view of the hills along with the pond from the top.
I found it to be the most serene and relaxing. Trevor's tank is 5 Km from Mount Abu and a photographer's delight and a popular picnic destination. It's also called the Trevor's crocodile park because it's named after the British Engineer who built this and this tank was used to breed crocodiles.
Attractions near
Trevor's Tank