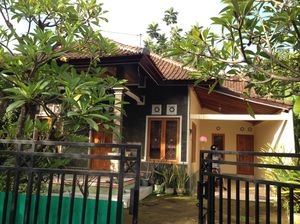 Reviews of
Lovina Beach
•
3
This is the day we started early to catch the famous Dolphin Tour. Adding on to the variety of Bali there is a beach up north called Lovina Beach which is famous for dolphin sighting. It's a long ride from Kuta as most of the roads of Bali are two lanes only. But it's a beautiful ride. The good thing is normally for each family they will have a dedicated boat. And so once settled the hunt for dolphin began with the sun rising in the background it was a wonderful feeling. We actually ended up seeing many of them moving along our boats. The place has some beautiful traditional building turned into the restaurant where in they will serve you authentic foods like 'Nasi Goreng (fried rice)'.
This is one of the quietest spot you will find in Bali. The bars are all located near centre of the town and they only have live bands. No clubs and place shuts down by 11pm.
Its a very calm place in North Bali. Very less crowded.. Great Beaches! Ultimate relaxation- Good Resorts- Dolphin Saling! Yoga & Meditation! We stayed here but went diving to different places! My training was undertaken at Zen Dive Resort which has a 5 star PADI Certified Dive Center. I had 2 days of Theory lessons with 4 modules and an exam after each. 4 confined pool sessions to do the skills. Same were to be dine as a test to get certified in the sea before you start your fun dive!
Attractions near
Lovina Beach