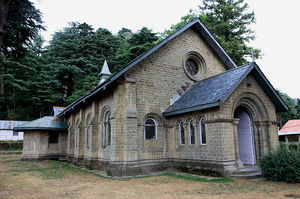 Best time to visit
Make it to the Sunday Mass at this church when one is in Dalhousie.
Open hours
All the days of the week from 6:00 am to 7:00 pm.
Things to do
Read about the history of Christianity in Dalhousie at the library that is adjacent to the church.
Budget
There is no entry fee charged to pay a visit to this church.
Traveller Types
Families, Couples, Friends
Rank
4 out of 16 attractions in Dalhousie
St. John's Church
Built in 1863, St John's Church is much like the Roman Catholic Church in England. This monument was constructed during the British rule by Protestant missionaries and is of much religious and historical importance to the hill town of Dalhousie. The architecture is that of a typical British structure as it is made of brick and wood. The church is located in Gandhi Chowk and is a mere 2 kilometres away from the Dalhousie bus stand. Many tourists come to visit this holy shrine all round the year. Next to the church is a library that houses a great number of books and records for visitors to read and go through.
Places to stay near
St. John's Church
Reviews of
St. John's Church
•
1
This church is the most visited church of the town. I t was founded by the protestant missionaries. The church conducts service every Sunday.
Attractions near
St. John's Church