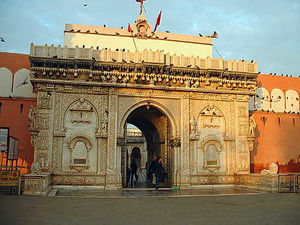 Best time to visit
Anytime you are around
Things to do
Pray, Enjoy Scenic Views
Best Months
September - May
Traveller Types
Couples, Families, Friends, Solo
Rank
1 out of 1 attractions in Deshnoke
Karni Mata Temple
The Karni Mata Temple is on a hill top known as Machla and gives a great views of the city on one side and on the other of the beautiful Lake Pichola. This place more than anything holds a lot of religious importance for people especially for the locals. The belief in the goddess can be seen with the crowd that accumulates here from among the locals as well as other Indians. The place can either be reached through a ropeway or through the stairs.
Reviews •
2
Rope Ride to highest point in city, View of complete Udaipur and its expensive island palaces from top
This 600 year old temple is dedicated to Karni Mata the reincarnation of Goddess Durga. The most interesting thing about the temple are the rats who scamper freely within the precincts. They are regarded as sacred and are fed by priests and devotees. There is a belief that if you have plague it will get cured easily if you will share your food with these rats inside the temple. Also, if you get to see the white rat then you are really lucky as because it resembles to God. Entry fee: NIL How to Reach: 30 kms from Bikaner; Bus are available from Museum Circle Recommended Length of Visit: 1 hr. Tips: Go in the Morning Facts: Rats everywhere inside the precincts.
Attractions near
Karni Mata Temple