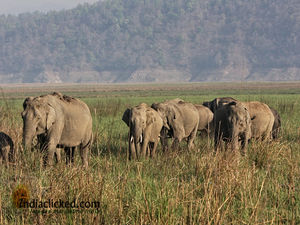 Khinnanauli Forest Rest House
Khinnanauli is arranged amidst Khinnanauli chaur, this woodland hotel is an amazing tiger domain. It is one of most as of late fabricated gaining strength homes Corbett. Its key site offers a simple getaway to the different parts of the recreation center. This Khinnanauli Forest rest house is a superior spot to observe the characteristic vegetation close to Jim Corbett National Park. Khinnanauli's perfect location provides an easy getaway to all parts of the corbett Park. There are several forest rest houses which are situated inside the Jim Corbett National Park, These rest houses are maintained and operated by the forest department & provides accomodation for wildlife lovers & tourists. This place has a large population of tigers, tigers living in here are kept under proper supervision from the outside people as the number of tigers was decreasing because of improper supervision earlier, this is a paradise for all the tigers living in Khinnanauli.
Reviews of
Khinnanauli Forest Rest House
•
1
Following the morning jaunt, we returned to Ramnagar around mid day to collect our permit to stay in side the Park at Khinannauli, preferring it to the more populated Dhikala. The 25 km drive to Khinanauli via the Dhankhedi gate turned out to be a memorable short jaunt. We drove through the rain washed pristine and scented saal forest crossing several sots which are the fresh water channels that ultimately tumble into Ramganga the principal river of the Park. We made several interesting forays to High Bank Point to see a fully grown gharial, and the Champion and Ram Singh roads in search of elephants. We reached Khinanauli at about 2pm barely in time to get ready for our first elephant ride of the trip. Astride Mohini a young elephant of 28 years, we rode into the forest. Our mahout, Nayab said sighting of a Red headed vulture, earlier known as the king vulture was considered auspicious and raised hopes of tiger sighting. Three more groups joined in this ride. The mahouts surveyed the soft sands to pick up fresh pugmarks and decide a trail worth following. They were all ears for the warning cries of animals let out on seeing the tiger. One of the elephants noticed a tiger in the lantana bush and signaled to the rest. All the four mahouts guided their elephants with rare agility and excitement. Suddenly a tiger, in fact a young tigress leapt out of the elephant grass and fiercely growled at us. It was my moment! I was struck by the sheer beauty of the animal, its shining coat, sinewy build and fire in the eyes. The elephants were moving and turning fast making it difficult to hold on to the houda let alone take some pictures. All I could manage was three pictures of the tigress that soon escaped taking advantage of the terrain.
Attractions near
Khinnanauli Forest Rest House