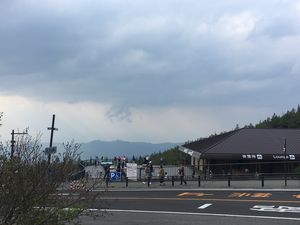 Reviews of
Mount Fuji
•
3
#TripotoTakeMeToHimalayasWhen you think of Japan, Mount Fuji instantly comes to my mind. There is nothing like Mount Fuji in Japan. It is a two and a half hour train ride away from Tokyo city and it a great experience. The train journey is extremely tiring. When I went to Japan in June, my love for trekking took me to see Mount fuji.
Mount Fiji: Mount Fiji is the only dormant volcano in the world. You can take a train to Mount Fuji or get the bus to take you there. The bus leaves from the main city in Tokyo. In this case, the bus is better than the train because it is more easily accessible. Mount Fiji had a beautiful view but the weather was getting bad so we had to leave early. The best thing is to go to Mount Fiji in the morning because people start leaving around 5 so you won't be able to explore enough.
If this is your last day in Japan then you really must take a day trip to Mt. Fuji and the hot springs.The best way to visit Mt. Fuji in a day is via Hakone using the Hakone Free Pass (HFP)which allows you to use the buses, trains, boats, cablecars and ropeways in the Hakone area.
Attractions near
Mount Fuji