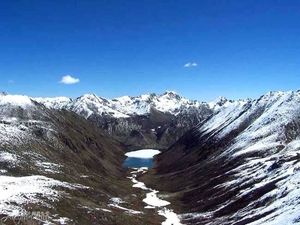 Best time to visit
On the winter season
Open hours
All days of the week 8:00 AM - 8:00 PM
Things to do
Cakes , coffee
Rank
27 out of 54 attractions in Gangtok
Cholamu Lake
Elegantly situated at MG Marg, the heart of Gangtok, this restro is an incredible spot to appreciate, loosen up and mollify your craving throbs with lip smacking recipes and reviving drinks. The menu has crisply prepared baked goods, smooth cakes, filling sandwiches and sweet-smelling espresso on its menu. Run by local people and expats, Bakers Cafe is absolutely a spot to investigate in the town.This spot is a sample of reasonable valuing with amazing nourishment quality. The staff is exceptionally respectful and are continually ready to present with a smile, also the soothing music played here will make you feel refreshed. Cozy warm air, awesome spot for a recess from all the strolling and visiting around. Cakes served here are heavenly and the coffee is outstanding. If you cherish breads or have a sweeth tooth, you will love this spot. One must pay a visit to this cafe and must try the coffee they serve.
Places to stay near
Cholamu Lake
Golden Star Continental & Spa
Mango Hotel Sikkim Delight
Reviews of
Cholamu Lake
•
3
Cholamu Lake : World's 14th highest and India's highest lake, the Cholamu Lake in North Sikkim is situated at an altitude of 18000 feet from the sea level.
Gurudongmar Lake is the second highest lake in India located at a height of 17100 ft above sea level, first being Cholamu Lake in Sikkim. Legend has it that, Guru Padmasambhava (also known as Guru Dongmar) once visited the place. Then people of that area asked for his help, saying that they cannot get water from the lake as the Lake remains frozen throughout the year. Then he touched a part of the lake and sanctified the lake, and then onwards even in extreme winter, a portion of the lake does not freeze.The view of the Lake is out of the world spectacle. Surrounded by snow capped mountains, beauty of the Lake is worth comparing with paradise. We stayed there for around 30 min. We also visited the Sarva Dharma Sthall next to the Lake. (Tips: Since the place is located at a very high altitude, certain precautions are always helpful. Our driver advised us to remain seated inside the car for 2-3 minutes after reaching the Lake, to adjust with the high altitude conditions. Even after getting down, he advised us to walk slowly as the oxygen level is less. We carried popcorn, ginger and dry fruits which can help in case of altitude sickness). Some of the visitors also went down to the lake to walk on the frozen Lake, which was something we didn't try.On our way back we were again stopped by Indian Army, this time they offered us Mango juice, biscuits, chocolate etc. And who does not like free treats. We reached Lachung around noon. After having lunch and some rest we started for our next destination, Lachen.
At 17,480 ft, Tso Lhamo is a fresh water lake situated at close proximity to the Tibetan border. Tso Lhamo is another one of the afore mentioned 109 "Tso Chen" of Sikkim. This fresh water lake is the source of river Teesta and because it is so close to the border, you require an army-approved permit to enter.
Attractions near
Cholamu Lake