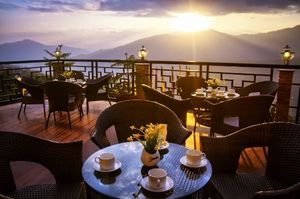 Places to stay near
The royal oaks hotel
Bookman's BnB with café & bookshop!
A beautiful landscape view!
Golden Star Continental & Spa
Reviews of
The royal oaks hotel
•
1
I started my journey from Delhi and reached Bagdogra Airport via Kolkata, by air. One can travel on rails, via New Jalpaiguri. From Bagdogra, we have exciting options to reach Gangtok - one may choose to hit the roads the conventional way, or take in the cool gush of air by flying in a helicopter (Rs. 2500 - 3000/- per head). Royal Oaks Hotel, is an OYO Premium, in Pelling, Gangtok, and has ultra luxurious rooms. The delights lie in the elegant sculptures of Buddha, amazing paintings that are capable of pulling you in deep thoughts of your own. Perks: Awesome food; rooftop restaurant; is at just the right distance from the main market of the city; friendliest staff!
Attractions near
The royal oaks hotel