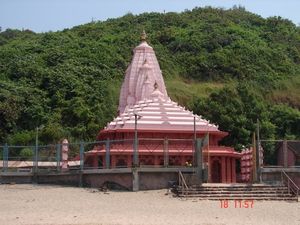 Best time to visit
Mid October - May
Things to do
Worship, Beach Walk, See food
Rank
1 out of 6 attractions in Ganpatipule
Ganpatipule Temple
Ganpatipule is a small town positioned in Ratnagiri district on the Konkan coast of Maharashtra, popular for historic Ganpatipule temple and Ganpatipule beach. That's why best spiritual & sea food destination.
Places to stay near
Ganpatipule Temple
Hotel Krishna Sea View Deluxe
Konkan Nest Resort Ganpatipule
Reviews of
Ganpatipule Temple
•
3
A couple of hours later, I was ecstatic to see everyone as the cars pulled into the resort, and was the most thrilled to meet Avva. After completing the check-in formalities, we moved to the rooms and freshened up before proceeding to the Ganapatipule Temple.We saw the MTDC Resort as we reached the temple. The resort has the best location possible - its entrance faces the main gate of the temple. We found the temple to be almost empty, save us and a couple of other families. This was completely uncharacteristic, as the temple was almost always bustling with devotees. I guess it was owing to the fact that it was a Friday evening. After registering for the Sankalpa Pooja for the following morning, we sat down for a little while in the seating area for the devotees. My mom and aunts joined me in singing a couple of songs - singing in the temple was an amazing experience. The icing of the cake was that Avva sang the song "Shree Gananatha" with us. As we walked towards the exit, the pundits at the temple told us that the song was beautiful and that they enjoyed it J We sat outside the temple, before our cars arrived, enjoying the beauty of the decorative lights - they beautified the temple so much in the evenings.We proceeded to have dinner after we reached the resort. The dinner was a pretty eventful one - as we were twelve of us, we were seated in groups of six at neighbouring tables. After eating roti-subzi, we ordered for a dish of curd-rice at both the tables. Interestingly both the plates were poles apart in appearance and taste. While the one on my table had curd rice with bit of yellow tadka, the curd rice on the other table looked a lot more visually appealing as it had a LOT of red tadka. Intrigued, we tasted a bit of both the dishes, and the red tadka dish was pretty sweet. We called the person who had been waiting on us, and he too seemed baffled at first. He asked one question - "Kaunsa wala aapko pasand aaya?" which translates to "which one did you all like?" Although he offered to bring another plate that was prepared properly, we declined as we were too full. He assured us that he would personally supervise the preparation of curd rice for the remainder of our stay.
The sacred temple on the beach which attracts thousands of tourists each year.
Attractions near
Ganpatipule Temple