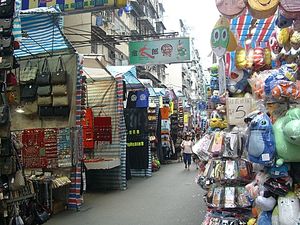 Traveller Types
Couples, Families, Friends
Rank
72 out of 741 attractions in Hong Kong
Places to stay near
Ladies Market
Cozy studio (ladies preferred)
Single room with restroom at Jordan
6F Hung Kwan House 76 Shantung Stre
Private Room Causeway Bay
Reviews of
Ladies Market
•
3
Macau left me in awe with its Beauty and i took the return ferry back to Hongkong island. Now i was just left with one day and there was so much to do. I decided to go to Seafood Market and Ladies Market Of Hongkong.Women and Shopping, can never be separated and i was no exception to it.What ever money i was left with i decided to go for some local shopping in Ladies Market and i am glad i did that, cheap and stylish was the call for.I also explored some seafood market and surprised to know Hongkong imports all the seafood from their Neighboring Countries as they have no edible marine left in their sea.
We took the train back to Mongkok to visit the ladies night market - Ladies' Market in Tung Choi Street is a great destination for the fashion conscious and those with an eye for bargain-priced sport shoes, watches, clothing, stationery, and cosmetics. There are a number of eateries in that area and you can explore according to your tastes.
A vibrant Shopping area full over fake brands and various souvenirs.
Attractions near
Ladies Market