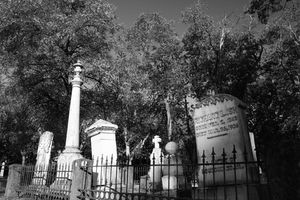 Jacksonville Historical Cemetery
Places to stay near
Jacksonville Historical Cemetery
Pvt Loft Bedroom in Downtown Jax!
Historic 1BR Apt. Hip Neighborhood
Riverside 1 BR, Near 5 Points!
Reviews •
1
While I was visiting Jacksonville, Oregon, I was told by several of the locals that I should check out the "cemetery." The first time I heard this I thought "a cemetery…what kind of tourist attraction is that?" After hearing the cemetery endorsement a couple more times, I figured I should saunter up the hill above town to see what all the fuss was about. As soon as I reached the top of the hill, the entrance to the historic cemetery, you could tell it was no ordinary resting place. First, the thirty acre cemetery was segmented into religious and fraternal clusters…denominations include: Jewish, Masonic, Catholic and Independent just to name a few. The largest section is the "City," and within this cluster you'll find a "Potter's Field," which is where they buried, Native Americans, Hawaiians, Chinese, African Americans and others who were probably considered "less desirable" at the time. The first burial took place in 1859, with many of the gravestones being quite opulent and ornate. As you walk the cemetery grounds you may notice a few headstones that date earlier than 1859, those were from remains that were removed from other locations and reburied in the Jacksonville Cemetery. Many of the pioneers buried in the cemetery are quite familiar today as they bear the names of streets and area communities. Others are recognized on historic homes or businesses, such as the McCully House, which is where I stayed. The Jacksonville Historic Cemetery remains an active cemetery and is still very much a part of the city as it was back in the mid 19th century. The cemetery is registered as part of Jacksonville's National Historic District status, as well as with the Oregon Commission on Historic Cemeteries.
Attractions near
Jacksonville Historical Cemetery