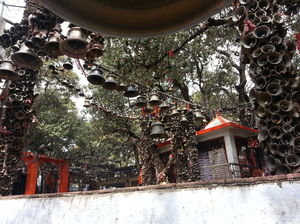 Golu Devta Temple
Golu Devta is generally considered God of Justice. Most devotes worship the immortal and elicit the justice on behalf of the injustice are done to them or with their family. Devotes worship at Golu Devta with the means that of White material, Pagri and White scarf. Individuals believes that God asks for in propitiation could be a bell, as is clear from the thousands of bells arrange across the temple premises. Anyone will even get Gollu Devtas divine intervention by writing to him. Stacks of letter area unit stapled everywhere the temple alongside bells. It absolutely was his belief that every one thirty three crores gods and Goddesses area unit present in an exceedingly single temple. Golu devta have siblings Kalva Devta, in kind of Bhairava and Garh Hindu deity within the kind of Sakti. In villages of Chamoli that area unit terribly near Kumaon, Golu Devta is additionally worshiped as key immortal Kull Devta.
Places to stay near
Golu Devta Temple
Kalawati Retreat Eco Village Resort
Reviews of
Golu Devta Temple
•
2
After reaching Galu devta, it is steep, rocky one-person-at-a-time path with small shops serving cold drinks, water, maggi, energy drinks (all at double rates!!). It's a long walk with several people walking with you. Different groups, families, college people. It is not a lonely path or maybe it was the season which must have attracted so many people to this place. It was moderately cold so we did not need any jackets. Taking many breaks and going at a slow pace we reached the top in 6 hours. Phew!! It was such a relief.The view was beautiful with snow covered mountains, colorful tents and men paragliding from a far-off cliff. Tents for night stay were being offered at 1500 per tent for two pax. We decided not to stay but we had some hot dal-chawal at the top which was quite a feeling.We started descending at 3.30 p.m. and mind it, our legs had had it all by then but we had no choice but to descend and make to the hotel. The walk looked longer this time but it was fun telling the people who were ascending the time they would take to reach. Hehehe..it was fun. We reached the Galu Devta Temple at 6.00 p.m. and by then my bladder was bursting so we booked a cab from there and hurried towards the hotel. Tired thoroughly, we had simple dinner and went to bed exhausted thinking we would not wake up at all the next day.
One of its kind, the temple has hundreds of thousands of bells all over, from the entrance steps to the temple premises. It is believed that the people whose wishes are fulfilled are asked to come back by the lord of the temple to give an offering in the form of tying a bell in the campus premise. The temple is a good visiting place for anyone, with/without religious inclinations, who travels to Nainital/Naukuchiatal.
Attractions near
Golu Devta Temple