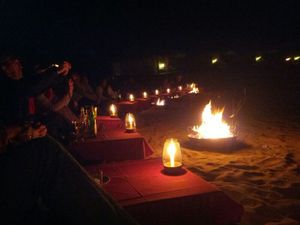 Best time to visit
anytime
Open hours
Check in/check out- noon to noon
Things to do
watch cultural performance, explore Thar Desert, watch wildlife and a lot more
Budget
Starts at INR 6500 per night
Manvar Resort And Camp Jodhpur
One of the important highlights of Jodhpur comes in the form of Manvar Resort and Camp which is located on the way to Jaisalmer. Once you step into the resort, the first welcoming thing will be the scrumptious Rajasthani food that is bound to enhance your taste buds. This is followed by a relaxation at the luxurious tent that you must have booked before entering the place. The tent is uber in its class and with comfortable furnishings that will surely pamper your senses. The itinerary of 2 days include a jeep safari on the first day which will take you over the sand dunes of the Thar Desert giving a unique experience. This safari will also help you explore the local culture to a great extent. Also, you can have a sneak peek of the wildlife of the area which is quite enthralling and enriched. Camel ride is also included in the two day plan which is again a unique activity to do. Enjoy the cultural performance that is held in the evening after such an exciting day. This will bring you closer to the state of Rajasthan. The amount spend is worth the experience you gain at this resort.
Reviews of
Manvar Resort And Camp Jodhpur
•
1
The cab ride to the Manvar Desert Camp and Resort from Jaisalmer was a short one. Post a delicious and sumptuous welcome lunch of Rajasthani delicacies (including the famous Daal Baati Choorma and Lal Maas), I was lead to my uber-luxurious tent. And, while I cannot describe it enough, the pictures speak for itself. Next in the 2-day itinerary was a jeep safari over the sand dunes of the Thar desert. The sand and sun never looked better! We also had a stopover at a local blacksmith's house, where he made Chillum and showed us how to smoke this local cigar. The jeep safari continued into the shifting dunes and we were surprised by the sneak-peaks of the wildlife, such as the Nil Gai and sprawling feathery companion in the Peacocks, along with the thrilling dune roller coaster ride. And the antelopes hopped beside us! The sky never looked so clear and beautiful. Finally, before my return to the camp, I took an interesting camel ride on the camel named Rattu. The evening brought a splendid cultural performance on a stage set between the tented camp. The hues of the desert sunset just added more dramatic effect to the amazing enjoyable evening.