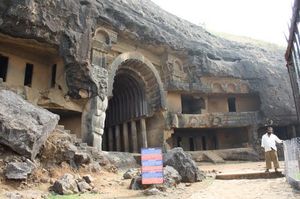 Things to do
History tours, photography
Best Months
June - February
Traveller Types
Families, Couples, Friends
Rank
3 out of 13 attractions in Khandala
Bhaja Caves
This is a group of 18 Buddhist Chaityas which are some of the best examples of early Buddhist architecture. These are located about 12 kilometeres from Lonavala and were supposedly built in the 2nd Century BC during the reign of the Mauryan Empire. These caves are a representation of the Theravadin phase of Buddhism and Lord Buddha has been shown in various forms and images in these caves. The 12th cave is the largest and has a fine stilted ceiling. The pillars of the whole cave complex are unique and are all sloped downwards. The last cave towards the south has beautiful examples of ancient Indian art and architecture inside. This cave has a painting of a dancing couple, a king on an elephant and other beautiful images. Cave no. 1 is a dwelling house. The 10 caves are based on religion and architecture and the 7 remaining have inscriptions inside about the donors.
Places to stay near
Bhaja Caves
A Cosy Small Family Cottage
A Cosy Small Family Cottage
Terrace Studio Apartment,Lonavala
Reviews of
Bhaja Caves
•
1
Bhaja Cave is located in Karla and is similar to Karla Caves. The style and architecture of both the sculptures resemble each other. Amongst it, the 22 rock cut caves display the sculpture of a prince in a chariot, dancing couple, an armed warrior and a prince seated on an elephant. One should visit this place if they like exploring and learning new ideas and culture. The first cave is the place for the master of the cave which is succeeded by the Buddhist temple. This was the last place we visited in Lonavala and in true sense the best way to end the trip too as we all loved the site.
Attractions near
Bhaja Caves