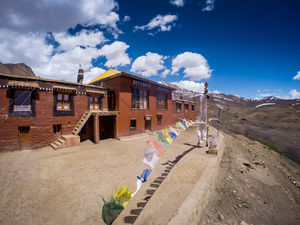 Komic Gompa
After Langza, Komic is the highjest village of Asia and known mainly for the Tangyud Monastery. This is a quiet little farming village and is filled with simple people happy with their life and surroundings. The snow leopard is the main animal here and you will also be able to see a body of one hanging inside the Komic Monastery. The view of many peaks and roads from top of this road is lovely and a drive along this road is immensely adventurous.
Places to stay near
Komic Gompa
Pristine, untouched and surreal
Reviews of
Komic Gompa
•
1
At a height of 15000 feet, Komic village is considered to be the highest motorable village in Asia. It has a population of 114 and is home to the Tangyud Gompa which is the highest motorable monastery in Asia. Ko-Snow cock-mic-Eye since the village gives a view of the valley in the shape of a snow cock's eye.
Attractions near
Komic Gompa