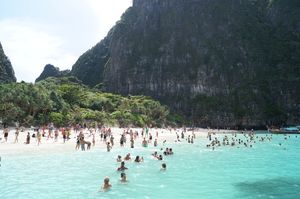 Traveller Types
Couples, Friends
Rank
6 out of 85 attractions in Krabi Town
Places to stay near
Phi Phi Islands
Phi Phi Relax Beach Resort
Phi Phi Andaman Beach Resort
Reviews of
Phi Phi Islands
•
3
Again one of the coolest party destinations in Thailand. I met some wonderful people over here and had a great couple of nights.
I had booked the early morning ferry to Phi Phi Don, the main island at Koh Phi Phi. The ferry from the hostel had cost me about 700 baht. This was inclusive of the pickup from the hostel to the pier and an open return ticket from Phi Phi to Phuket. I tool the 9am bus by the 11am ferry. The ferry ride was picturesque about two hours long.Phi phi don is a small paradise island with crystal clear waters. It was on every backpackers list because of its crazy party scenes.A small piece of advice: AVOID Maya Bay and the tour. If, at all, you need to do the tour, get a half day one. A bigger tour is not worth it.
Some of the most beautiful islands you'll ever see. But that's also the reason why it is pretty crowded. Don't expect any quiet time here.
Attractions near
Phi Phi Islands