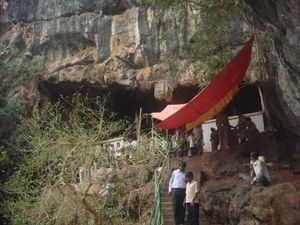 Things to do
Cave tours, worship, photography
Kavala Caves
This is a group of limestone and stalagmite caves and forms a part of the Dandeli Wildlife Sanctuary. Since the caves are very small, there is an interesting way to get into these. You have to climb down to the entrance and crawl your way inside. There are a number of natural stalagmite formations inside and the largest is recognized as a natural Shivalinga which looks beautiful. There is also a temple opposite the face of the caves. Monsoons are not good time to visit this place.
Reviews of
Kavala Caves
•
2
The ancient Kavala Caves are a perfect spot for those who wish to revisit history and mythology. Located at a distance of 25km from Dandeli, these caves are situated deep within the thick forests. The caves are revered as the holy abode of Lord Shiva, and many people go to these caves to meditate as well as to pay their respects to the God of destruction. You need to trek some 1000 steps to reach the caves.
Kavla caves are located about 25 km from Dandeli. These limestone caves date back to prehistoric era and have an interesting formation of stalagmite. The caves are very narrow at points where one has to crawl. A good spot for explorers at heart.
Attractions near
Kavala Caves