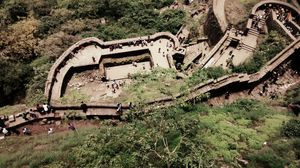 Best time to visit
Monsoon
Best Months
June - February
Rank
2 out of 13 attractions in Khandala
Lohagad Fort
Lohagad is one of many numerous mountain forts of Maharashtra state in India. Located close to the mountain place Lonavala and 52 km northwest of Pune, Lohagad rises to an elevation of 1,033 michael above beach level.
Reviews of
Lohagad Fort
•
3
Lohagad is part of the Western Ghats located southwest of the larger Visapur fort. Lohagad village is the base village for the fort. As per Wikipedia, Lohagad fort has a long history. The fort is popular because, Shivaji Maharaj had captured it in 1648 and later lost it to Mughals in 1665. He recaptured it in 1670 and used it to keep his treasury. You have to cross 4 doors starting with Ganesh darwaja (Darwaja means doorin Marathi language) and followed by Narayan darwaja, Hanuman Darwaja and Maha-Darwaja to reach the top. On your way to the top of the fort, you will always find few monkeys to keep you entertained (I was scared)! Enjoy the mesmerising view once you reach the top! On the western side of the fort, you will see along narrow wall known as Vinchukata (scorpion's tail). Vinchukata is the place to enjoy the view for which you have come all the way to Lohagad.
it's one place where harry potter movie could have been shot. it's how real forts were like. The scenic beauty and the mysterious structures and the khandars with minimal view because of fog, every step was a path towards unmasking another site. *mesmerising* not very far from mumbai, one can easily reach there in about 2 hours if you avoid the morning mumbai traffic and leave mumbai by 8 30am at most. explore this place and you might just discover wonders.
Also known as the 'Iron Fort'. 3389.ft above sea level gives you a spectacular view of Visapur Fort and the Pawna Lake. Apart from this you'll enjoy the wind and if it rains then you'll have the icing on the cake. Temple (small shrine), well, waterfalls and monkeys you'll find once your on the top. You'll get hypnotized with the beauty of the fort and wish not to leave it. You won't find anything to eat on top but everything is available at the foot of the fort. Built on the western ghats, with huge rock blocks. And one question that bugged me, as to how did they bring it up top in those days?
Attractions near
Lohagad Fort