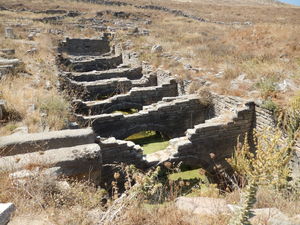 Places to stay near
Little Venice
Reviews of
Little Venice
•
3
Getting There : Take a ferry from Santorini port.
We explored some of the most beautiful little alleys with gorgeous shops and cafes before having dinner at Eva's garden (beautiful place but average food for the price). We stopped for delicious greek gelato at I Scream before heading back to our hotel.Day 2: Today was dedicated to beach-hopping and swimming in the clear Myconian waters. After breakfast, we took a bus to Ornos beach and bought a return water taxi ticket from there. Due to weather conditions, the taxi was not going till Elia beach (the last stop on the route). But you could get off at Agrari beach and then walk to Elia. Ornos beach is nice though super crowded.
Another tour one can do from Mykonos is to an uninhabited island called Delos half an hour sail away. Delos is the birthplace of Goddess Athena's twins - the two most important and ancient Greek gods -Apollo (the sun god) and Artemis (the moon goddess).On reaching the island you can tour the ruins of the entire city - the ancient homes, guest quarters, public places, markets and temples- all very well planned. Even more amazing is their water harvesting system which would work even in the present day and age! There is also a museum which can be visited to see the exhibits from all the historical periods represented on the island. The excavations are still in progress and it is a UNESCO heritage site .
Attractions near
Little Venice