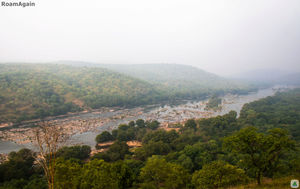 Bheemeshwari Adventure & Nature Camp
Reviews of
Bheemeshwari Adventure & Nature Camp
•
3
Situated between Shivanasamudra Falls and Mekedatu, on the banks of Kaveri, the town of Bheemeshwari is an abode of serenity located about 100km from Bangalore.If you're planning a trip to Bheemeshwari, then I suggest you stay at the Bheemeshwari Adventure and Nature Camp for some delightful nature experiences such as jungle camps, rope walking, kayaking and a host of other activities. The best time to visit Bheemeshwari is just after the monsoon, between August and February.Book your ride to Bheemeshwari now.
2:00pm - Continued on our way and stopped nearby bheemeshwari where tourists were gathered and made our way a little further up the river to avoid congestion and to relax and click some pics.After we had our fun we headed back to bangalore.There is a resort where if interested can be utilized for stay and safari.DetailsTo - 150kms approx. via bangalore-channapatna-malavalli-barachukkiFrom - 110 kms approx. Headed back to bangalore via kanakapura
Bheemeshwari is one of the best tourist places near Bangalore within 300 kms radar. Located on the fringes of Mutati forest as well as along Cauvery River's shores, this weekend retreat is perfect for some rest and repose. Surrounded by nature, you can hope to lay back and enjoy the scenery. If you are on the lookout for a non-descript weekend retreat, journey towards Mutati Forest near the banks of the Cauvery River. A trip to the heart of nature will serve your weary body and soul well. A 100-km drive from Bangalore will bring you to Bheemeshwari Jungle Lodges. A short stay here will definitely energise you.Read About 17 Places to Visit near Kolkata ...This weekend getaway from Bangalore lies in the district of Mandya and is famous for its Mekedatu Falls. Temples and deep valleys dot the terrain here and one can indulge in activities like tiger sighting, angling, a host of water sports and visiting wild life sanctuaries. Take out some time, plan and make sure you make it here.The resorts at Bheemeshwari will take care of your lodging needs, so you take pleasure only in indulging yourself to the whimsical scenery around. Discovering the wild forest around is suggested, though you might want to take caution and stay away from the denser regions of the jungles. If you are looking for a favourable spot that is best visited between August to February, then how about trying out Bheemeshwari?
Attractions near
Bheemeshwari Adventure & Nature Camp