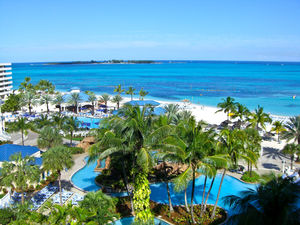 Sheraton Cable Beach Resort
Places to stay near
Sheraton Cable Beach Resort
Perfect Location, Private Suite
Apartment #1-B with private Beach!
Tropical Cottage Across From Beach
Tangerine Sunsets South Coral
Reviews of
Sheraton Cable Beach Resort
•
1
Flying into Nassau over crystal blue waters, I started to think maybe this wasn't such a bad idea after all. Are the Bahamas adventurous? No. A step outside my comfort zone? Certainly not. But, after all, my next stop was Morocco where I was planning to run a marathon so maybe easing into this trip by starting off with a little R&R was not such a bad way to go. My hotel for the 2 nights I was staying in Nassau in the Sheraton Cable Beach. The hotel was actually quite nice. It had recently undergone a complete renovation and looked brand new. My room was excellent with a great view of the white sand beach and sparkling turquoise sea outside. I was relaxing already. There wasn't much to do other than laze around on the beach or go to the casino but, hey, that's just fine with me.
Attractions near
Sheraton Cable Beach Resort