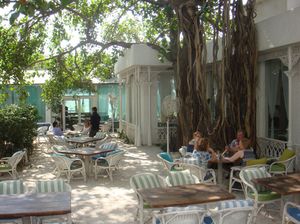 Best time to visit
5:00 PM – 9:00 PM
Open hours
12:00 PM – 1:00 AM
Things to do
Try Italian and Continental delicacies, visit the Qutub Minar
Olive Bar & Kitchen
The taste of the whole world under the same roof is served here. This restaurant is a favorite of many people given the delicious continental food and extremely good service. The ambience is very comfortable and classy. It is a perfect destination for romantic dinner or lunch outings. They also have an outdoor dining option which pleases customers especially during the winter days. The fish platters and Italian based dishes are extremely well served. The presentation of the food is worth mentioning. The location of the restaurant is very convenient in the Mehrauli area just near the Qutub Minar.
Places to stay near
Olive Bar & Kitchen
The Hosteller Saket Delhi
Reviews of
Olive Bar & Kitchen
•
1
Lunch at Olive Bar and Kitchen Now I really wanted some relaxing retreat and for that I prefer no other place but the Olive Bar and Kitchen near the Qutub minar complex. For me this is the only place in Delhi which means the ultimate relaxation with some amazing Italian food. Although this place is expensive like a lunch for two can cost around rs.3000 but the experience they deliver you here is totally worth it. The ultimate white Italian décor , the soft music, the tranquility of the open area and the waiters in flower print shirts sometimes make me feel that I am on a Caribbean island. This place is not just about amazing food but it represents food culture , people don't come here to just have a lunch instead they have lunch here to just enjoy this place. As me and my friend wanted to have some lazy chats now so we ordered a Mezze platter along with refreshing Mojitos . The Mezze platter, when it was served I was just oggling at it I mean it was so much, 8 types of dips, with different types of breads, 4 types of salads and some other cutlets and grilled mushrooms. It gave us full 1 hour of enjoyment of taste and conversation. As the platter was huge so without having some main course we ordered the estatic red valvet cake and it was pure heaven .
Attractions near
Olive Bar & Kitchen