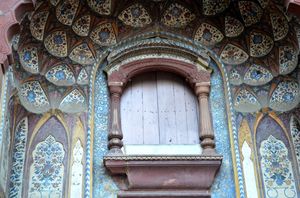 Best time to visit
11:00 AM – 2:00 PM
Open hours
6:00 AM – 6:00 PM
Budget
Rs 5 for Indians Rs 100 for foreigners
Traveller Types
Families, Solo, Friends, Couples
Rank
45 out of 370 attractions in New Delhi
Safdarjung's Tomb
Built during the years 1753- 1754, this is the last enclosed garden of the Mughal Era. This was the mausoleum of Safdarjung, who was the viceroy of Awadh under Mughal Emperor Muhammad Shah. It resembles the look of the Humayun's Tomb but is much smaller in size. The monument has small divisions with very attractive names such as Jangli Mahal, Moti Mahal and Badshah's Mahal. the mausoleum complex also has a madarsa and the whole monument is under the supervision of the Archeological Survey Authority of India.
Places to stay near
Safdarjung's Tomb
Superior Double AC With Breakfast
★☞ The historical Center of Delhi !
Stay in a true Delhi neighbourhood
Bnb room 4 near metro and airport
Reviews of
Safdarjung's Tomb
•
6
Attractions near
Safdarjung's Tomb