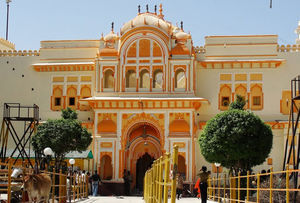 Open hours
9am-1pm & 7-11pm
Traveller Types
Families, Friends
Rank
4 out of 15 attractions in Orchha
Ram Raja Temple
The Ram Raja Temple is a sanctuary in Orchha, Madhya Pradesh, India. It is a holy Hindu pilgrimage journey and gets enthusiasts in vast numbers consistently and is also generally known as Orchha Temple. Every year household traveler number is around 650,000 and the remote visitor number is around 25,000. Every day number of guests to the sanctuary range from 1500 to 3000 and on certain essential Hindu celebrations like the Ram Navami, Vasant Panchami, Kartik Purnima , Makar Sankranti, Shivratri, and Vivaha Panchami the quantity of enthusiasts who throng to Orchha range in thousands. Ram Navami celebration is observed Shukla Paksha on the Navami, the ninth day of the month of Chaitra in the Hindu timetable. Amid this time Lord Ram's golden calf is moved from inside the sanctuary to a throne in the verenda. The sanctuary routine timings depend on the Hindu Calendar Months. This place is like a heaven for those who love worshiping.
Places to stay near
Ram Raja Temple
Reviews of
Ram Raja Temple
•
2
This palace had been turned into a temple, and has quite the legend attached to it. This story behind the same, will be something which must find out by yourself. All in all, this palace tuned temple is the solitary place in India where Ram is worshiped as a king.
The only temple in India where Lord Rama is worshiped not as a God but a King.
Attractions near
Ram Raja Temple